The recently released 2019 edition of the Executive Branch Personnel Public Financial Disclosure Report for Secretary of State and world's biggest Donald Trump fan, Mike Pompeo, shows that he really is "one of us" when it comes to his assets. This is in sharp contrast to other members of the Trump cabinet that are substantially better off.
As part of government transparency, America's government leadership is required to reveal their financial interests by completing a Public Financial Disclosure Report as stated here:
"Transparency is a critical part of government ethics, and Congress has determined that the citizens should know their leaders' financial interests. To facilitate such transparency, Congress enacted the financial disclosure provisions of the Ethics in Government Act. The Act imposes detailed requirements for public financial disclosure by senior United States Government officials. The OGE Form 278e and the OGE Form 278-T are financial disclosure reports that request only as much information as the Act requires a filer to disclose."
Let's start by looking at Mr. Pompeo's employment assets and income and retirement accounts:


During 2018, Mr. Pompeo had no sources of income that exceeded $5,000 in that year.
Now, let's look at his Susan Pompeo's employment assets and income and retirement accounts: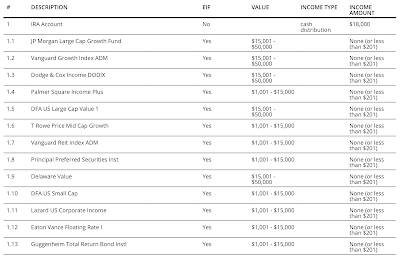 Since the values are given in ranges, let's calculate the minimum and maximum values. The minimum value totals $90,020 and the maximum value totals $475,000.
Here are the couple's other assets and income:


If we total their investment assets (excluding their whole life insurance policy), the Pompeo's have somewhere between $190,021 and $725,000.
During 2018, the Pompeo family sold their personal residence, paying their mortgage of between $500,001 and $1,000,000 in full.
During 2018, the Pompeo family did complete some transactions in their various accounts as follows:


We should also note that the family has two revocable family trusts that were established in January 2007.
With this data in mind, let's look at the wealthiest members of the Trump Cabinet:
1.) Betsy DeVos – Ms. DeVos' 2019 disclosure is extremely lengthy so I will just post a few pages that give you a sense of her net worth: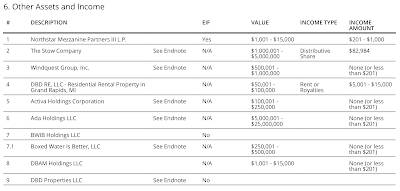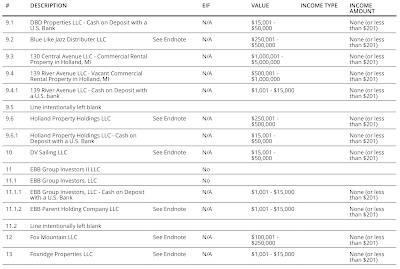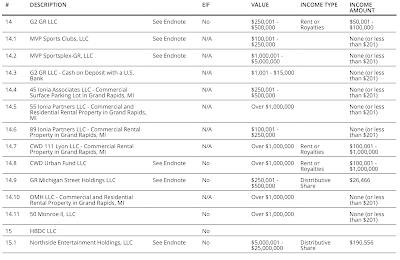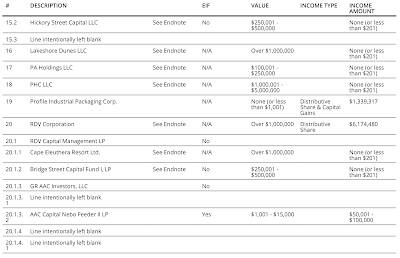 As you can see, a significant number of the DeVos family individual assets are worth more than the Pompeo family entire net worth.
2.) Wilbur Ross – Mr. Ross's 2018 disclosure has not been certified by the United States Office of Government Ethics because he reported that he had sold stock that he still held. Nonetheless, the following screen captures will give you a sense of his net worth: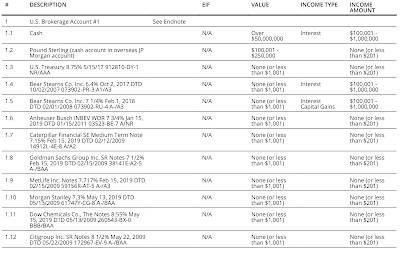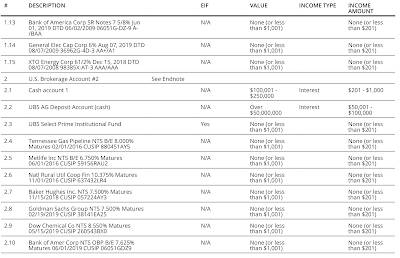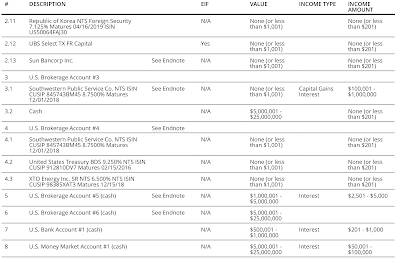 You will notice that the Ross family has over $50 million in cash on deposit with UBS and and additional $50 million in cash on deposit in a U.S. brokerage firm (undisclosed) plus millions of dollars in additional cash in other brokerage firms and an art collection worth more than $50 million as shown on this page: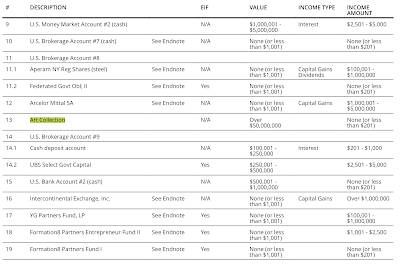 It is also interesting to see that Mr. Ross owns/owned entities that are registered in both Cayman Islands and Luxembourg, two well-known tax havens as shown here:


According to an analysis by Forbes, Donald Trump's current cabinet consists of 17 millionaires, 2 centimillionaires and 1 billionaire worth a total of $3.2 billion. This leaves only three members that are "poor", relatively speaking. Here is a graphic showing the wealth data:

As the data in this posting shows, Mike Pompeo is, by a wide margin, far less wealthy than most of his cabinet counterparts. His closest competitor is Acting Secretary of Homeland Security Kevin McAleenan who is worth a rather paltry $800,000 followed by Vice President Mike Pence who is worth $1 million thanks to the ultimate value of his state and federal pensions. But, don't feel too sorry for Mr. Pompeo; like his predecessors at the State Department, he is likely to cash in on the speaking circuit after he departs from his current position as co-chief war hawk.

Click HERE to read more from this author.


Loading ...