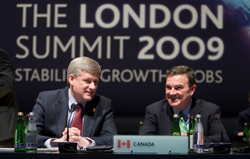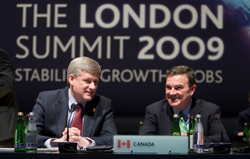 Prime Minister Stephen Harper today hailed the unprecedented, coordinated fast action by G-20 leaders to restore economic growth and confidence in the global economy.
"Canada came into this summit with clear objectives," said the Prime Minister. "We wanted the summit to focus on fixing the financial system, undertaking all necessary measures to stimulate the world economy, avoiding protectionism, and strengthening the regulation of financial markets. I'm pleased that these objectives are all reflected in the communiqué that G-20 leaders agreed to today."
The Prime Minister highlighted specific progress that was made in co-ordinating stimulus and improving trade and investment flows among G-20 countries.
"Today we agreed to take all necessary measures to implement coordinated stimulus activity in an accelerated and effective manner in order to speed an economic recovery," said the Prime Minister. "In addition, leaders agreed to correct protectionist measures inconsistent with trade obligations, and Canada successfully pushed the G-20 to take additional action to improve the flow of trade and investment."
Canada co-authored the important G-20 Working Group report on strengthening financial market regulation which forms the blueprint of what leaders agreed to today. G-20 members agreed that domestic regulators will have ultimate responsibility for implementation, guided by international principles and oversight.
Finally, leaders reached an agreement on providing international financial institutions with the resources they need to address the global crisis and support growth among emerging markets and developing economies. Canada will contribute US$10 billion for IMF emergency assistance and $200 million to the International Finance Corporation's Global Trade Liquidity Program as part of this commitment.