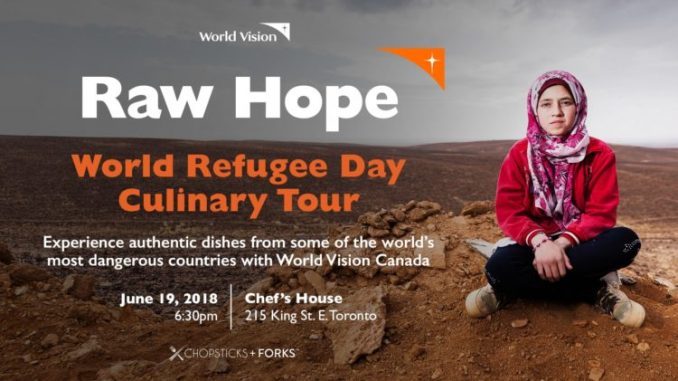 WHAT: We are witnessing the largest number of refugees and internally displaced people on earth since WW II. In the coming years, the under 30 population in the most fragile and unstable countries will spike. Protecting children on the move, in fragile contexts like Central African Republic and Bangladesh, is a continued focus for World Vision.
In advance of this year's World Refugee Day, Chopsticks and Forks and World Vision Canada are hosting a one night only culinary tour at The Chef's House. The evening will feature authentic dishes from some of the world's most dangerous countries – South Sudan, Syria, Iraq, Bangladesh – made by the students of the George Brown College Centre for Hospitality and Culinary Arts.
All proceeds from the event will support World Vision's Raw Hope initiative, which works with children at risk or in immediate danger, living in some of the world's most unstable countries.
WHEN: Tuesday, June 19, 6:30 pm
WHERE: The Chef's House, 215 King St. E., Toronto, ON
WHO: Jusep Sim, founder of Chopsticks and Forks
Obaid Rad, Afghan refugee who emigrated to Canada and will share about his journey
Jusep Sim, founder of Chopsticks and Forks and emcee for the evening
Althea Barclay, Manager of Raw Hope program, World Vision Canada
Event: https://www.facebook.com/events/247328595813844/
Raw Hope: https://donate.worldvision.ca/products/help-children-in-dangerous-conflict-zones
FAST FACTS:
· 65.6 million people have been forced to leave their homes


Loading ...