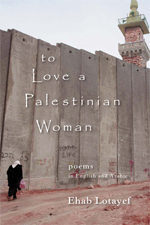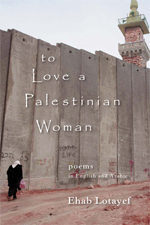 To Love a Palestinian Woman
Poems in English and Arabic
By Ehab Lotayef
Toronto: Friday, April 16, 2010 6:00 PM
Beit Zatoun House
612 Markham St. Toronto
(Bathurst Station, by Honest Ed's)
Join us at the Beit Zatoun House in Toronto for a celebration of poetry and music, as Ehab Lotayef reads in English and Arabic. Lotayef will be accompanied by Juno Award-nominated artist Maryem Tollar and Ernie Tollar, in the relaxing atmosphere of the latest addition to Toronto's cultural venues. Refreshments will be served, and books will be available for purchase and signing.
Both events are free of charge. For more information, please contact inquiries@tsarbooks.com
"Listening to Ehab Lotayef read his poems […] I begin to believe again that poetry matters. I am reminded of Yevgeny Yevtushenko, Allen Ginsberg and other poets […] who challenged the beliefs of their times, who were not afraid to enter the political fray and who went on to become the conscience of a generation."
— Angela Leuck, author of Flower Heart
About the Author
Ehab Lotayef was born in Cairo and moved to Montreal in 1989. He writes in English, classical Arabic and colloquial Egyptian Arabic. Besides writing poetry, he is also a photographer, Juno Award-nominated songwriter, and playwright. His play Crossing Gibraltar was produced in 2005 by CBC Radio. A fervent activist for the end of conflict in Gaza and the Middle East, Ehab makes frequent trips to Palestine, recently was an organizer of the Gaza Freedom March. Ehab works as an Information Technology Engineer at McGill University.
About the Book
Inspired by the rich poetic tradition of the author's native Arab culture, To Love a Palestinian Woman includes works written over eight years. Richly evocative and often passionate, these poems can be described as personal and romantic, as well as public and political. While the condition in Palestine is a dominant theme, so is love. Conciliatory in tone or passionately confrontational, these poems stem from a deep humanity that cannot fail to engage the reader.
Books available through your local bookstores, www.tsarbooks.com