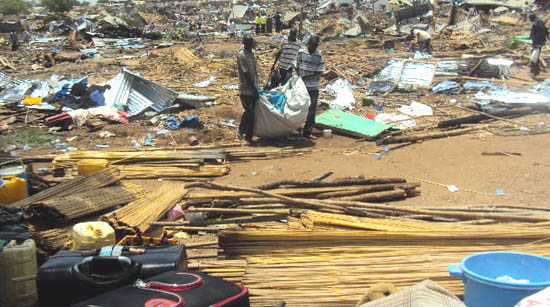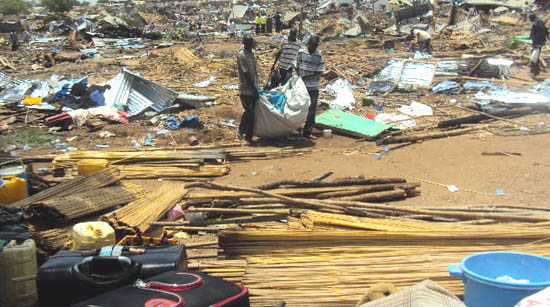 Hundreds of residents have been left homeless in Juba town following demolitions at Custom Residential Area.
Custom Residential Area is located opposite the Ministries of the Government of Southern Sudan-GOSS and Dr. Garang Mausoleum next to the Police Military Baracks, the area hosts foreign traders and many South Sudanese.
The area, just about 200 meters from the GOSS President's Office, shelters many traders from Ethiopia, Uganda, Kenya, Congo, Eritrea just to mention and South Sudanese dealing in small scale businesses.
Many sell tea, second hand clothing, edibles, bars, clinical products and many others.
It is one of the busiest areas along Ministries-Juba road where the Juba brothel is also situated. Many by-passers and residents have ever complained before of criminal activities as robbery, prostitution, insecurity among others especially at night.
The yesterday's demolitions came following a week long notice given to the residents to vacate the area. Early last week authorities of Central Equatoria State warned the residents that the State government wanted to use the land for constructing government building .
Unfortunately, many residents have remained in the area. Early yesterday morning the area was surrounded by forces of the military police as a road grader uprooted the makeshift houses and shops.
Many families were left homeless and in misery. 84 years old Mabior Lual Lual from Aweil, Northern Bar El Ghazal was left homeless and indecisive. He said that after learning the warning, he could not relocate to any place as he is not an indigenous of Juba.
He was not against the government decision of demolishing the area but challenged of how it was being organized. Mabior said that in many occasions where government plans to take a land of such nature it would allocate alternative land for the residents of the area before demolishing it.
While Angelina Malukpwe, a Ugandan tea vendor in the area, was also left miserable with her utensils alongside the Ministries-Juba road. She explained to Gurtong that she could not relocate following the warning due to lack of an alternative place. She said that the government's decision came in short notice as it was a one week warning, adding that, many people were unable to search for houses in other locations.
Early last year the State Government said that about 10,000 families' risk chances of being homeless due to planned demolitions from the beginning of this year.
Article viewed at: Oye! Times at www.oyetimes.com