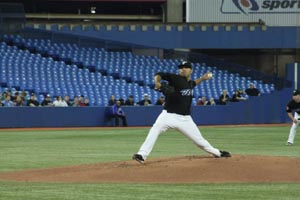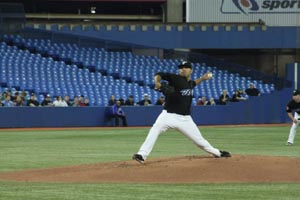 Blue Jays pitching ace Ricky Romero
A's Trevor Cahill Wins Pitcher's Duel over Jays Ace Ricky Romero


For the second consecutive series during their opening homestand, the Toronto Blue Jays were not able to complete the sweep.
In a battle of the aces, the Jays found themselves on the wrong end of a pitcher's duel losing 2-1 to the Oakland Athletics. Ricky Romero went pitch for pitch with the A's Trevor Cahill until the eighth inning when Oakland scored two runs for a comeback victory.
"You saw two of the better pitches in the American League on the mound today, classic pitcher's duel," said Jays Manager John Farrell.
"We felt all along as the game progressed, it was going to come down to one push from either offence, to be the difference today. Tried to snuff out theirs in the eighth inning, unfortunately it didn't work out today."
Jays batters struggled against Cahill only managing three hits – two singles and a double. Cahill lasted eight innings striking out seven and walking none while allowing only one run.

Romero, on the other hand, pitched 7.1 innings, allowing four hits and one run. He also struck out five batters and walked two.
"I had a good game, felt good on everything," said Romero about his game on Thursday afternoon. "You got to tip your hat off to Trevor (Cahill). He did a great job keeping us off balance."
"It's just a pitcher's duel. We're going to run into those games every once in a while and today we just weren't able to find a way to win."

Lucky Bounce

A's winning pitcher and ace Trevor Cahill
The Jays were unable to produce any offence against Cahill until the sixth when J.P. Arencibia doubled to left field to start the inning. He advanced to third base on a wild pitch before scoring on a Jayson Nix single to give the Jays 1-0 lead. Nix stole second base before Adam Lind flied out to end the inning.
The A's were able to turn the tide in the eighth inning. Second baseman, Andy LaRoche got it all started with a double to right-centre field. Then Shortstop Cliff Pennington advanced LaRoche to third on a sacrifice bunt. It looked as though Romero had time to get LaRoche but instead opted for the sure out at first base.
"I didn't make the play I should have and kind of kicked myself in the head for that," said Romero. "After the fact, just talking to the guys, I saw it just the fact that he has to go down and tag and I much rather get an out in that situation. I was confident enough that I was going to be able to get the next two guys out. It was unfortunate I wasn't able to stay in the game."
Farrell decided to take out Romero and bring in Frasor to pitch to A's centre fielder Coco Crisp. Frasor threw a changeup that struck out Crisp but the ball landed in the dirt and took a bounce over Jays catcher J.P. Arencibia. LaRoche scored on the play while Crisp made it safely to first.
"It was just one of those balls in the dirt, I got to block it but it was hit off the top of my glove and I thought it shot straight up but when I looked it shot straight up over me," said Arencibia.
"It's one of those things, he made his pitch. Sometimes the ball bounces that way."
With first basemen Daric Barton up at the plate, Crisp stole second base easily without a throw. Frasor then struck out Barton bringing right fielder Connor Jackson. Again, Crisp steals another base without a throw. Jackson singled a hard drive to left field just past the outstretched glove of a diving Nix, scoring Crisp and putting the A's ahead 2-1.
"Perfect pitch, got the out, got the strikeout and now we're looking at two outs with him on third, but a funny bounce," said Frasor of his wild pitch. "I'm disappointed in myself for not holding him on there. He (Crisp) stole second and third, then a hanging changeup and we're in trouble, it's 2-1. Frustrating loss for me."
Left-handed pitcher Brian Fuentes replaced Cahill in the ninth inning, allowed one hit but successfully closed out the game earning his first save of the season.

Second baseman Andy LaRoche scores
game-tying run in the 8th inning
Yunel Escobar was left out of lineup in the finale with the A's after suffering a concussion on Wednesday night. He was officially diagnosed with a mild concussion and is day-to-day, but is expected back next week. Meanwhile, John McDonald filled in well for Escobar at shortstop.
The Jays will now head out on a long ten-day road trip to Los Angeles, Seattle and Boston. Jose Bautista, who missed the entire series against Oakland, should make his return to the lineup in today's game against the Angels. Opening pitch is scheduled for 10:05pm.
The Jays will see a familiar face in the Angels lineup as Vernon Wells will play against his former club for the first time since the offseason trade.

Blue Jays mascot Ace entertains fans
at the Rogers Centre
"It will be good to see him again," said Romero. "He was the face of the franchise for such a long time and a tremendous person off the field and I'm really looking forward to seeing him again."

Game Notes:
Attendance was 19, 528…Blue Jays conclude homestand 4-2 winning both series…Aaron Hill stole his second base of the season in the second inning matching his total for all of 2010…Mark Ellis entered the game in the eight inning for A's which was his 1000
th
game as an Athletic, becoming the 13
th
player in Oakland history to do so…Day marked the 34
th
anniversary of Major League Baseball debuting in Toronto. On April 7, 1977, 44,649 fans braved snow and freezing temperatures as Doug Ault hit two homeruns in the Blue Jays'9-5 win over the Chicago White Sox at Exhibition Stadium…Following the game RHP Octavio Dotel was activated from the 15-day DL. To make room on the 25-man roster the Blue Jays optioned RHP Casey Janssen to Las Vegas (AAA).
To follow me on twitter click
HERE
Download or stream
the 500 Level podcast with co-hosts Aman Dhanoa and Ben Trattner as they discuss news, opinions, and views on Toronto sports from the Upper Deck. Leafs, Raptors, Jays, Argos, TFC – nothing is off limits. It's good to be a fan!
Also available on iTunes
Photos below courtesy of Annandi Merhai of Devi Designs
Contact Aman Dhanoa at aman@oyetimes.com

Article viewed at: Oye! Times at www.oyetimes.com