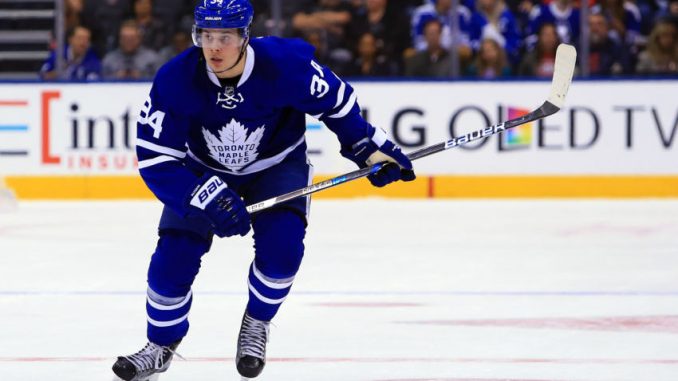 Toronto Maple Leafs come from behind to beat Washington Capitals 4-3 in OT. Here is the summary of the game played on Monday, April 17, 2017
| | | | | | |
| --- | --- | --- | --- | --- | --- |
| | 1 | 2 | 3 | OT | FINAL |
| WASHINGTON | 2 | 1 | 0 | 0 | 3 |
| TORONTO | 1 | 2 | 0 | 1 | 4 |
GAME SUMMARY | EVENT SUMMARY | FACEOFF SUMMARY

ON THE SCORESHEET
Tyler Bozak scored the overtime winning goal for the Maple Leafs at 1:37 of overtime. Bozak has points (1 goal, 2 assists) in three consecutive games.
Auston Matthews opened the scoring for the Maple Leafs at 14:08 of the first period and later registered the primary assist on Nylander's second period goal. Matthews' points are the first two Stanley Cup playoff points of his NHL career.
Nazem Kadri scored Toronto's second goal of the game at 15:13 of the second period and added the primary assist on Bozak's game-winning goal in overtime. Kadri has two playoff goals and six playoff points in 10 career playoff games.
William Nylander notched the Maple Leafs' third goal at 19:20 of the second period. Nylander's goal is his first career playoff tally.
Morgan Rielly registered the lone assist on Matthews' first period goal and had the secondary assist on Bozak's overtime-winner. Rielly has points (1 goal, 2 assists) in two consecutive games.
Leo Komarov
had the secondary assist on Kadri's goal in the second period. Komarov's assist is his first playoff point in 10 career playoff games.
Zach Hyman also picked up an assist on Nylander's goal. Hyman's assist is his first career point in the Stanley Cup playoffs.
Frederik Andersen stopped 23 shots in the Maple Leafs' victory.
SHOTS FIRED
The Maple Leafs had a 28-26 edge in shots in all situations. Each team registered 20 shots at 5-on-5.
Toronto had a 71-52 lead in shot attempts in all situations and a 54-38 lead in shot attempts at 5-on-5.
Auston Matthews led the Maple Leafs with six shots on goal.
Auston Matthews and William Nylander each registered nine shot attempts.
OF NOTE…
The Maple Leafs are 18-8 all-time in best-of-seven playoff series when leading 2-1 through three games.
The Maple Leafs are 57-54-1 all-time playoff overtimes and 37-32-1 in playoff overtimes on home ice.
The Maple Leafs were 3-for-3 on the penalty kill and 1-for-3 on the power play in tonight's game.
Toronto had a 42-31 edge in hits.
Tyler Bozak won 71 percent (5 won, 2 lost) of his defensive zone faceoffs.
Morgan Rielly was on the ice for a team-high 34 Maple Leafs shot attempts at 5-on-5 in tonight's game. Rielly had a 5-on-5 shot attempt percentage of 66.7 percent (34 for, 17 against).
MAPLE LEAFS LEADERS
| | |
| --- | --- |
| Faceoff Wins | 8 (Bozak) |
| Faceoff Win Percentage | 75% (Nylander) |
| Hits | 6 (Kadri, Martin) |
| Blocked Shots | 2 (Brown, Marincin, Rielly) |
| Takeaways | 1 (Nine players tied) |
| TOI | 26:10 (Gardiner) |
| Power Play TOI | 3:18 (Bozak, Marner, van Riemsdyk) |
| Shorthanded TOI | 3:42 (Marincin) |
| Shifts | 34 (Gardiner) |
| 5-on-5 Shot Attempt Percentage | 82.1% (Nylander – 23 for, 5 against) |
UPCOMING GAMES:
Wednesday, April 19 vs. Washington Capitals, 7:00 p.m. (Hockey Night in Canada, TSN 1050)
Friday, April 21 at Washington Capitals, 7:00 p.m. (Hockey Night in Canada, TSN 1050)
Sunday, April 23 vs. Washington Capitals, TBD*
Tuesday, April 25 at Washington Capitals, TBD*
*If Necessary
POSTGAME QUOTES:
HEAD COACH MIKE BABCOCK
On the successful 5-on-3 penalty kill and hits from Kadri's line as a momentum swing:
Obviously, we didn't start the way we wanted. I didn't think we were terrible but our reads defensively all night weren't very good and so we gave up bell-ringers at the start and gave Freddy no chance. Obviously, we were down 3-1 and get the 5-on-3 and it's a big moment in the game – the game is over if they score. That was a huge kill for us. Then, of course, we take another penalty – we had lots of energy tonight, let's just say that.
On how the team is handling the emotions of the playoffs:
I thought today was, for whatever reason – we were amped up to say the least. We had tons of energy, energy wasn't a problem. We should have played longer the other night. But, getting to the right spots and being there and stopping there was a bit of a problem. We'll get that sorted out. A great crowd, the city is fired up. The guys are young guys, they're fired up, they want to do well. I thought we played with lots of energy and lots of emotion. We've just got to play with a little more detail.
On playing three rookies (Hyman, Matthews, Nylander) together on a line and trusting them:
I talked to [Matthews] at the start [of the season] – it's a lot easier to come into the National Hockey League and play on the wing. He didn't want to do that; we didn't want to do that with him. We only have so many veterans so they can only go in so many spots. I wanted [Bozak] to play with [van Riemsdyk] and [Komarov] to play with [Kadri]. So, there wasn't a whole bunch more options. That's basically what it was. Hyman and Brown, as much as they're kids, they're dependable. They do it right every single day. That gives you a couple more – even though you don't consider them veterans, they're veteran-like people with veteran-like habits because they do it right all the time. I don't consider it – I think that line is a load and I think it's a good line… I just thought they were good all night. Today they were totally in control of the play, they had a lot of possession time, I thought they were dangerous, I thought they were skating. I think [Matthews] has been good right through, I thought this was Willy's best game and the best legs he's had, Hyman's just the same every day. It was just another day for him. That line was good.
On if the team has succeeded in putting the pressure on Washington:
I don't know much about that. What we're trying to do is play the best we can. Initially, you're trying to win game one, that didn't happen. I thought we had confidence in game one because we showed we could play. Game two was a big confidence builder for us. Obviously, now, if you talk to our guys, our guys think they're a good hockey team. When you're playing a good hockey team I think you gain respect for yourself and the process and you start believing that maybe you can do this. We've got to get regrouped tomorrow; we'll get back on track and get ready for a big game. It'll be a huge game for us going back into their building.
On coming back from a 3-1 deficit tonight:
I thought we had a real good kill and it was pretty evident – it's not hard for the guys to figure out we're not playing right. They know how to play so we know we weren't doing what we're supposed to do. We felt once we got doing what we were supposed to do the game turned our way. We think we're quick, we really do. We think we're quick, we think we know how to play and we've got lots of guys who play hard. We've got good energy and we've got depth.
FREDERIK ANDERSEN (23 SAVES)
On the penalty kill:
That was phenomenal. Obviously, we haven't been able to shut them down too much. They did a great job today and I think it led to us being able to come back… Not only [the 5-on-3], but also the next one right after. It was a little bit of a towel in the face after getting a lot of momentum off the two-man advantage. We killed that one off too and we tied it up.
On if the team's level of belief is growing:
Of course. When you win games like this and, not only tight games, but also coming back and playing with poise no matter if they come out hard. [Washington came out] a little bit harder than us today.
On trying to get comfortable with the changing defensive group in front of him:
Just knowing we've been playing well all year. Everyone believes in each other in here and that's just something where you've got to trust each other and trust everyone that has been in this group and going with this team throughout the year.
TYLER BOZAK (OVERTIME-WINNING GOAL)
On tonight's win:
It's a good feeling. I love the way we responded when we got down. Everyone played well and, you know, we can enjoy tonight but we still have a lot of work to do. We're confident in here so we've just got to stick to it and sit still. We have a lot of hockey left and they're a great team. We've got to be ready.
On the play that led to his goal:
We had fresh ice on a power play, there wasn't much more you could ask for at the start of a period. [Kadri] made a great play to me and I just tipped it and I'm lucky it went in.
On the feeling of scoring the winner:
It's a lot of emotions, you just want to be with your teammates and celebrate. We've had a lot of ups and downs in this series, some overtime – every game is overtime – so those are the most fun games to play, definitely. It's nice that we got rewarded tonight and won the game.
On a physical shift from Kadri's line prior to the first goal:
That was probably the biggest shift of the game for our team. I think Leo made a big hit, Naz made a couple of big hits and then we scored the next shift. I think those guys; they did a tremendous job again tonight. They've got a pretty tough task playing against one of the best lines in the League. I thought they did a great job again. They really got us going. I think we were a little nervous at the start and they did a good job of getting us back into the game.
AUSTON MATTHEWS (1 GOAL, 1 ASSIST)
On the shift by the Kadri line to create momentum for the team:
They definitely shifted the momentum for us. They've been great for us all series, not just on the scoresheet but getting under the opponent's skin and playing against the top line every night. They're doing a great job of making it hard on them. It was awesome for us to get the momentum out of that shift.
On the team's confidence level at this point in the series:
I think it's gone up. I think once you get in the playoffs, the seeding and everything doesn't really matter. It's about who wants it more and with three games going to overtime it's anyone's game so it's definitely been a grind. To sneak out two wins and we got another game on Wednesday, we want to make sure we come prepared.
On his goal tonight:
I just tried to get a shot off and it kind of bounced up and kept mulling around and ended up in front of the net and I was able to get my stick on it and put it in the net. It was a nice pass by Mo to catch them on a bad change.
MORGAN RIELLY (2 ASSISTS)
On what this comeback win says about the team:
That we can battle. We can compete. We're driven. We're motivated. We want to win. We're not going to take anything for granted. We're not going to do anything except work to win each game, one at a time. We believe in ourselves, we believe in the system we have, we believe in one another. There's no quit in this team.
On what the feeling was like on the bench after facing an early 2-0 deficit:
There was definitely a sense of – a little bit of uncertainty, I suppose. You know, that's always tough, especially in a playoff game where your fans are behind you. The building's loud and they come out well and they get the first two and you kind of put yourself behind the eight-ball a little bit, so there's definitely a little bit of urgency, a little bit of an anxious feeling going on but I thought we handled it well. A big goal by Auston and then we kind of regroup between periods, go out there and obviously come out strong.
On Nazem Kadri's first period shift that included a couple of big hits:
That was a huge turning point. A huge shift from [Nazem]. He's been doing that all year. Not just one shift for him tonight, he was outstanding all night. When he goes out there and creates that energy that can change a game around. We love it when he's playing like that.
On why the team has been so resilient this year:
Just competitiveness. A belief in one another that no matter what the score is, at any time in the game, we believe in one another that we can come back and play our game and gut out a win, and that's what we did tonight.