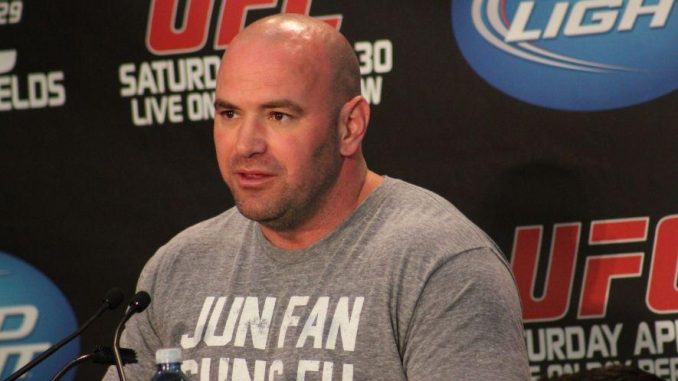 The Ultimate Fighting Championship (UFC) is taking over Toronto this week with its much anticipated first event in the province of Ontario with an elite fight card for UFC 129.
Mixed martial arts fans (MMA) in the city have waited a long time for this event to arrive and the festivities were kicked off on Wednesday afternoon press conference led by UFC President, Dana White. Flanked to his right were Georges St-Pierre, Jose Aldo, Randy Couture and UFC Director of Canadian Operations Tom Wright. To White's left were Jake Shields, Mark Hominick and Lyoto Machida.

White and the fighters answered questions for almost an hour before the event came to an end. At that point, White was surrounded by media in a large scrum. To everyone's surprise, even as all the major media outlets packed up and left, White was still standing and taking time out of his busy schedule to answer each and every reporter's question. For the almost two hours of Q&A, White maintained a smile and positive attitude throughout.
Representing a South Asian publication, I decided to throw a couple of obvious questions at the UFC President:
Aman Dhanoa: Any thoughts of going to India to promote the sport of MMA and UFC?
Dana White: Yes, we're working on India right now. We're hoping in the next — I've been saying this for the last month — but in the next couple of months to get a lot of big things done in India, including a possible Ultimate Fighter India.
Aman Dhanoa: Are there any South Asian fighters that are coming up in the sport that you can talk about or are aware of?
Dana White: We'll find out if we get the Ultimate Fighter over there.
As you can see, White was very vague on his plans for India and didn't seem very knowledgeable about South Asians gaining a foothold in the sport. However, this is exactly the same language used by White last summer when asked about expansion into China. In fact, UFC opened its third international office in China last year, after opening offices in the UK and Toronto. Perhaps an Indian office is in the works as well.
White has mentioned India in the past saying it was on their radar and one of the markets they wanted to explore. Now it seems to becoming a reality – literally. Having an Indian version of the hugely successful reality series Ultimate Fighter will certainly help develop the sport and give an indication of the quality of fighters that exist in the country.
Despite the lack of details, it's exciting to hear that the hugely popular sport will make headway into India and tap into a market of over a billion people. UFC's large interest lies in the country's huge population of 18-34 year-old males, which White estimated earlier to be roughly 300 million.
UFC held events in two new international locations last year with fights taking place in Abu Dhabi, UAE and Sydney, Australia. In August of this year, UFC will hold its first ever event in Brazil with UFC 134 taking place in Rio de Janeiro.
Any sport other than cricket, has a hard time thriving in India and, in general, South Asia.
Only time will tell if UFC will enter the Indian market and achieve success. Until then, bring on UFC 129 in Toronto!
Click
HERE
to view more pictures from the press conference. Pictures are courtesy of Annandi Merhai.
To watch the entire press conference click
HERE
To follow me on twitter click
HERE
Download or stream
the 500 Level podcast with co-hosts Aman Dhanoa and Ben Trattner as they discuss news, opinions, and views on Toronto sports from the Upper Deck. Leafs, Raptors, Jays, Argos, TFC – nothing is off limits. It's good to be a fan!
Also available on iTunes
Contact Aman Dhanoa at aman@oyetimes.com

Article viewed at: Oye! Times at www.oyetimes.com