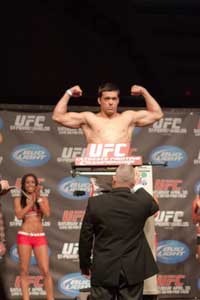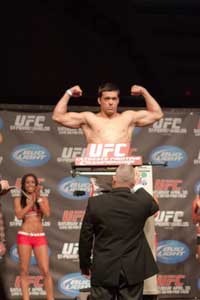 Lyoto Machida tips the scales
at the Weigh-in
UFC fever has taken a firm grip over the city of Toronto.
On Thursday, UFC launched the Octagon Nation Tour at Yonge & Dundas Square. Yesterday, just a day before the big fight night, the first-ever UFC Fan Expo held in Canada opened with octagon announcer Bruce Buffer declaring "It's time" to throngs of fans that poured through the doors at Direct Energy Centre.
Previous UFC Fan Expos have been held in Las Vegas (2009, 2010), Boston (2010) and London (2010). However, the event in Toronto is much bigger than the expos of the past.

Over the two days, the event features over 125 vendors utilizing 300,000 square feet of space. The vendors are showcasing apparel, fitness equipment and the latest products in the health and nutrition industry. It is estimated that over 30,000 fans will attend the Fan Expo, but if the first day was any indication, those numbers will be easily surpassed by the time the Expo wraps up on Saturday afternoon.

Fighters sign autographs for fans at
the UFC Fan Expo
Mixed martial arts (MMA) enthusiasts hoped to catch a glimpse of their favourite fighters with many lining up for the opportunity to get autographs or take pictures with UFC personalities. For $150 fans could also take part in Training and Development Sessions with UFC fighters, including "The Iceman" himself, Chuck Liddell. These sessions were limited with only the first 100 fans having the chance to train with Liddell on Friday getting tips on striking, ground offence and defence MMA takedown defence followed by a Q&A session with the fighter. On Saturday, fans will have the chance to train with "The Prodigy" BJ Penn and Anthony "Showtime" Pettis.
Fans Fill Ricoh for Weigh-in
UFC promised the largest collection of its fighters to ever appear in Canada at the Expo and certainly did not disappoint. Over 50 current and past UFC fighters are taking part in the festivities this weekend including all seven reigning champions that shared the stage yesterday prior to the weigh-in event at Ricoh Coliseum.

Five of the Super 7 pose for a picture
with their championship belts
Welterweight Georges St-Pierre, featherweight Jose Aldo, heavyweight Cain Velasquez, light-heavyweight Jon Jones, bantamweight Dominick Cruz, lightweight Frankie Edgar and middleweight Anderson Silva all sat together on one stage before a full arena of UFC fans for a Q&A session with Joe Rogan. Called the Super 7, all the champions proudly held their shiny championship belts. Aldo and St-Pierre will put their belts on the line on Saturday and left the stage early to prepare for the weigh-in while the other five champions remained on stage.
Once the champions wrapped up their Q&A, the weigh-ins began with the prelim fighters coming out first in order of the fight card. After each fighter was weighed, they would pose for a picture with their opponent.
When Jake Shields' name was announced the crowed booed heavily to the point where his answer's to Rogan's questions were inaudible. Last, but certainly not least, St-Pierre once again appeared to a hero's welcome with chants of "GSP". This was just a small taste of how the crowd may sound like on fight night.
Before St-Pierre left the stage, he had some very important advice to the crowd.
"Don't blink tomorrow, don't blink," said St-Pierre, clearly suggesting he would win his fight with Shields in quick fashion.

Georges St-Pierre (left) and Jake Shields (right) pose for a picture
after their weigh-in
With fight day finally here, the time for talking is over, so no more Q&A sessions with fans and media. The fighters will let their bodies do the talking tonight when they enter the octagon and square off against their opponent.
The great thing about sports is that anyone can win on any given night so nobody is certain as to what will transpire at Rogers Centre tonight. There is one guarantee, however, UFC 129 is the biggest ticket in town and when the event begins, over 55,000 rabid fans will be cheering on the fighters in hope of seeing one great fight after another.
Official UFC 129 Fight Card:
Preliminary Card (Facebook)
Featherweight bout: Yves Jabouin (Canada) vs. Pablo Garza (United States)
Lightweight bout: John Makdessi (Canada) vs. Kyle Watson (United States)
Middleweight bout: Jason MacDonald (Canada) vs. Ryan Jensen (United States)
Bantamweight bout: Ivan Menjivar (Canada) vs. Charlie Valencia (United States)
Welterweight bout: Claude Patrick (Canada) vs. Daniel Roberts (United States)
Preliminary Card (Sportsnet & Spike TV)
Welterweight bout: Sean Pierson (Canada) vs. Jake Ellenberger (United States)
Welterweight bout: Nate Diaz (United States) vs. Rory MacDonald (Canada)
Main Card
Lightweight bout: Mark Bocek (Canada) vs. Ben Henderson (United States)
Light Heavyweight bout: Vladimir Matyushenko (Belarus) vs. Jason Brilz (United States)
Light Heavyweight bout: Randy Couture (United States) vs. Lyoto Machida (Brazil)
Featherweight Championship bout: José Aldo (Brazil) vs. Mark Hominick (Canada)
Welterweight Championship bout: Georges St-Pierre (Canada) vs. Jake Shields (United States)
Click
HERE
to see more pictures of yesterday's Fan Expo and Weigh-in. Pictures are courtesy of Oye! Times photographer JP Dhanoa.
Click below to see complete videos of the Super 7 Q&A and Weigh-in:
Weigh-in:
http://www.ufc.tv/ufc/video/ufc-129-weighin/458
To follow me on twitter click HERE
Download or stream
the 500 Level podcast with co-hosts Aman Dhanoa and Ben Trattner as they discuss news, opinions, and views on Toronto sports from the Upper Deck. Leafs, Raptors, Jays, Argos, TFC – nothing is off limits. It's good to be a fan!
Also available on iTunes
Pictures are courtesy of Oye! Times photographer JP Dhanoa.
Contact Aman Dhanoa at aman@oyetimes.com

Article viewed at: Oye! Times at www.oyetimes.com