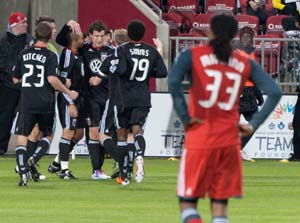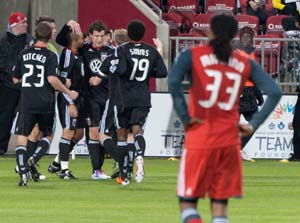 DC United celebrate a goal by Chris Pontius
while TFC forward Javier Martina looks on
Chris Pontius scores two goals & Charlie Davies Adds to League Lead
When thinking about Toronto FC's performance on Saturday night a few words come to mind, but unfortunately none are positive. Perhaps coach Aron Winter might have had some of the expletive variety for his squad during and after the game because this game was far from pretty.
Toronto once again started the game very slowly and gave up chances early, but unlike their previous game against LA Galaxy, DC was able to capitalize. The Reds allowed two goals to United within the first ten minutes and never recovered losing 3-0 at BMO Field. Chris Pontius scored two goals while MLS goals leader Charlie Davies added another for his fifth of the season.
After the game when asked if there was anything positive from the game, Winter replied, "The fans were great."
"Today nothing was going the way we want," added Winter. "We lost. But what I say is you can always lose a game but the way we lost the game, I didn't like it. I'm upset about it. What I appreciated from this game, was the 12th man on the pitch. The supporters were very good, even when we were losing 2-0, they were standing behind us. That was positive thing from this evening. I'm upset the way we lost, it was a shame."
After raining all day in Toronto, the clouds started to clear at game time but it was a cold and very windy night. However, the fans still came. The announced attendance was 16,313, which was generous considering how many people were actually in the stands, but they supported their club to the bitter end.

Despite being down 3-0, fans continued to
cheer on the Reds in the second half
"I feel we let ourselves down and most importantly, we let the fans down," said defender Nana Attakora. "They were still jumping up and down, chanting."
"It's a huge let down, we have to be better. We have to point out the reasons we are starting so slow and address it and fix it."
Once again TFC made mistakes in the opening minutes leading to two early goals.
"It's pretty obvious that we had the same type of start against LA, but D.C. was able to capitalize and every game you play in the MLS the most important moment is the first 15-20 minutes," said midfielder Julian de Guzman. "You're going to have teams come out regardless of the situation. We have to use the home advantage, especially the fans and that's something we didn't do."
After making his first start of the season on Wednesday, de Guzman played his first complete game last night. However, he wasn't exactly thrilled to a part of the result.
"The result is embarrassing," said de Guzman. "I didn't expect to play a full 90 minutes but I'm totally ready to do whatever is needed. To play a full 90 with no pain and no negative reaction in my knee is good but at the end of the day the result is not something to be proud of."
The loss was bad but to make things worse, centre back Adrian Cann was injured on the play leading up to the second goal. He was forced to leave the game and was replaced by Attakora. Cann was apparently elbowed in the ribs and Winter stated that the injury looked bad.

Easy as 1-2-3
United didn't take very long to pick apart the TFC defence – less than five minutes in fact. DC midfielder Chris Pontius exploded past Jacob Peterson from inside to the outside, then fired with his left boot past Frei, just inside the right post. DC were quickly up 1-0.
Then in the 10th minute DC were on the attack again after Davies easily intercepted a brutal pass by Danleigh Borman. Davies slotted the ball between two defenders ahead to Josh Wolff who was all alone but Frei stopped his shot by kicking out his right foot to make the initial save. Then Davies slid to knock the ball into the empty net putting United up it 2-0.
Toronto settled down after the second goal and Attakora had a couple of chances at the end of the half from set pieces but both missed the net.
Toronto had more bad luck early in the second half when defender Ty Harden was shown a straight red card for a hard tackle on Pontius. Harden's tackle warranted a yellow card, not an ejection, but suddenly, the Reds were down to ten men. Instead of United taking advantage of the extra player on the pitch, TFC took the play to DC and were actually playing better with ten men than they did with 11.
However, in the 73rd minute, Pontius received a pass just inside the left edge of TFC's box and moved around one defender before curling the ball past Frei. Pontius' goal made it 3-0 and effectively put the game out of reach.
In the 77th minute, Peterson managed to head a long throw-in by Gargan, the ball got past DC keeper Bill Hamid, but defender Ethan White was able to clear the ball off the line. The sliding play by White preserved the clean sheet for Hamid.
At the other end, Davies nearly scored again in the 89th minute. While being pressured by Attakora from his left, Davies could only shoot short side but Frei dove to his right to make the save.

Charlie Davies (centre) watches Tony
Tchani's (right) shot go towards goal
Despite leading the MLS in goals, this was Davies' first start of the season. Davies is making a remarkable return to soccer this year after recovering from a car crash that nearly took his life in October 2009.

"I've just got to keep going. I've still got a little ways to go," said Davies. "It was my first 90 which is a big step forward and it was a good performance for me. I've got to keep building off this performance and hopefully the goals keep coming. I'm just kind of shocked the way things have been going, I'm surrounded by a great group of guys and the support is there so I just have to keep improving."
Toronto will look to bounce back next Saturday when the club continues its homestand against the Columbus Crew at BMO Field with kickoff at 4pm ET.
To follow me on twitter click
HERE
Download or stream
the 500 Level podcast with co-hosts Aman Dhanoa and Ben Trattner as they discuss news, opinions, and views on Toronto sports from the Upper Deck. Leafs, Raptors, Jays, Argos, TFC – nothing is off limits. It's good to be a fan!
Also available on iTunes
Photos courtesy of Wilson Lo
Contact Aman Dhanoa at aman@oyetimes.com

Article viewed at: Oye! Times at www.oyetimes.com