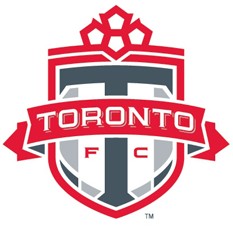 Despite playing without four of their regulars, Toronto FC pulled out a 1-0 victory over New England Revolution to stay undefeated at BMO Field this season.
Chad Barrett continued his improved play as his 2nd half header stood up as the winning goal. He would have had a hat trick had he been able to bury two glorious chances – including one in the opening minute.
"It was good to get a goal and I could have had three today," said Barrett. "I'm a little disappointed in that but at the same time I'm not disappointed with anything this team has come up with."
After a poor start to the season, the team has displayed great chemistry and have lost only once in their past 8 games, which includes both league and Nutrilite Canadian Championship games.
"This is probably quickly, most gelled together team that I think I have ever been with," added Barrett. "We're missing three stars today and we were able to come out with a win and preserve our home record."
With each win and draw, TFC is gaining confidence in Coach Preki's system and the results are beginning to show. What's more impressive is the fact that Toronto has continued to play well despite the many different lineups Preki has employed this season thus far. It almost doesn't matter who is in the lineup as long as they play the system.
"We're confident in our system, we're confident the way we want to play," said Preki. "Sometimes it's not really pretty but I'd rather win ugly than lose pretty….We're showing tremendous commitment and confidence in ourselves now. We still got to keep growing and keep getting better.
TFC goalkeeper and Man of the Match, Stefan Frei echoed his coach's sentiments.
"I think we have a little more confidence and we know that with a little grit and hard work we give ourselves a good chance to get either a point or 3 points and that's what it starts with," said Frei.

Thin Lineup
On Saturday, Toronto played out without their star captain Dwayne De Rosario who was away with the Canadian national team ahead of their friendly in Argentina on Monday. Julian de Guzman was supposed to be in Argentina as well but could not make the trip as a result of a hamstring injury. The strained hamstring also kept him out of the TFC lineup and defender Nana Attakora was announced as a game time scratch because of a hip flexor. Meanwhile, Maksim Usanov was serving a one-game suspension for receiving his fifth yellow card of the season.
This left Preki with a short bench and very little options for substitutions but he managed his lineup very well. Considering Toronto has had a busy schedule and were just coming off a three game road trip, he was impressed with the effort from his players.
"I was really proud of the group," said Preki. "They left everything on the field, the commitment of the group was top-class and that's why they got the result."
"I think we've come a long way and the group is working hard. They believe in each other, they're working for each other, that's why you see we're getting a little success."

Heads Up
Each team had great scoring chances in the first half. Barrett had both chances for Toronto – in the first minute on a partial breakaway, Barrett fired directly at Revolution keeper Preston Burpo and was unable to finish a great cross from Jacob Peterson in the 15th minute as he directed the ball over the net.
New England's best chance came off a brilliant cross from Marko Perovic into Kheli Dube who volleyed the ball of Frei's head and then went over the net. For Frei it was purely a reactionary save, but a great one nonetheless.
In the 30th minute, Perovic made a couple of nice dekes at the top of the box before firing a shot on goal but Frei was again in the right position to make the save.

After a scoreless 1st half, TFC were able to get on the board in the 53rd minute. Sam Cronin's corner kick was headed in perfectly by Barrett just outside the crease to give Toronto the 1-0 lead.
Barrett came close again later in the 2nd half. Just inside the box he chipped a shot over Burpo, who had cheated out of his net, but the ball was hit too hard and went over the goal.

Redemption
With the win, Toronto improved to 4-4-2 and climbed within two points of second place New York Red Bulls in the Eastern Conference. The free-falling Revolution dropped to 2-6-2 and now sit 5 pts back of TFC.
The win was also sweet revenge for Toronto after losing to the Revolution 4-1 in New England in their second game of the year.
"Today's win was huge," added Barrett. "It was over an eastern team and it put us 5 points clear with a game in hand over New England. We needed some redemption for what they did to us in New England and this time it was a game. It was a difference between playing for 70 minutes and instead we played for 90 minutes today and we got the win."
TFC will have a few days off for some much needed rest before they head out on the road again for a matchup against the San Jose Earthquakes next Saturday.
Contact Aman Dhanoa at aman@oyetimes.com