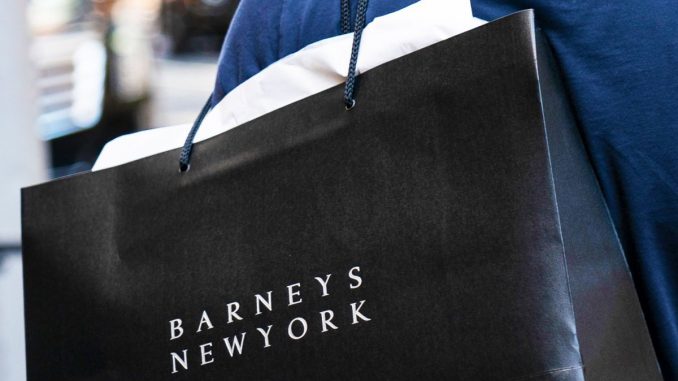 Prepare yourself accordingly: Your heart may just break over this latest bit of retail news. On Monday, Business of Fashion reported Barneys New York, one of Manhattan's most iconic department stores, could be preparing to file for bankruptcy. According to BoF, Barneys is struggling with high rents and changing consumer tastes. Not to mention Barneys has failed to adapt to the changing landscape of retail, racially-profiling Black customers and carrying limited sizes despite 67% of women in the US wearing a size 14 or larger. Presently, Barneys has 28 locations, including stores in Beverly Hills, California; Chicago; Seattle; Boston; San Francisco; and Las Vegas.
"At Barneys New York, our customers remain our top priority and we are committed to providing them the excellent services, products, and experiences they have come to expect," the company tells Business of Fashion in a statement. "We continue to work closely with all of our business partners to achieve the goals we've set together and maximize value. To that end, our board and management are actively evaluating opportunities to strengthen our balance sheet and ensure the sustainable, long-term growth and success of our business," the company added.
As Forbes explained on Monday, this is not necessarily a bad thing for the retailer. It all depends on the type of bankruptcy. If it's a reorganization, as opposed to a liquidation, there's still hope for the future of the company. "Reorganization is where the creditors or a new investor take over ownership of the company and the existing debt is forgiven or repaid at a discount from the original loan amount," Forbes explains. "In a liquidation, the company is, well, liquidated and it ceases to exist." Plus, this isn't the first time that Barneys New York filed for bankruptcy. Previously, the brand filed Chapter 11 reorganization and the change was not obvious to customers.
If Barneys actually does follow through with the bankruptcy, it would join brands like Claire's, Sears Holdings Inc, Toys "R" Us Inc and Gymboree Group Inc, whose products will soon be a relic of retail past.
We'll be following this story closely to see how it develops.
Click HERE to read more from Refinery29


Loading ...