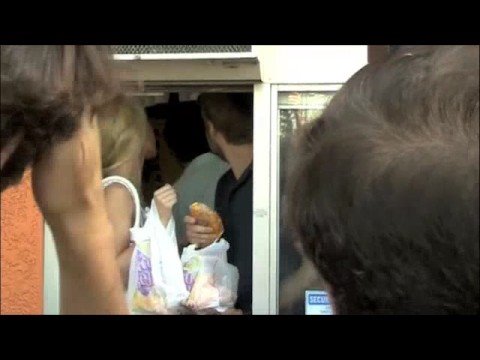 These are a few things that happen with you spend a day with Spencer Pratt and Heidi Montag: you tip-toe around their house as to not disturb their four dogs (the closest thing the couple has to kids), you eat Mexican food (twice), and you talk about what it's like to be famous.
You know Pratt and Montag from their days spent in front of the camera on the iconic reality series, The Hills. They were the self-destructive, blonder, and less extreme Nancy & Sid Vicious of the Los Angeles club scene. They made Lauren Conrad cry. A lot. They tipped the paparazzi off to where they were at all times to elevate their namesake and couple moniker, Speidi. They bought crystals. They bought everything. They ended up broke, but never broke up. They rode the wave of fame until the tide died down and there were barely even ripples.
But then in 2016, something happened. Speidi found a new way to start entertaining their fans — old and young, new and loyal — by using social media to provide a (constant) glimpse into their daily life. They reinstated their relevance and their web expanded for the first time in years. They started using Snapchat and Twitter to interact with anyone that showed interest in their lives.
I was one of those people.
Despite seeing their dozens of tweets and hundreds of Snaps a week, I had to know more about the state of Speidi and what they really do all day. The purpose of my visit to Speidi's lair is to see what the two do all day on the other side of their Snapchat selfie cams (and to fulfill a lifelong dream of hanging out with the Pratts), but more than that, it was to see in person how two people can go from television show villains, to struggling twentysomethings, to budding social media entrepreneurs.
They now live in a quiet beach town and mostly keep to themselves. However, they were kind enough to open their doors to me and give full access to follow them around for a day in late November.
So, what is a typical day for Speidi? Let's start at the beginning.

The Arrival, 10:08 a.m.
It wasn't until I was tip-toeing up to the side entrance of their home that it sunk in that I was about to spend the whole day with members of the reality TV hall of fame (as the most notorious villains).
I first spot Heidi running up the driveway towards their house, hair still in curlers. She's frantic; I'm on time. I ring the doorbell, pretending to not have seen her, and she ushers the photographer and I in through the side door, pleading with us to be as quiet at possible as to not disturb the four dogs in the back house. Once inside, she peels away to finish getting ready, and Spencer casually walks in, on his phone of course. We greet each other like old friends (isn't Twitter weird?): "I feel like I've already met you." "Same!"
Their home is well-lit with natural light from the vaulted ceilings and dozens of windows. It belongs to Spencer's parents, and they live there rent-free at the moment. There are dozens of magazines (Spencer's favorites) spread across the kitchen table. They have a lot of pictures of themselves around the house, but the most striking one is a huge custom Lego piece that hangs above the landing of their stair well. It's the first thing you see when you walk into the house. Spencer doesn't remember how much he paid for it, but he confirms that it was expensive.
Photographed by Nathaniel Wood.

The First Snapchat, 10:35 a.m.
Every day, Spencer wakes up around 9 a.m. and starts Snapchatting. He easily shares 50 Snapchats a day, depending on the activities he has planned. But nothing is off-limits for him. After Heidi is finished with her hair, we head down to their car, a huge black Denali, which is full of half-empty Essentia Enhanced water bottles (he's desperate for an Essentia sponsorship). We climb in, Spencer in the driver's seat and Heidi in the passenger, and head to our first destination, their favorite breakfast burrito joint (they love burritos). We barely make it past the gate to their neighborhood before Spencer abruptly stops the car and jumps out. "I gotta get these birds!" he says, and starts taking a video.
Heidi uses this opportunity to take a few selfies and check out what filters are available. She says she would love to create her own filters and has a few ideas that she's come up with. Most of them are animal-related. (Snapchat, are you listening?)
Photographed by Nathaniel Wood.

The Breakfast Burrito, 10:32 a.m.
It is a fact that Spencer and Heidi love Mexican food. When I asked them where they wanted to go to, they chose to begin and end the day with Mexican food… galore. You know when little kids get a fountain drink and take their cup of ice to the machine and fill every kind of soda in one cup? It's called "a suicide" and results in a toxic-looking black fizzy cola. Spencer does the equivalent of this with salsas.
He'd love to do a commercial for Taco Bell soon (if the internet is as powerful as we think it is, this could very well come to fruition): "I always tweet Taco Bell a picture of me and tacos, and I think a lot of people tweet them, saying 'Give Spencer a commercial!' 'cause when I Snapchat eating their tacos, the [followers on Twitter] always say that I make them wanna eat them." This commercial would actually be nearly a decade in the making as in 2008. At one point the two were even spokespeople for the fast food chain.
They also tell me about their upcoming Taco Bell Friendsgiving event happening the next day, which they will
later document every moment of on Snapchat
. Pratt is also on a long mission to solve a Taco Bell mystery, which he calls "The Craziest Taco Bell Story."
"I've told it before, and I'm going to bring it up when we're there tomorrow," he tells me later back at his house. "The President of Taco Bell gave me, off of his chest, his Taco Bell pin, which means you eat taco bell free for your life. I tried it at multiple Taco Bells and they looked at me [blankly]. Obviously, it worked for him, cause it's like, 'I'm the president.' But for me they were like, what are you talking about? It never works. I eventually lost it, or I threw it away. But now I want it back, because now I would be live tweeting and saying, 'I have my pin, they're not giving me tacos.'"
Later that day, after I leave, Heidi would film Spencer doing a solo mannequin challenge in a nearby Taco Bell. People would later deem the video "one of the biggest social media moments of 2016." He would also get the "magical pin" back.
Photographed by Nathaniel Wood.

MexiCali Lovers, 10:47 a.m.
Spencer and Heidi both took Spanish in college. Spencer took three semesters, and Heidi only took one. If we're getting into the details of it though, Heidi nearly took one because she was kicked out of the class. She was tossed out because she was never enrolled at University of Southern California where she had been attending said class. She went so she could be with Spencer. Neither of them use their knowledge of the language when ordering their food.
Only Spencer and Heidi would cheers their halves of burritos and seal it with a kiss. Before noon. Their puppy dog love for each other is palpable, but not obnoxious. They're just really, really into each other. But they also know what to do to make people talk about them, it's their gift. They still know how to work the paparazzi (even if it's just me and the camera guy this time around).
Photographed by Nathaniel Wood.

The Touch-Up, 11:05 a.m.
Back into the Denali we go. It's only been an hour, but I'm getting used to this fam squad. I feel like their kid being toted around on errands. Heidi really wants kids. She's made this a known fact in multiple interviews. They even already have a potential name, compliments Spencer: Spider.
I ask if we'd see the return of Speidi on their own show anytime soon, especially if she becomes pregnant. "I think anyone would, but it's just, it's different. Maybe when we have a baby. We're not sure what [it would be], but, obviously we would like that, you know. We'll see."
The only problem is, she says, that most networks want an ensemble cast, not just a show centering around one couple. Rob & Chyna only worked because it was a spin-off from the Kardashian empire. "We'll see what happens. We're definitely not relying on that though."
But it's not out of the question.
Photographed by Nathaniel Wood.

The Espresso Selfie, 11:15 a.m.
Spencer goes to Lucky Llama a lot. All the baristas know him and they light up when we walk in. They have inside jokes. He Snaps the two twentysomething cashier girls and they excitedly ham it up for his outstretched arm, iPhone in hand. "Don't put an ugly filter on me!" one of the brunettes requests. Spencer orders an espresso shot, but goes behind the counter to make sure it's up to his standards. He has extremely high espresso standards and makes his own every morning to weigh a perfect 32 ounces. He makes the guy standing at the machine make another one. The shot was too heavy; it's no good. While the staff embraces Spencer's foolery, older onlookers scoffed in his direction, and one man reading a book visibly glares in his direction.
Heidi quietly orders a latte, which she promptly Snapchats, but admits, "I'm a wino," and that she usually just gets tea.
Photographed by Nathaniel Wood.

The Latte Art, 11:21 a.m.
Heidi is a self-proclaimed housewife. Her days are consumed by taking care of her dogs, her man, and her money. She budgets everything they do. Everything. She's their accountant. Throughout the day she says things like "Not in the budget" and " every dollar counts." Later on her couch, she explains that they are still learning how to save and spend money, since their income isn't steady. Neither have ever, or probably will ever, work outside of the entertainment industry.
"We had a talk, the other day, again, and I was like, 'Ok, our goals are getting out of line so sometimes we have to check in on it," she tells me. Spencer doesn't even look at the monthly bills, it has become Heidi's project because she is naturally more financially-conscious. Spencer grew up with money and has always been a bit jaded about finances. "We just grew up so differently, too," she says. "He grew up in the Palisades and went to private school. And it's just different. So, growing up with everything, you don't realize, everything is something. I grew up in a very different way wherein like, going out to eat once a month or whatever was a big deal. I kind of fell into the other lifestyle with him, like, 'Oh, great we have so much money!' and it's just coming in. I assumed too much it was gonna keep coming in. So I've had to really go back to like my roots, and it's like, every dollar counts. Back to my principles, and back to the original voice. I have to put my foot down."
Photographed by Nathaniel Wood.

The Mannequin Challenge, 11:30 a.m.
A connoisseur of grabbing the attention of the masses, Spencer has an idea for some potentially viral content: "Let's do the Mannequin challenge now." He calls me over and has me stand with the menu, and positions all the other baristas. One thing Spencer is great at is coming up with a relevant pop culture moment, and he appreciates other reality stars doing the same. We talk about Jonathan Cheban ("he is my new favorite, just 'cause I know he's not eating any of that food") and Kelly Oxford ("she wanted us to open a crystal store together in Silver Lake"), who both have prominent social media followings. Spencer and Heidi both particularly love Blac Chyna and her hustle.
"I never didn't think she wasn't a genius," Spencer says. "She's like, 'Kim, you don't wanna be friends with me anymore? Ok, see ya at Thanksgiving. I'd love to have your last name.'" He adds: "Mannequin challenge in the delivery room. We were saying like… your brain is operating at a whole 'nother level." Later in the day, I bring up that DJ Khaled Snapchatted his wife's delivery, too. Heidi immediately responds: "Oh, we will be doing that!"
I hope she means it.
Photographed by Nathaniel Wood.

The Juice/Soup Life, 12:18 p.m.
Speidi go to a lot of the same places all the time, one of them being Pacific Health Food, which is owned by their friends Whitney and Nathan. The grocery store features a juice bar along with an array of organic produce and other healthy ingredients. It's very California. While we're there, a cop walks in and stands next to us as we order our juices. Spencer asks him if he wants to do a mannequin challenge with him and go viral. He says no.
Meanwhile, Heidi helps me decide what to order. She loves fruits and vegetables and often makes her own juices at home (to save money). She is especially conscious of her health following her plastic surgeries and a recent arm surgery last year. "I try to cook really healthy for us. I usually cook like whole roast chicken, roasted and marinated, and then like, last night I made a grilled steak. I put it in the oven, with sweet potato fries, and then a vegetable. So I just try to eat like really healthy, organic, non-GMO, good ingredients, just really clean." She wants to start her own cooking YouTube channel to share her recipes and Spencer really wants her to. He loves her cooking, especially her homemade soups (he calls it "soup life"). His current seasonal favorite is butter squash soup, although he never remembers the name.
Spencer: "Heidi knows I'm all about the soup life. So, this week's soup has been, what's the yellow one called?"
Heidi: "Butternut squash."
Spencer: "Butternut squash, which is off the hook. She puts on the top of it, the actual roasted butternut squash seeds."
Photographed by Nathaniel Wood.

Meta Selfies, 12:23 pm.
The health food store is pretty empty, too, like most of the town. It's chilly outside, but gorgeously sunny, which means perfect selfie lighting. It's interesting to see how much Spencer and Heidi are on their phones. As a millennial and someone who very much grew up with social media, I come nowhere close to this level of social media addiction. Spencer says he spends 99% of his day on the internet.
The more they Snap, the more curious I get. How many people are opening up and viewing these flower crown selfies every day? When I finally ask them they both get defensive: "Zero…None." They say in unison. Then, they both pull out their phones and start Snapping me in a very meta moment, and ask me to repeat the question. "Morgan's asking personal intimate questions about Snap views, like a cop," Spencer says to the camera, filming me. Heidi joins in, and shares a picture of me with the caption "
Morgan is a cop
."
So, how many is a lot? I don't personally have an answer, but I tell them DJ Khaled told me he has 3 million daily Snapchat views. "Well, he's famous," Spencer quips back. But… so are you guys I think to myself. Finally, Spencer answers (Heidi never does). "Before auto-play, I think my record was like, 35,000 [views]," he says. "But now I average 20. My story max is like 23 to 25,000." Not DJ Khaled numbers, but still impressive. But he wants more, and he wants Snapchat to verify his account. He looked into it and has uncovered a Snapchat conspiracy. "I wanna know what it takes to get verified, because I was bitching like, 'Oh, I wanna get verified,'" he says. "And then I was like, you know what, it's because I don't get enough views. But then, oh my god, Yes Julz, who's like, supposedly the biggest on Snapchat, has a ton of views and they hadn't even verified her. So they're just elitist, you know. With all due respect — I love Paris Hilton — but they verified Paris Hilton."
Photographed by Nathaniel Wood.

Speidi 101, 12:47 p.m.
Back at their house with three stops down, and still one more to go (dinner at their favorite Mexican restaurant, of course) I sit down and get some one-on-one time with each of them. I want to know their exact daily routine.
Heidi's Typical Day:
"I usually wake up at like, 7, and then I take the dogs out. Then I have like a half an hour of prayer, meditation time, alone, before he wakes up. Then I feed the dogs, and take them out. Then I usually start getting Spencer up. I cook breakfast for him. And then we clean breakfast. And then I help him get off to Jiu Jitsu by getting the bags packed and everything. When he's gone I usually do accounting or some laundry and cleaning. I do a lot of housework and I manage a lot of our business, and all that stuff. Then he comes home and then I'll cook lunch, and then I'll clean lunch. Then I'll do some more laundry. Then I walk the dogs. And then I do dinner, and I clean up dinner. And then, I usually watch like an hour of TV that I record. Then I get ready for bed, and then the next day starts. It's like groundhog's day."
Spencer's Typical Day:
"Well, I wake up at about nine o'clock and I yell to Heidi from bed, 'Are the waffles ready, honey?' And she goes, 'You want waffles or pancakes?' And I go, 'Uh, whatever.' So then I wait for the pancakes or waffles to be ready. That's my new thing, since I'm dieting, I don't eat burritos everyday, I do waffles or pancakes. They're super healthy. Whole wheat. And then, I pound a whole glass of water, usually right when I, before I get out of bed. Then I make espresso. First shot before I eat my pancakes or waffles. Eat them. Second shot. Then I start getting my gear and everything ready to go. I go to train Jiu Jitsu. Then, usually, we would pick up burritos for lunch, for Heidi and I, but now that Heidi is full chef, we usually just come home. Heidi has a soup prepared. Because she knows 'em all about soup life. And a slice of homemade bread. Then I just get on Twitter and read tweets and… other than that, just waiting for my big, my big call that they offered Ben [Higgins of The Bachelor]. I'm just waiting, coach. Put me in the game."
Photographed by Nathaniel Wood.

Wall Of Fame, 12:51 p.m.
To the right of their living room is a nook that has become Speidi's office. The walls of the nook are covered with tabloid, magazine, and newspaper covers and clippings from their glory days. It's weird seeing their entire lives chronicled by snarky headlines and rumors about their relationship. But they don't care; they love them. "I have boxes more, I'm waiting to get them framed," he says. "Why don't we put 'em all [up]?" (They haven't put them up because Heidi likes the white space and is particular about what kind of frames they use.)
To the left of Spencer's computer is a framed copy of a Los Angeles Times cover star titled, "The Speidi Chronicles." In the corner is a tiny write-up about Kristen Stewart and Robert Pattinson about their role in Twilight. Speidi's coverage was six times the size of Twilight. Spencer looks at it proudly, and adds, "That was when the LA calendar, like pre-internet, like the LA calendar when, like, to be on the cover of that in Hollywood was like, the biggest deal possible, when that dropped. And now it's like, who has a newspaper?"
These days, Spencer is working on going his post-internet relevance. From his desk, surrounded by memorabilia from nearly a decade prior, he sits, schemes and tweets. His latest idea is to go viral on YouTube. He started a channel, and purchased professional lights and a green man suit for videos. He plans to take his Snapchat content to the next level by uploading vlog-style videos to his channel. Spencer, like his wife, is a natural in front of the camera. He knows how to schmooze an audience (if you watch his Snapchats you can see it for yourself). One of the most popular segments of his Snapchat which he hopes to bring onto his YouTube channel are his daily gossip magazine readings. He sits down with a copy of US Weekly or Life & Style and gives a page-by-page dramatic reading of each celebrity story, adding his own Spencerisms here and there. He says the whole process of reading the tabloids takes him two hours, and wants the production value to match the amount of effort he puts into his endeavor.
Photographed by Nathaniel Wood.

#TBTs, 1:00 p.m.
While we're talking about peak Speidi, we fall onto the topic of pit Speidi, when The Hills was cancelled. I mention the drama from earlier this year surrounding The Hills anniversary special, which Spencer was not asked to attend despite him being an integral part of the show. "Originally, it was Lauren's show," Heidi explains. "And I think that the people who run that are still really close with her so, the only way to get her to do it I think was to just make it a special about her. So I think they were just like, 'Alright … Whatever we have to do get Lauren to do it, let's just do it.'"
I ask her if when the show wrapped, if they were approached to do their own spin-off. She says they were, and that it almost happened. "Yeah we had our own one contracted. It just didn't… it didn't happen. We definitely thought that we had like a show after that, but it just didn't end up…"
From the other side of the room, Spencer calls out: "Jersey Shore murdered us." But, he says, "they deserved to kill us." Heidi agrees adding, "They were great."
I ask if they have any advice for people starring in reality television. "Save your money."
Photographed by Nathaniel Wood.

Espresso Expert, 1:20 p.m.
Spencer has been on a mission to make the perfect espresso shot. On any average day, he says, he will sometimes make up to 9 espresso shots on her journey towards the perfect 32 oz. shot. He doesn't drink them all and will often pour them out if they're not up to his standards. He has a fancy espresso machine, a fancy scale for his grinds, and a growing espresso cup collection.
Earlier when we were at Lucky Llama, he handed me his phone showing direct messages between him and a random man he found on Instagram who makes fancy cups. "This is like how into espresso I am. I'm like messaging, asking people where they get there cups. Look at this guy's cup collection." "I hope they don't answer," Heidi says. "Oh no, I'm not getting any of them," he says. "Not in the budget." Heidi smiles.
Photographed by Nathaniel Wood.

Spencer Pratt On Espresso
"The grind's the hardest part, because that changes the most. Like, right now, I can already tell, this machine has been on, for like, four hours, or whatever. The water's so hot, that it's gonna come out so fast. So the hardest part about, and like, baristas will tell you that it's not that big of a deal, but you want 30 pounds of pressure. So I was always wanna do an exact [amount of pressure], and like a barista guy will be like, "Well this isn't thirty pounds, one lean." You know. But this company came out one where one it pushes down that thirty pounds pressure. It exerts exactly that. So, I don't have any reason, you know most like, fancy pants baristas all have like collections of tamps, different wood ones. It's like, to me I'd rather have the perfect science where I know it's thirty pounds. Maybe in, a few years of doing that I'll know exactly [how hard to lean], but still, you know, it'll never be 30 pounds. So, you want 30 pounds of pressure on your tamp."
His espresso machine starts making loud noises, but nothing happens.
"Oh no, I'm out of water. So that's also the reason why I can't compete against the champion [baristas] right now, is because of the pumped water. I guess it creates a different pressure, when it's like pumped into your tank versus just pouring it in. I've looked into it, and to run a frickin' hose into there, and it's like so not cheap to have it. My accountant Heidi said, we are not running a dedicated line."
Heidi from the other side of the kitchen: "This is his parents' house. We are not."
Photographed by Nathaniel Wood.

Crystallize, 2:03 p.m.
Ah, the crystals. Spencer made crystals mainstream (and kind of a joke) at one point, but he still truly believes in the good intentions and positive energy these natural creations bring into his life. He even has his own metaphysical crystal kit. He says that Heidi is actually the one who first got him into crystals. "She actually had a crystal rock collection like it when she was a kid," he says. But it would be Spencer who would end up with an expansive and impressive collection as an adult.
"They say in the crystal world, go with the first crystal you pick, and of course, Spencer picks the biggest crystal as his first," Heidi comments, standing on the stairs behind us. "And he's like, 'I have to have it.' Our business managers were like, 'You guys cannot afford this crystal. And he was like, 'No, it's calling me. I need this crystal."
"But I already bought it," Spencer laughs. "And then they were like 'No, we talked to the owner, he'll take your return.' But I was like, 'No, no, I've committed mentally.'"
His favorite crystal at the moment is Kunzite because "it makes me feel like, chill." People get lost in crystals all the time, he says. "I imagine if you do drugs, which thankfully, I don't, then they're way more interesting."
Photographed by Nathaniel Wood.

Meditation Break, 2:18 p.m.
Another favorite of his are Lemurian crystals, pictured here. "Lemurian is like, magical land like, Atlantis. Before Atlantis, there was Lemurian. So these are pretty much like, microchips from the future and the past. It's like, so deep. So if you wanna download information from like, Lemurian, you meditate with these." I ask if he mediates with them on his body or just surrounding him. "Everyone will say there's a different way. The way I used to do, is I used to like, I think it's feel this, I think if you rub that, that's pretty good." He isn't as obsessed with crystals anymore, but still expands his collection. Heidi recently brought him home a Pyrites from her trip to Aspen.
Since crystals are all about energy, he got rid of the ones he had while filming The Hills. "Thankfully I gave away a lot of those energy stones. I didn't realize I wasn't gonna have money to be buying all these crystals forever, so I didn't think, like, oh, here, take this $800 crystal. I gave one away for an US Weekly charity that was like a ten thousand dollar phantom smokey quartz that I still think about because somebody probably got it at charity for like 100 bucks or something."
Photographed by Nathaniel Wood.

Fame Game, 2:28 p.m.
Heidi has always wanted to be famous. One way or another, it was going to happen for her. "When I was little it was to be like a movie star," she says when I ask her what she wanted to be when she was younger. "There's home videos of me being like, 'I'm gonna be famous one day!' when I was little. I called my stepdad Mr. Cameraman. Like, 'Excuse me, Mr. Cameraman!' So, that was always my biggest dream. And then I wanted to be in fashion when I was in middle school and high school. And I was like the only one in my town who had Vogue and all those things, and that's really what I wanted to do. I moved to San Francisco and I was going to fashion school because they have one of the top 3 fashion schools in the country there. And so I was going to that school, and then I met Lauren." And the rest is, as they say, history.
While her childhood dreams did come true, there's one aspect of her celebrity stardom that never came to fruition:
her career as a pop star
. In 2010, Heidi, with the help of Spencer, independently released a 12-track album,
Superficial
. It took nearly three years and over 2 million dollars to create. In
a 2010 interview with Entertainment Weekly
, Heidi compares the album to
Thriller
. Should we expect more music from her?
"I do have one song I need to get in and cut that I bought a long time ago that I still love, and I'd love to do that," Heidi says. Spencer adds that they spent $15,000 on the song back in 2007 and just haven't created a single yet. "I need to cut it, but other than that, I think I'm kind of done in the music scene. In my imagination, I'd love to have a Christmas album."
Photographed by Nathaniel Wood.

Wine Time, 2:32 p.m.
Speidi has a lot of downtime, considering they mostly just hang out with each other. Most of Spencer's "friends" (he uses air quotes, too) live in Malibu which is about two hours away (on a good day). In their basement level, they have a few time-wasting activities: an arcade game, a pool table, and games, like chess.
"Do y'all play chess?" I ask, pointing to the expensive-looking crystal chess set sitting by their fireplace. "We used to play," he says. "It's way more fun when you drink wine."
Photographed by Nathaniel Wood.

Yin & Yang, 3:15 p.m.
Speidi doesn't know who came up with their famous nickname. It's either Ken Baker, a photo editor at Us Weekly, or a random person who will never get credit. I tell Spencer that I thought he made it up, but he defiantly responds, "I'd like to but nah. I obviously claim I didn't."
Whoever came up with it deserves a Peabody because no other couple is so deserving of a hybrid title than these two. Every decision they make is for Team Speidi. But every couple should hang out with friends. Balance is key to any healthy relationship, even theirs.
I ask how often they hang out with friends. They say not too often. "I'd rather hang out with you," Spencer says, looking up from his phone to make eye contact with his wife. "Well, always," she responds.
Photographed by Nathaniel Wood.

Speidi 2.0, 3:41 p.m.
By hour four, Speidi and I are feeling pretty comfortable with each other. I tell them they should get a podcast, they say no thanks. I joke that they should sell their parents house to make money, they say lol, no. And then we get to the real stuff.
"Do you guys feel pressure to be constantly be in the spotlight?" I ask Heidi.
"I feel like in order for us to move forward and kind of reinvent ourselves within a realm, because that is our main thing — television shows and all that. I think it's important for us to figure out how to evolve within our own realm."
Evolving within their own realm. That's a pretty serious take on what feels like a frivolous topic, but this is more about their livelihood than than making a tabloid headline. Rather than deal with agents and a PR-team, they're doing everything themselves. "It puts a lot more pressure, but it's also a lot easier at the same time. It is easier when you have other people do everything for you. It's also different when one's like a guaranteed income and one [show] is more like for fun."
All of their appearances on television been purely for income, never just for fun. "We've done a TV show ever since The Hills. I did Famous Food. And then we did Wife Swap. Then we did Celebrity Big Brother. Then we did Marriage Boot Camp. I did the Mother Daughter Experiment." So when networks approach them, do they get to choose which show they want to do? Heidi laughs. "No. Sometimes we have to choose between two, or, but usually, it's just one."
Photographed by Nathaniel Wood.

Beach Oasis, 4:06 p.m.
There's still an hour or so before the sun will set, and the Pacific Ocean is glittering. I spot the pile of surfboards on their patio. Do you guys surf? "Spencer does," she says, adding that he's actually really good.
As for her? "No, I'm way too fragile," she laughs. She's referring to her surgeries, which I even forgot she had until then. It dawns on me that she looks great. Her face is wrinkle-free and her inconspicuous outfit of a high-neck sweater, tan leather jacket, and faded boot cut jeans is drawing no extra attention to her figure. (She loves The Gap.) That young, naive, and insecure Heidi is nowhere in sight. Instead it's housewife Heidi, who doesn't surf because of her surgeries instead of posing with a bikini on one despite them, something she would have done for a photo op in the past.
I walk further down to past the chairs and the surfboards and almost set off their silent alarm. Heidi asks me to step back, and calls for Spencer. The dogs in the other house can hear the alarm go off and will start to go crazy, she says, "They know when I'm around." "They can smell her," Spencer adds. Since I've been with them for nearly six hours, this is the longest they haven't seen Heidi in a while. I ask if she's content with their calm life, outside of the toxicity of LA. "It's been great being here [in Carpinteria]. We're just kind of figuring out what's the best option. You know is it better to be near family and his family and be down there [near Palisades, where Spencer is from]. And, you know, there's more opportunities down there. But we love it up here, too. So this is kind of a win-win." We go inside and decide to head out to dinner. Before we leave, Heidi does a few dishes while Spencer browses Twitter.
Photographed by Nathaniel Wood.

Delivery at Delgados, 4:57 p.m.
When Spencer and Heidi started dating, their messy relationship seemed fake. But now, it's one of the sole authentic moments from the show. One of their favorite topics is how manufactured and scripted the entire series was. Of all the cast members, Heidi says that Whitney Port was the only one that actually worked, which is why her spin-off, The City, didn't work. She was too busy to pretend.
And that's the best part about Speidi, they don't pretend either anymore. They are upfront about their intentions and desires from the get-go. The reason they share so much on social media is because they are so comfortable with themselves now. They've grown up. On our way to dinner, we run into their mail man who warmly greets the couple. He hands them a delivery, and Spencer is psyched. When we park at Delgado's Mexican Foods, he tears into the package and pulls out his brown belt from his Jiu jitsu training. Heidi is beaming. "He's getting his brown belt!" she tells me excitedly and starts Snapchatting him as he Snapchats himself. Their support for one another is unwavering. Their time as reality star villains might have had an expiration date, but their commitment to each other does not.
Photographed by Nathaniel Wood.

Fry Guy, 5:14 p.m.
Even though we've been to four food places in six hours, Speidi manages to order enough food for a dozen people; they clearly miss eating out. Before Heidi's budgeting days, they would come eat here regularly. When the waitress spots us, her smile widens. She comes over and immediately assumes we're getting a pitcher. Not today, they say. "I've thrown up in that bathroom so many times," Heidi says to me, pointing to the restroom to our right. She hasn't been drunk off tequila since she got sick from it on The Mother Daughter Experiment.
When they first moved to Carpinteria, they used to get blackout drunk at here all the time. They would stumble home, wasted off tequila. "It was our version of a frat row" she says.
While we're wrapping up, I tell Spencer to rank the legitimacy of gossip magazines, and his opinion on which one exposes the juiciest secrets. "The only mags that have juice and gossip are In Touch and Life & Style. They all have different purposes. Us Weekly, to me, is the publicists magazine. You're never gonna get a story there that will offend a big star. You're not getting any juice juice. And People is never go to air out anyone's dirty — they put Donald Trump right on the cover. But it's a loaded question, so I read all of them. I never have to choose just one to buy because I have a subscription to all of them."
A trend starts to appear: Spencer has likes everything to be over-the-top. Why have nachos when he can have fries on it too? Why get one crystal when he can get 100? Why choose one magazine when he can buy all 15? Why Snapchat one moment when he can share it all? More is more is more. He will always crave a lifestyle of excess. As we get up from the table to leave, I ask what they're going to do once I leave. "Maybe go see a movie,"Heidi says. "I had a record at the Santa Monica Blockbuster for the most videos before they closed," Spencer adds. "I used to rent like 20 movies at a time, I swear."
Photographed by Nathaniel Wood.
Click HERE to read more from Refinery29.



Loading ...