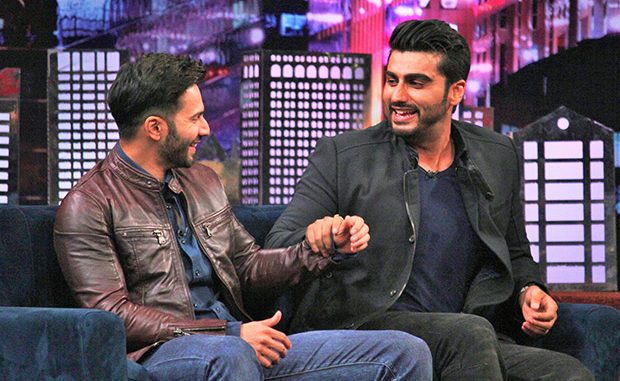 Arjun Kapoor and Varun Dhawan will take the hot seat and bringing the house down with hosts, Riteish Deshmukh and Sajid Khan on the show Yaaron Ki Baraat. The show is about testing celebrity friendships through a series of fun games, tasks, challenges and the joyride that ensued had the dashing duo sharing the craziest stories about each other.
Being chaddi buddies, Arjun and Varun are thick as thieves and were up to no good most of the time in their childhood. Today, they are not only peers in Bollywood with a rich Bollywood lineage but have also seen each other grow through various stages in their life. Making their entry in the show in their own quirky style, both the talented actors pretended to be janitors and doppelgangers of their celebrity selves.
After settling down and talking to the charming hosts, Arjun revealed that he was actually very good friends with Varun's elder brother and all three of them would hang out together. Arjun and Varun joined Barry John's film academy and since then, they have come a long way from making their debut in the same year to hitting the seven movie milestone together in their respective careers!
When asked about their hidden talents, Varun spoke of how Arjun is not just an excellent actor but also a brilliant director and editor, making him a complete package. Arjun worked as an assistant director on the critically acclaimed Kabhi Alvida Na Kehna when he was barely 17 and learnt the art of film making. He also worked as an assistant director on the movie No Entry along with Varun. While at it, he made a rough edit of the film and showed it to Varun. So floored was Varun with this edit, that he immediately went to his dad (David Dhawan) and told him about Arjun's hidden talent. What's more …During a conversation at a party, Arjun had assessed Varun's capabilities and told him that when he'd make his debut as a director, he would cast Varun in his movie. Varun mentioned that he is waiting to be cast by Arjun in his directorial venture!
Even though it may seem that the two are from wealthy Bollywood families, both Arjun and Varun insist that they are essentially technicians' sons. This aspect of their father's career's as director and producer came as a blessing as they learnt some of their most important lessons from their fathers … things that they apply in their professional lives even today. Both admitted that these learnings have played a significant part in making them the stars they are today. When asked about his biggest learning from his father David Dhawan, Varun shared that he knows how upset a director gets when the actor is not punctual and when the film does not do well. So he makes sure that he is on time and gives every shot his one hundred percent. Arjun Kapoor, the son of one of the most famous producers of Bollywood – Boney Kapoor, also learnt from his father the value of the money that a producer invests in a film and the efforts of every single crew member, right from the lights man to the make-up dada and the spotboy. He learnt not to take any of these for granted and to do justice to every shot and every take.
Source: Bollywood News original article at Arjun Kapoor wants to cast Varun Dhawan in his directorial debut