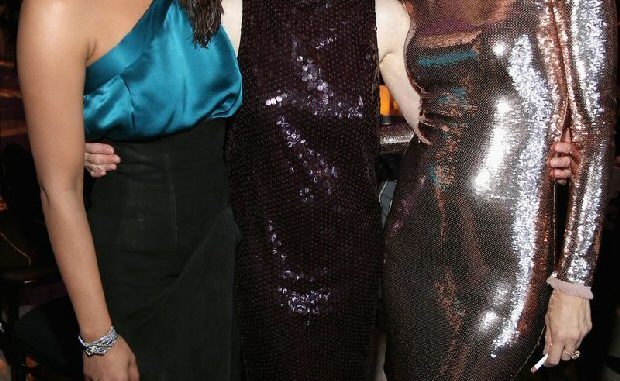 A while ago, we had reported that InStyle magazine was going to present the Breakout Style star award to Priyanka Chopra for her international success. The InStyle Awards show happened last night in Los Angeles at the Getty Center.
For the event, Priyanka Chopra donned a two-tone Haider Ackermann designed outfit which was an asymmetrical teal top and black skirt. The award was presented to her my musician Usher who had pretty amazing things to say about her. He praised her charity work, support for girl child and also her fashion statement.
On receiving the award, Priyanka Chopra thanked all the designers and stylist who have made her look good each step in her career. She said, "Thank you very much, InStyle, for that amazing cover, and for this award. I truly believe that style is a representation of your own personality and trying to find clothes that make you feel like you are what you wear, and that's what I've always tried to do with my clothes. Thank you to all the designers and the stylists who have dressed me over the years and helped me find that voice to express myself through my clothes. Christina [Ehrlich], sitting right there, thank you very much. Quoting designer Tom Ford, she further added, "He said once that dressing well is like having good manners. And my mother definitely told me to be well-mannered, so thank you very much."
At the awards night, Priyanka Chopra also hung out with big names like Julianne Moore, Laura Dern and Shailene Woodley.
Breakout style star of the year #instyleawards @priyankachopra pic.twitter.com/zEEIb2uFCa
— Priyanka-Chopra.us (@PriyankaNetwork) October 25, 2016
Giving all our to @priyankachopra at the #instyleawards! Director: @marklphoto Set Designer: @jcmolinasetdesign
A video posted by instylemagazine (@instylemagazine) on Oct 24, 2016 at 10:28pm PDT
Source: Bollywood Masala original article at Watch: Usher presents Priyanka Chopra with Breakout Style Star award