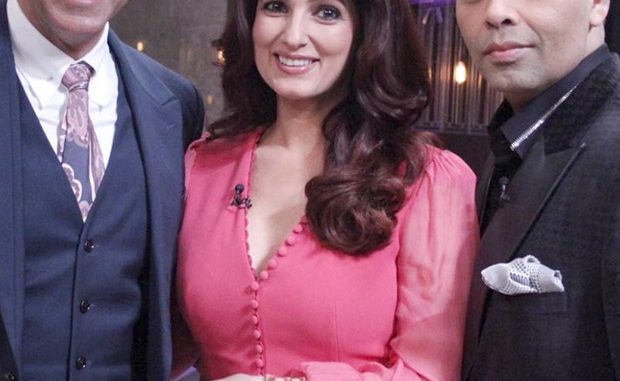 Known for her wit and sarcasm, Twinkle Khanna was eagerly awaited on the latest season of the show Koffee With Karan. She was obviously accompanied by superstar husband Akshay Kumar. The duo have been married for 15 years and amidst several confessions and secrets of their long relation, Akshay decided to surprise his wife on the sets of her best friend's show.
Very few may be aware that, Akshay Kumar and Twinkle Khanna were dating for a year before they tied the knot. When they were seeing each other, renowned musician Frank Sinatra's hit song 'Strangers In The Night' played a very important role during their courtship. It was Twinkle's favourite song so Akshay and Twinkle continued listening to it on loop during their courtship while they were shooting together for a film.
Recently, when they came on the fifth season of Koffee with Karan, Akshay surprised Twinkle by singing the song for her. Interestingly, this is the first time they came together on the show. The actor also revealed in the show that he has been rehearsing for the same for over a month and was helped by famous Indian musician Raghav Sachar. He too made a brief appearance on the show, to give music whilst Akshay sang along.
In fact, Akshay's special effort took Twinkle by surprise. "And the way Akshay sung the song, it surprised not just Tina but all others present on the set of the show. They also danced to the number," revealed an insider.

Source: Bollywood Masala original article at Akshay Kumar surprises Twinkle Khanna on the sets of Koffee With Karan



Loading ...