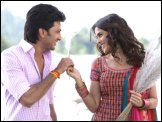 You can publish this article on your website as long as you provide a link back to this page.
This article was last updated on April 16, 2022

As is known by one and all by now, the good news is that Riteish Deshmukh and Genelia D'Souza have admitted to being a couple. And even better news is that their next release would see the two of them together as love birds. However, the best news here is the sound of wedding bells which may well be heard around the same time when their upcoming film Tere Naal Love Ho Gaya releases.
"Now that the Riteish and Genelia are out in open, it makes the whole scenario all the more clear", says a source, "It is but natural that their film Tere Naal Love Ho Gaya was well planned to release around the same time when the couple was looking at getting married. To have the release of your film coincide with the most special occasion in your life comes with quite a few benefits. Above all, it acts as a good promotional peg as well."
The theory has a definite point here since a few years back even Abhishek Bachchan and Aishwarya Rai announced their togetherness days before the release of Guru. This gave a huge mileage to the film and also made a definite contribution to the film's success. "Whether a couple is together or they break up, a film generally benefits", says another industry observer, "We saw how Jab We Met suddenly came into spotlight when Kareena Kapoor and Shahid Kapoor broke up. Now that Kareena is all set to marry Saif early next year, it is more or less certain that the event would coincide with the release of their Agent Vinod.
Stars always make news, more so when they are in love and come together in a film. Wedding announcement around the same time acts as a cherry on the cake." Guess the makers of Tere Naal Love Ho Gaya understood this as well and not just a major portion of this quickie was wrapped up in record time, even the film's promotion has started months in advance with the release of their song 'Main Vaari Jaanva'. As reported earlier, it was a clear hint that Riteish and Genelia were serious about their wedding plans and the song just added as an early indication.
"Yes, Riteish has already announced that the wedding would take place early next year. Now it's a matter of time that the final date is announced soon as well. Chances are quite high that it would be around 17th February, the Valentine weekend, in which the film releases. It is going to be one lovey-dovey season for sure if the couple walks the red carpet of the film's premier that could well act as their wedding reception", quips a common friend.