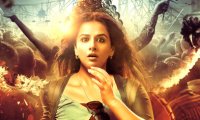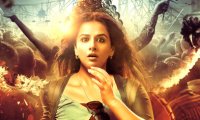 The Dirty Picture
is still running in the theatres and has already accumulated close to Rs. 80 crores. Meanwhile Vidya Balan too has turned 33 and
The Dirty Picture
is just the kind of blockbuster that makes for a grand finale to an eventful year that had started with
No One Killed Jessica
. With last 12 months being quite hectic, Vidya was sure that she didn't want to go through the drill all over again and in the process deliver a 'premature baby'. Well, this baby happens to be
Kahaani
, a film that was first supposed to arrive a few months ago was later confirmed for January next month.
"Thankfully, as things stand today, Kahaani would now arrive only in March next year so that the 'expectant mom' can relax for a while", informs a friend of the actress, "Vidya really needs a break. It would have been virtually inhuman for her to move straight from The Dirty Picture to Kahaani in four weeks flat. Not just would it have taken a toll on her health, it would also have been unjustified for the audience to see her in a role which is totally different from the 'dirty' character that she played in Milan Luthria's film."
In Kahaani, Vidya plays the role of a pregnant woman who is in search of her husband. A dramatic affair, the film is directed by Sujoy Ghosh (of Jhankaar Beats fame). When The Dirty Picture started making waves and ensured a sure-shot success for Vidya, it turned out to be a winning preposition for Kahaani since the actress' fan base has only widened further in the last few weeks. However, the makers have decided to hold on for a while and let the euphoria of The Dirty Picture and then arrive with Kahaani instead of coming up with a rush job just in order to milk Vidya's superstardom.
"Yes, Kahaani will now arrive on 9th March. Thank goodness for that as Kahaani is my baby. I would now be 'delivering' after two months", quips Vidya, "If it would have arrived earlier, it would have turned out to be premature. Neither Sujoy nor I wanted that."
Meanwhile, even though Vidya has been inundated with offers, especially in last few weeks, Vidya isn't picking up anything in haste.
"No, I haven't signed any film so far. When I am shooting for a film, I don't go through narrations or script reading. Entire 2011 went into filming and I just didn't get any time to go through any scripts. I have just started doing that a week ago. Hopefully during this period of break, I would take some decisions", she says.
We are waiting to hear more on this Vidya.