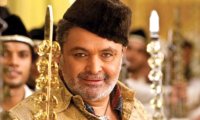 You can publish this article on your website as long as you provide a link back to this page.
This article was last updated on April 16, 2022

It seemed rather unreal walking right inside the illustrious RK Studios and then getting to sip hot chai (tea) with Rishi Kapoor in his private office. But first, the words echoed all around RK Studios when I put my right foot inside – The Show Must Go On Son! The Show Must Go On! It felt serene just like you walk inside a temple on any given day. The vibes started to come in and then came a man dressed in white who asked, "Whom do you want to meet?" I answered, "Rishi Kapoor". He said, "You've come to meet Chintuji?" I nod in positive. He orders me to stand at a distance, enters Rishi Kapoor's cabin and grants me permission to enter. Now here's what happens when you enter the main domain of the temple. It's the blessings that count and right in front of me was Rishi 'Chintu' Kapoor, and right above him hung the most beautiful vintage framed image of Raj Kapoor saab's
Mera Naam Joker
.
I shake my hands in honour, sit and ask Rishiji, "Can I just take time to digest these beautiful posters of the RK banner movies over the years?" There was no answer but after a minute or so as I kept staring at some dozen or more frames, I heard, "Have you finished digesting?" That's Rishi Kapoor for you. Right there! He doesn't like wasting time. He doesn't talk crap. He talks straight and in your face and does make sure that you are treated with garma garam chai in his company. The tea arrives and the talks begin but not before I showed him the second trailer of
Agneepath
on his iMac, and it seemed almost unfair to pose my first question to him that went – 'How did you say 'yes' to
Agneepath?
' Pat came the answer, "No, No I didn't. I rejected the film" Well, as they say – The rest is history. Introducing Rauf Lala aka Rishi Kapoor in this fiery Part 1 interview on
Agneepath
, anticipation and that adrenalin being a baddie.
"Though I'm not a big fan of the original Agneepath, I still got impressed with Karan Malhotra's version and vision"
Karan Malhotra who has been affiliated with a lot of other directors as chief assistant director is a very talented boy who is a son of a very famous producer friend of mine, Mr Ravi Malhotra. I've worked with Ravi in four films – Jhootha Kahi Ka, Khel Khel Mein, Hum Dono and Raahi Badal Gaye. I heard that Karan had worked on films like My Name Is Khan, Jodhaa Akbar, Swades, etc. One day he came to meet me and said, 'I am making Agneepath and I want to cast you in one of the roles.' And my first reaction told me that I wasn't a big fan of the original Agneepath, I still got impressed with Karan Malhotra's version and vision.

"I asked for a look test of Rauf Lala's character to inject confidence in myself"
When Karan narrated me his movie, I said to him, 'It's very nice but I will not do this film because I can look bad but not evil.' I told Karan that audiences would not accept me in a negative role. I rejected the offer but Karan kept trying. Even Karan Johar called me saying that the role was meant for me only. But I didn't have that confidence and hence I asked them for a look test. I haven't given a look test in the last forty years of my career. I gave it for my own confidence. I did a look test and I felt that I may be able to pull it through.
"I'm not the major villain of the film but it's a significant role"
I am a guy who thinks that if I can't pull off the role given to me, the film will tank. I didn't want to take the risk of looking bad in the film as far as my role was concerned because I've never done something like this before and was pretty worried what my audience would think of me portraying Rauf Lala. Now let's see how I hold it once the movie releases. Today I feel my audience will appreciate what I've done, whether they like it or not isn't important. I'm not the major villain of the film but it's a significant one.
"Twenty Five years of my life I've only danced in my films"
I've tried my hands on various kinds of roles in the past five to six years. I've got more variety in the roles I've played and my look too. That's what is challenging the actor in me. I feel challenged doing different kinds of roles than the cliché ones. Twenty Five years of my life I've only danced in my films (laughs). Do Dooni Chaar proved everyone wrong, that's all I can say. I've enjoyed these roles which go against my image. After Agneepath, I've done an over the top comic role in Housefull 2.

"I hope people accept me as Rauf Lala and that'll be my biggest victory"
I play a butcher in the film. Rauf Lala trades in flesh of animals and girls. He sells teenagers. He sells drugs. But more importantly, these are elementary things that were difficult to digest and to take on. Rishi Kapoor playing a 'kasai' (butcher). Now you tell me, from which angle do I look like one (laughs). Jokes apart, it's the most challenging role of my career I can say. It was a herculean task. I hope people accept me as Rauf Lala and that'll be my biggest victory.
"Hrithik has underplayed his part but is very intense in his role in Agneepath"
There is something beautiful that Duggu (Hrithik) told me while we were shooting the crucial action scene. He said, 'Chintu uncle, you don't look so active by your size but you are as active as any youthful guy.' I guess that's the way I am. I am a little handicapped by my size but don't judge me by the size. I'm much more than what meets the eye (laughs). To draw comparisons between Mr. Bachchan and Hrithik is quite unfair because both films are different and you practically cannot compare them because both have their unique styles. Hrithik has underplayed his part but has come out very intense. There's something terrific about Hrithik. I'm very fond of him and he too knows that. I consider Hrithik as one of our industry's finest young actors around.
Watch this space for Part 2 of interview with Rishi Kapoor
Watch 'Agneepath' promo: