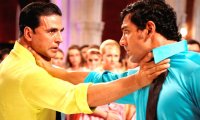 You can publish this article on your website as long as you provide a link back to this page.
This article was last updated on April 16, 2022

Housefull
was a hit and once it was established that this would now grow as a franchise, the makers decided that they won't restrict themselves to only comedy. No wonder, as the promos suggest, as many as 6-7 hardcore action sequences have been incorporated into the film.
Informs a source, "Also, these action sequences won't have a comic touch to them a la Golmaal series. Instead, there would be some real serious action sans any comic element to it."
With their background in action films, Akshay Kumar and John Abraham have obviously led from the front. However, Riteish Deshmukh and Shreyas Talpade, other two leading men in the film, haven't being left behind either as they too have indulged in kicks and punches. The actors were briefed about expectations from them and given good enough time to work on their fitness which ensured that they were in their best form when the camera started rolling.
When contacted, Sajid Khan confirmed that action would have a major part to play in Housefull 2. He warns though that in spite of half a dozen action sequences, Housefull 2 is not a quintessential action flick.
"This is the reason why the action here isn't gory, gruesome, brutal or violent. However, it isn't funny either. Instead it is thrilling enough to be enjoyed by family crowds as well", says Sajid Khan who, after Heyy Babyy and Housefull, has indulged in action for the first time and also designed it all by himself.
"Housefull is a franchise because it caters to family audience. In this aspect, the sequel too would have to be mainly appealing to families", adds Sajid Nadiadwala.
Well, we will know once we catch the film!