Ali Fazal is a charmer and has been showing the world his romantic side since Fukrey. Now, the Victoria & Abdul actor will be seen in a romantic song for his upcoming film Prasthaanam, as he has just completed shooting for a song at the 7th Wonder of the World and monument of eternal love, Taj Mahal.
Ali Fazal, who is acting alongside Sanjay Dutt and whose love interest is Amyra Dastur, just completed shooting the song schedule at the greatest monument for love, Taj Mahal. The actors spent over two days filming the sequence and got to see the marble structure from different lights and angles. Anybody who has been to the Taj Mahal knows that it is always packed, no matter what the weather is like but the film crew not only managed some hefty crowd control but caught some good weather for a complete romantic song. This is the first time the actors are shooting a song sequence together. Ali has shot at the Taj Mahal earlier while filming for Victoria & Abdul.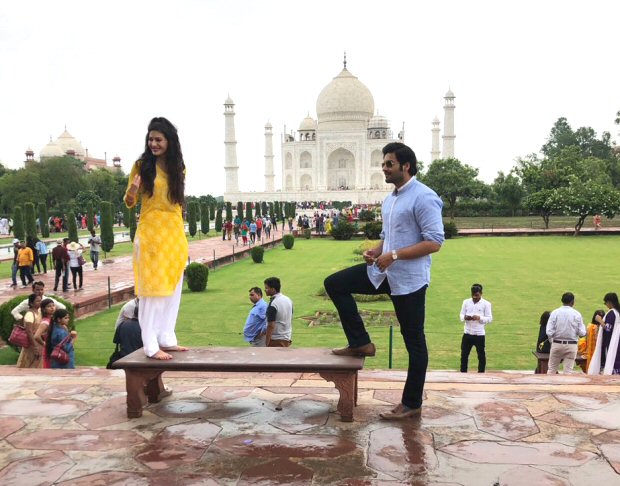 When asked about the shoot, Ali Fazal said "It was for a romantic track Amyra and I have in Prasthaanam. We had different locations, of course it is a budding romance and so we visited different places and one of them was Taj Mahal. I visited Taj Mahal again after Victoria & Abdul, and it was a nice trip. It was nice to go back and film something as sweet as the song. My first experience of shooting at the Taj Mahal was very different to this one, during Victoria and Abdul some groups created a scene and started protesting for no reason. They had no idea about the script. So that was my first experience but my second was nice, sweet and we had a great team.
Amyra Dastur said, "We shot an amazing song with Brinda Master in Lucknow and Agra. The Taj Mahal was absolutely breath taking. I always wondered what the hype was about and then I saw it with my own eyes for the very first time and I was absolutely mesmerized. Being able to shoot in the areas where the tourists weren't even allowed was icing on top of the cake. This makes me love my job even more because I get to see things I would never be able to otherwise if I wasn't an actor."
Every song based around the Taj Mahal become memorable tunes that go down in history, now only time will tell us how catchy and beautiful this song gets, we have full faith on the monument of love!!
Filmmaker Deva Katta, who helmed the Telugu version of the film, is directing the Hindi remake as well. Prasthaanam stars Sanjay Dutt, Manisha Koirala and Jackie Shroff.
Also Read: Sanjay Dutt takes a short family vacation before joining his Prasthaanam shoot
Click HERE to read more and view the original source of this article.


Loading ...