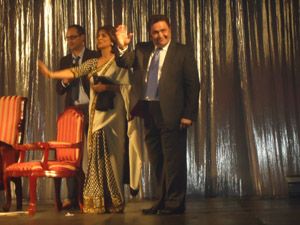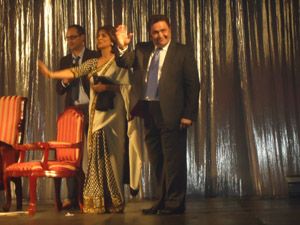 On May 6, veteran actress Neetu Kapoor, and her director/actor husband Rishi Kapoor of Indian Cinema's Kapoor dynasty, delighted an enraptured audience at the Powerade Centre in the flower city of Brampton in Canada.
Rishi, with his commanding personality, and Neetu, looking extremely elegant in a Sabyasachi creation, are the first Bollywood actors to take part in a five –part 'In conversation' series with Bollywood actors. Both admitted to be undertaking such a live talk show for the first time ever anywhere in the world. They totally fascinated the crowd with stories from their acting careers. Rishi let on that he first appeared in 'Shree 420' when he was only two years old. His next film was 15 years later 'Mera Naam Joker' and then came his full-on debut as a lead actor in 1973, in the blockbuster 'Bobby'.
Neetu mused on how she was first stirred by Rishi. Rishi was working with her on a film and then had to leave to work on another movie in another town and from there sent her a telegram (gasp- remember those days!?), with the words 'Sikhni yaad ayee!'(Sikhni came to mind). From then on the relationship started that ended in blissful marriage!Her comeback in 'Do dooni char' in 2010 was only possible because of the encouragement and comfort that Rishi provided.
Rishi, the more talkative of the two, told us, in a typical Mumbai mix of Hindi and English, stories of his great grandfather, grandfather, father, uncles , brothers and cousins and how because of their name , even relatives from his mother's side like Premnath and Prem Chopra came to join the film industry. Asked which movie he would recommend to put in a time capsule so that 100 years hence people could look back and talk about it he picked the movie 'Awaara' (Vagabond), which he said was the only movie he knows where 4 generations of a family are portrayed– his great grandfather Dewan Bashwanath, his grandfather Prithviraj, his father Raj, his uncle Shashi and his brother Randhir. The movie was also well accepted in the Soviet Union, Africa, Japan, China, Turkey and the Middle East with the song 'Awaara Hoon' (I am a vagabond) on everyone's lips in those countries.
Regarding their son Ranbir, Indian cinema's new rock star wunderkind, they had nothing but kind words and high hopes, because they said that in today's world, just coming from a dynasty of established actors doesn't cut it. Ranbir will have to continuously prove his mettle and gain his fans adulation and has everyone knows- he excelled in 'Rockstar'!
He also told us that Hollywood movies are more popular because they are in the more universal language of English and that their budgets are huge therefore their productions are better.
There were many professional and personal stories they shared in their hour and half of conversation and interaction with the crowd. Rishi ended the session by actually singing live 'Mein shayar to nahin' from his movie Bobby.
The talk show was skilfully hosted by Mohit Rajhans and Sushmita Rao. Dinesh Ramsey's fashion show, singer Ali Quli Mirza and Shiamak's dance group were the entertaining acts that started the enjoyable evening that led up to the talk show by the legendary couple of Indian Cinema. A fine buffet dinner was provided by Tandoori Flame.
Click HERE to view photo albums from this event.