A lot has been said about Boney Kapoor's family in media reports! The filmmaker, who was married to Mona Kapoor, later tied the knot with the much younger Sridevi and had two daughters with the actress. This had fuelled up many speculations in media about how the Boney had to stay away from Mona and her children and how the latter handled the entire situation. When Arjun Kapoor made his debut with Ishaqzaade, the actor too didn't hide his feelings from the media and honestly accepted that he doesn't share any camaraderie or rapport with Sridevi and family. However, followed by Sridevi's death, there was a change that media spotted amongst the Kapoor family and it left many surprised that Arjun was seen standing strong besides his step sisters Janhvi Kapoor and Khushi Kapoor. In recent reports, the actor explains candidly as to what transpired between him and late Sridevi's children.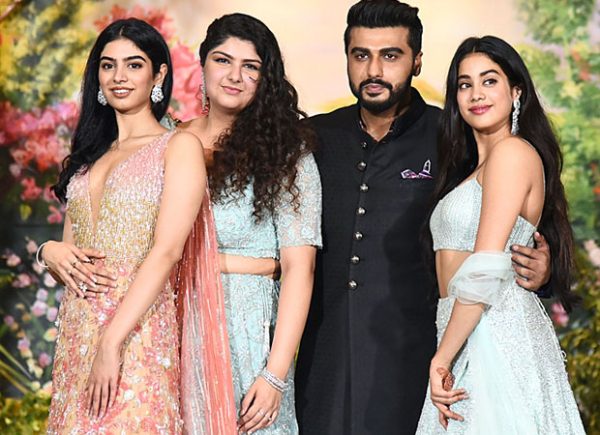 Arjun Kapoor recently spoke to the media wherein he also elaborated about how his dynamics has changed with Janhvi Kapoor and Khushi Kapoor. The children of Boney Kapoor are often seen hanging out together these days and share some good pictures with each other on social media too. Speaking on the same, Arjun Kapoor maintained that while he himself has experienced something as harsh as Sridevi's demise [after he lost his mother Mona Kapoor], he wouldn't want that to happen even to his worst enemy. So when the shocking incident happened, although while they were trying to figure out things, he knew that he should be standing up for his family.
Recalling that unfortunate day, Arjun revealed that he was in Punjab when he heard the news and immediately decided to contact his sister Anshula and his maasi [maternal aunt] and he decided to do what he felt was right. He further explained that standing by his family and supporting them would be what his mother would have wanted him to do and that's what he did. He also added that since he got an opportunity to be a good brother and good son, why would he not do it? He also believes that it was only good for him, since in the process, he got two more sisters in Janhvi and Khushi.
Arjun Kapoor added that the best part of their relation was that they have their own lives but yet in times of need, they can stand beside each other to face the problem together.
Also Read: Arjun Kapoor and step-sister Janhvi Kapoor to be the first guests on Koffee With Karan?
Click HERE to read more and view the original source of this article.

Loading ...