From Bangalore Days to Premam to Action Hero Biju, that is how, actor Nivin Pauly steadily climbed the ladder of success. His simple yet heart-warming stories wooed the audiences and so did his performances. Another example of it was Njandukalude Naatil Oridavela, last year that ended up even bagging SIIMA. Today on the occasion of his birthday, we at Bollywood Hungama got in touch with the actor as he gears up for the biggest period drama releasing this week, Kayamkulam Kochunni. The movie is even more special as Nivin will be sharing screen space with iconic Mollywood superstar Mohanlal. Here are excerpts from our interview with award winning star, Nivin Pauly: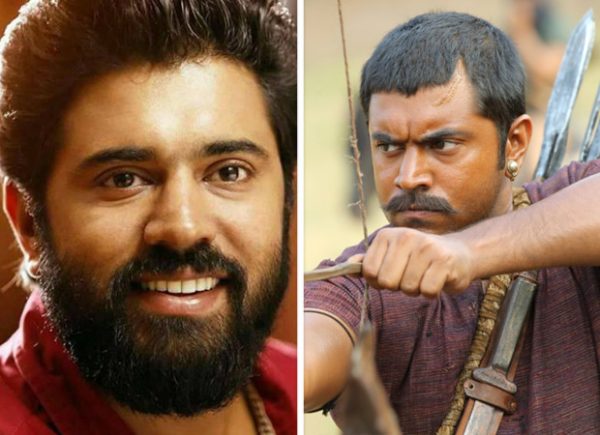 Congratulations on the SIIMA win for Njandukalude Naathil Oridavela… the film had a simple yet heart touching story! Tell us something about your victorious moment…
I've won more than 5 awards at the SIIMA. I'm touched by the way they encourage actors like me to constantly push ourselves through such recognitions. It is a huge event that brings together some of my favourite artists from all over India. The win for
Njandukalude Nattil Oridavela
was a pleasant surprise. It goes on to show that great things can be achieved with simple ideas.
Talking about your forthcoming film, Kayamkulam Kochunni, it is a completely different film from the ones that you have done before, what was the one thing that attracted you the most towards the script?
Kayamkulam Kochunni is one of the biggest names in Indian folklore. He was a thief who stole from the rich and gave to the poor. You could say he was the Robin Hood of our land. The film has been made on a massive scale and has huge names like Roshan Andrews, Binod Pradhan and Gokulam Gopalan backing it. That said, what attracted me to the script was how the writers beautifully juxtaposed Kochunni's well-known fierce nature with his lesser known vulnerable side. With its elaborate action sequences and epic quality, I'd say it is the perfect family entertainer.
Did director Roshan approach you with the script and when did you eventually decide to sign for it?
When I was approached with the script of Kayamkulam Kochunni, it was almost an instant 'yes' for me because of the sheer brilliance of the script and the people who were teaming up to bring the story to life. It would have been foolish of me to let this opportunity slip off my hands.
Director Roshan has earlier said in one of his interviews, that his only reference point was a story that was 150 years old. So how did you research for the film?

Almost everyone in Kerala knows the tales of Kayamkulam Kochunni and his daring endeavours. As a kid, even I've been told stories about him. That said, a lot of information about his sensitive and vulnerable side was lost as generations passed by. As part of research for the film, I brushed up on the Kochunni that Malayalees know of so well. But, when it came to the little things, it was multiple discussions with the director Rosshan Andrrews that helped me the most.
How would you describe your character Kayamkulam Kochunni? Were there any real life traits that you integrated into playing this role?
Like I said, he was known to be a fierce man whose bravery knew no bounds. That said, there was kindness in the way he protected and provided for his loved ones and those around him who were being oppressed. There was also a distinct charm to him that made him endearing to everyone around him. I am nothing like the characters I've played, so the best way for me to build my characters is through discussions with my directors and writers.
Kayamkulam Kochunni has none other than superstar Mohanlal in a cameo… What was it like to share screen space with an iconic actor like that?
Having grown up watching his films, I gleamed like a little boy when I first heard that he will be playing Ithikkara Pakki. His versatility is unparalleled and the way he makes acting look so easy always leaves me speechless. It wasn't easy getting into character when he was around because of my excitement, but he made me (and everyone else on set) feel comfortable on set.
What are your thoughts and feelings as the release date for Kayamkulam Kochunni nears?
I just hope the film leaves people as awestruck as I was when I first heard the story. It has been made on a budget of over Rs. 40 crores and involved the hard work of thousands of people, each of whom have put their hearts and souls into it. The film is sure to put you at the edge of your seats while also making you fall in love with the human being that Kayamkulam Kochunni was.
Did you hear that your hit film Premam is being remade in Bollywood and there are reports that Arjun Kapoor is being signed on for the film… any idea on that? If it were up to you, which Bollywood actor would you cast for your role in this coming of age film?
I did hear about it vaguely, but I don't know enough about the project to comment on it. There are so many marvelous, young actors in Bollywood today that I really can't pick one. I'm just as much a fan of all of them as everyone else. That said, I wish the team all the best and hope it turns out amazing.
Also Read: Nivin Pauly to play lead in the most expensive film of Mollywood – Kayamkulam Kochunni
Click HERE to read more and view the original source of this article.


Loading ...