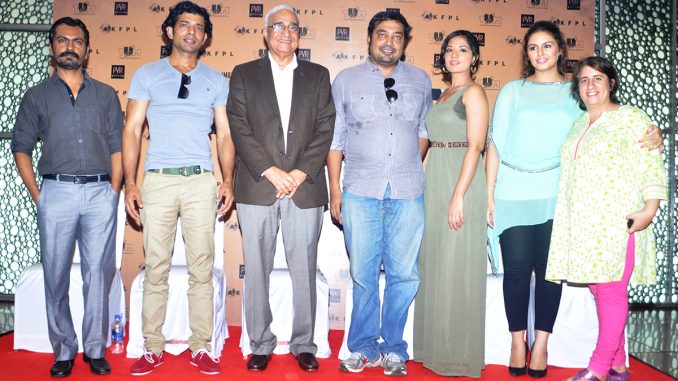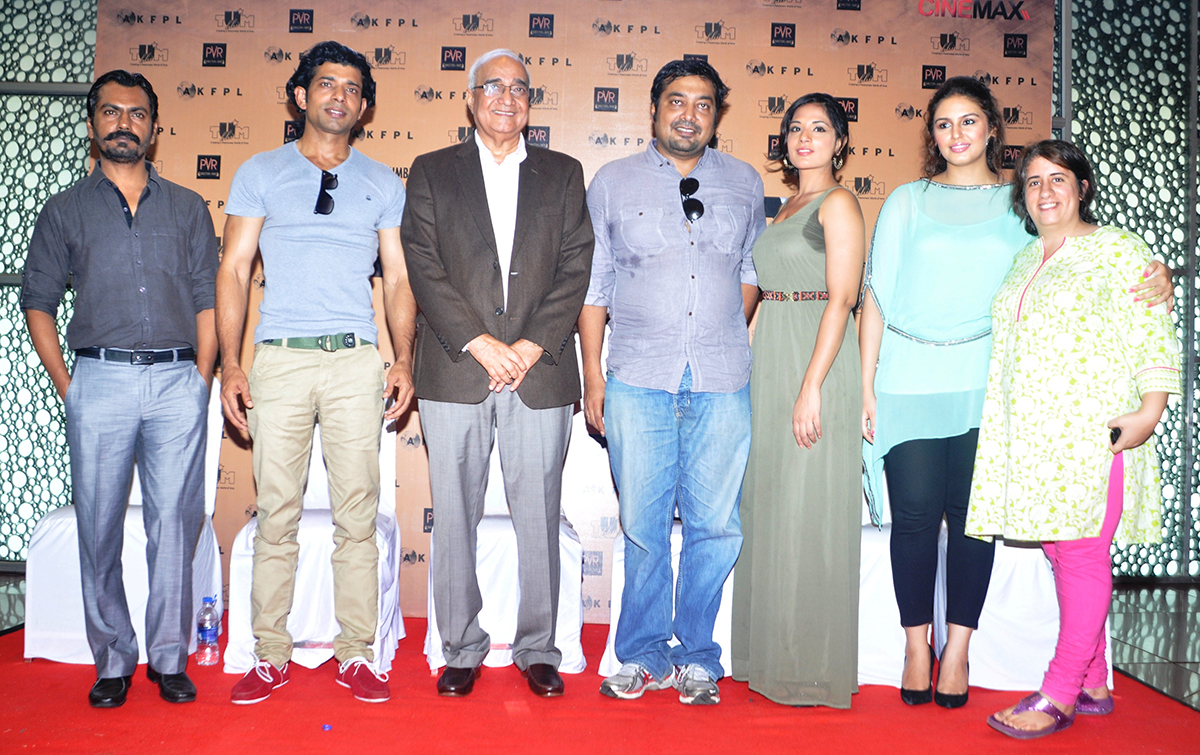 VENUE: Cinemax, Versova, Andheri (W).
CELEBS SPOTTED: Anurag Kashyap, LC Singh, Nawazuddin Siddiqui, Huma Qureshi, Richa Chadda, Vineet Singh, Guneet Monga, directors Shlok Sharma, Rohit Pandey, Neeraj Ghaywan and Siddharth Gupta.
AKFPL & TUMBHI TO RELEASE SHORTS on JULY 12
· 5 accolade winning films of directors to be showcased
· Film will be released by PVR Directors Rare
· Reunites the team of Gangs of Wasseypur, Huma Qureshi, Nawazuddin Siddiqui, Richa Chadda and Vineet Singh amongst others
Renowned for his directorial skills and for providing a platform to numerous filmmakers, Anurag Kashyap and producer Guneet Monga under their banner, AKFPL, will be seen releasing SHORTS on July 12 2013, along with TUMBHI
An anthology of 5 accolade-winning short films, the films will be release by PVR Directors Rare across Mumbai, Delhi, Pune, Kolkata, Surat, Cochin, Ahmedabad and Bangalore in select theatres. Directed by upcoming directors Shlok Sharma, Neeraj Ghywan, Rohit Pandey, Siddharth Gupt and Anirban Roy, the films mark the re-uniting of the Gangs of Wasseypur cast who star in the film.
Starring Huma Qureshi, Nawazuddin Siddiqui, Richa Chadda, Vineet Singh, Satya Anand, Preeti Singh among others, the films represent the new age of storytelling in the country.
"Short films are where some of the best film directors cut their teeth. Despite the dominance of feature films, short films have retained a sense of purpose and continue to reach out to filmmakers and audiences alike, providing a platform to showcase good talent. SHORTS is a compilation of films by some very promising, talented and upcoming directors, who are also gearing up for their first feature." Says producer-director Anurag Kashyap at the event to announce SHORTS.
"We are happy to partner with AKFPL in the release of Shorts and believe that films such as these stand to present to people a new wave of directors and talent that is emerging in our country" says L.C.Singh, CEO, TUMBHI.
"We at PVR are open to all kinds and formats of cinema. This is the first time that a package of handpicked short films is getting a proper theatrical release in India and we are really proud that PVR Director's Rare is facilitating the release and working as a torch bearer in this area." says Mr. Sanjeev Kumar Bijli, Joint Managing Director, PVR Limited.
With new voices coming to the forefront in storytelling, SHORTS is a presentation of these films made by directors who are in the midst of gearing up to either release or commence their first feature film. SHORTS is scheduled to release on July 12, 2013.