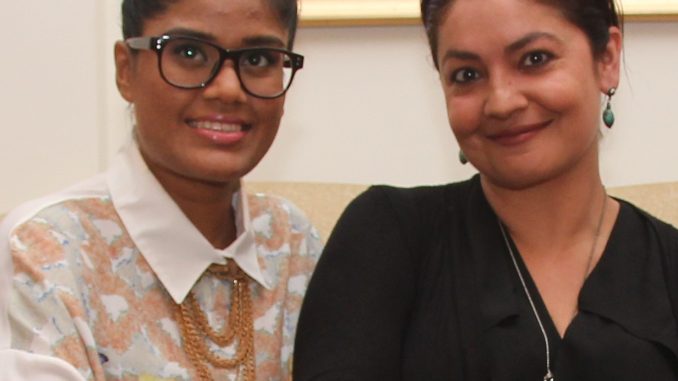 Unoosha aka Kiddy, the livewire singer from Maldives, is in India to sing her debut Hindi film song in Pooja Bhatt's Jism 3. Unoosha recorded the song on Tuesday at Tanay Studios.
Unoosha, who thus became the first singer from Maldives to sing a Hindi number in a Bollywood film, had earlier crooned her way to glory with the chartbusting "Heywalla" in the promotional number for Pooja Bhatt's Jism 2 and has paved her way for the current Hindi film number, thanks to her mesmerising voice. Says Pooja Bhatt, "When I heard from Unoosha at the South Asian Film Festival (SAFF) that Maldivan singers have never performed in India, forget singing in Bollywood, I felt there was a need to change this.I made a promise to her on stage that she will go home with a contract. And I am happy, she is singing a Hindi song for a mainstream Bollywood film with Jism 3."
The song will also have Ali Azmat and KK and as though to add on to Pooja's feelings of music transcending boundaries, the lyrics of the song are about making newer beginnings. The song is composed by Arko Pravo Mukherjee & produced by Munish Makhija. And aptly the song is called Kahaan se karein shuru. "Yahaan se," smiles Unoosha, happy to have learnt her first few Hindi words.