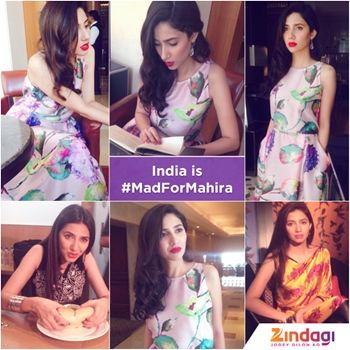 You can publish this article on your website as long as you provide a link back to this page.
This article was last updated on April 16, 2022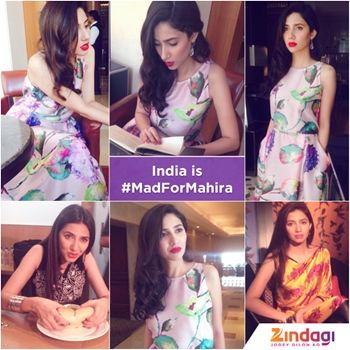 After the incredible success of Mahira khan's blockbuster 'Humsafar', the lady has now immense fan following in India too. Upon the demand of many Indians, the Pakistani drama serial Humsafar was shown on Indian television screens via channel Zee Zindagi. The drama'sleading lady Mahira Khan has wooed her Indian fans and is now visiting Mumbai to meet them.
With the incredible success of Humsafar on India's Zee Zindagi, the audience anxiously waited for the grand finale of Humsafar telecasted on November 8 on Zee Zindagi. The craziness is at its peak, as the fans have started expressing their views about the star on varioussocial networks.
The channel has now hosted a competition on its Twitter account called #MadforMahira in which fans are asked to express their appreciation and love for the actor to get a chance to meet the stunning star in Mumbai.
To thank the Indian viewers the charming Humsafar stardom has reached Mumbai to attend Zindagi press conference. The channel also tweeted that Mahira has reached Mumbai and has attended the Zindagi press conference.
We welcome our favourite Humsafar Star to India. Mahira has just reached Mumbai.
The success of Humsafar in India, courtesy Zindagi TV, has won millions of hearts. Indian publications say the drama is a "breath of fresh air" and say it is a must watch due to the chemistry between Fawad and Mahira.
The viewers really appreciate the chemistry between the co-stars and wish them to work again in some drama serial or a film.
The Sadqay Tumhare actor is currently in the spotlight of her Indian followers in Mumbai. Mahira also expressed gratitude for the love and admiration she has received from her fans in India.
Mahira made her debut in India with Humsafar and fans instantly fell in love with the talented star. It is expected that the gorgeous Mahira will sign any Bollywood flick soon.
Click HERE to read more from Fashion Central.