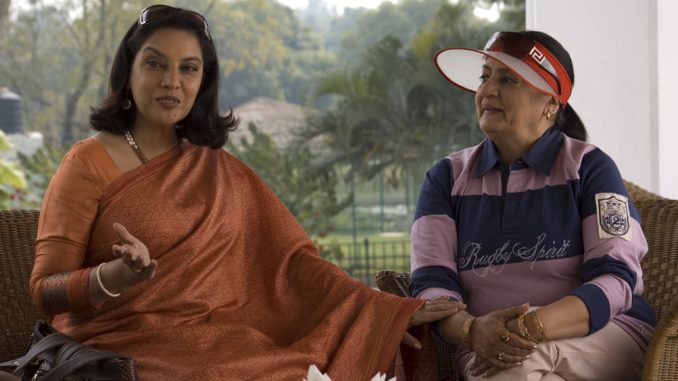 ReelWorld Film Festival founded by actress Tonya Lee Williams is the home for emerging & establishing filmmakers for culturally diverse backgrounds. Reelworld cultivates creativity and promotes the careers of artists and helps people enter the film & television industry. During 5 days from April 10-14, at the Famous Players Canada Square Cinema on Yonge and Sheppard in Toronto , Reelworld will present world class cinema telling stories from culturally diverse lenses.
Celebrating its 13th glorious year, Reelworld has a top of the line indie smorgasbord of movies, videos, documentaries and music on its cards with excellent fare from South Asians.
For its closing night gala feature film on April 14 at 6 pm, Reelworld has once again chosen a South Asian movie. Last year it was Kareena Kapoor's starrer 'Ek main aur ek tu' and this year the curtain call honour will go to Samit Kakkad's Marathi film, 'Aayna ka Bayna'. Award winning Samit has taken the title from the popular Konkani phrase meaning 'We won't leave till we get what we came for'. The movie is about nine boys who are trapped in a draconian remand home who dream of finding their identity through street dance. This socially relevant theme about not treating adolescents as hard core criminals is put across really well and made extremely appealing vide an applaud-worthy dance extravaganza rather than a dull, dark and foreboding production.
Other note-worthy South Asian fare consists of a Shabani Azmi starrer, 'A Decent Arrangement', directed by Sarovar Banka, graduate of Ivy League Brown University, and now living in Los Angeles . This will screen on April 12 at 6 pm at Famous Players and is a story of Indian American Ashok Khosla's tussle between an arranged marriage to an Indian girl and an American woman who is traveling through India .
For a FREE family outing on Saturday April 13 starting at 1 pm, Reelworld has chosen two South Asian movies, 'Shyam Uncle turns off the lights' by director Suman Ghosh and Vikram Dasgupta's 'Calcutta Taxi.'
Again on Saturday April 13 at 6 pm, Dev Khanna of Toronto who has had his short films screened at the Toronto International Film festival (TIFF) including his acclaimed 'A Hindu's indictment of heaven' will debut his feature film 'Fondi'91' about an Indian teenager who goes to Italy for a football game, falls in love and witnesses a crime.
At the same time, well known Montreal based film maker Arshad Khan will screen his short film 'Doggoned' about a girl Maria living her dream life in the beautiful city of Montreal until her work permit is denied whereupon she must find creative ways to make ends meet.
Besides offerings from people of South Asian origin, there are many from other different countries including Ghana, Canada, US, Australia, Egypt, France, Latin America and several other countries giving festival lovers a real treat! Workshops on how to make and finance movies and other artistic productions will also be taking place. A special music night will be held on Friday, April 12. There will also be an award giving ceremony.
For more information, please visit www.reelworld.ca