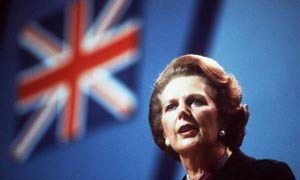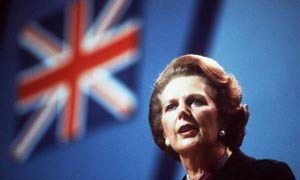 The former and the first female British Prime Minister, Margaret Thatcher dies following a stroke on Monday morning.
The 87-year-old was having an ill health during the recent years. Lady Thatcher, U.K.'s only female prime minister, served from 1979 to 1990. She suffered from a series of minor strokes in 2002, after which her doctors forbade her from making public speeches. In December, she was admitted to hospital for a minor operation to remove a growth from her bladder. She died at the Ritz hotel at about 11a.m. after suffering a stroke. Her son, Sir Mark, and daughter Carol were abroad and not present at the time of her death.
Buckingham Palace spokesperson has told the Queen was saddened by the news and she would be privately sending a message of sympathy to Baroness Thatcher's family.
The union flags flying above Buckingham Palace – the Queen's official London residence, and the Downing Street were lowered to half-mast as a sign of respect and tribute.
British PM David Cameron has said: "It was with great sadness that I learnt of the death of Lady Thatcher. We have lost a great leader, a great prime minister and a great Briton…. She didn't just lead our country. She saved our country."
Lady Thatcher is regarded as one of the most influential 20th century prime ministers, radically transforming British society over 11-year span of her service.
With Queen's consent, Downing Street has made an announcement that Lady Thatcher will not have a state funeral but will be accorded the same status as Princess Diana and the Queen Mother. The ceremony, with full military honours, will take place at London's St Paul's Cathedral followed by a private cremation.
Article viewed on Oye! Times at www.oyetimes.com.