The charm of inter-faith love stories can never fade away. Since a long time, several filmmakers have made some memorable films on this topic like BOBBY [1973], JULIE [1975], BOMBAY [1995], GADAR – EK PREM KATHA [2001], VEER-ZAARA [2004], ISHAQZAADE [2012], RAANJHANAA [2013] etc. Now, Abhishek Kapoor attempts to tell one such story in his latest offing, KEDARNATH. The film promises to be more than a love story as it's based in the holy town of Kedarnath in Uttarakhand. Moreover, it is loosely based on the devastating floods that rocked this region in 2013. These three elements can make for an exciting film if handled well. So does Abhishek Kapoor do justice to the premise in hand? Or does he fail in this endeavour? Let's analyse.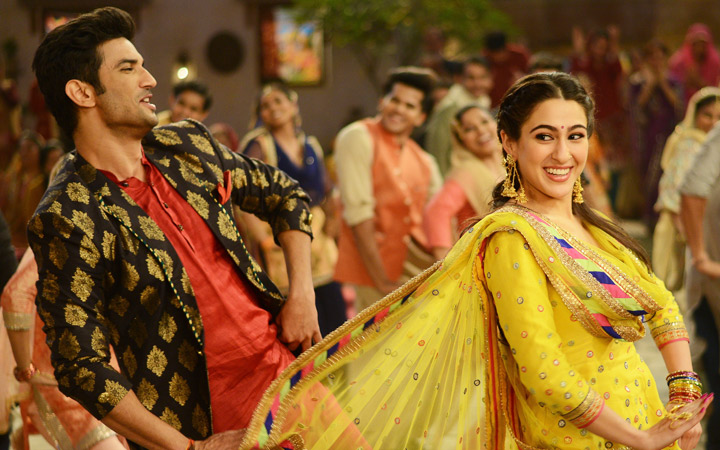 KEDARNATH is a love story that takes place right before a natural catastrophe. Mansoor (Sushant Singh Rajput) is a 'pitthoo' aka porter who carries pilgrims to the holy Hindu town of Kedarnath from the base. His Muslim identity doesn't come in the way of fulfilling his duty and believing in the faith in Kedarnath. Another resident of Kedarnath is Mandakini aka Mukku (Sara Ali Khan). Her father Briraaj (Nitish Bharadwaj) is a priest and he owns a lodge and a shop on the way to the temple. He has fixed her marriage with Kullu (Nishant Dahiya), a big name in the temple town. Mukku is against this marriage as she doesn't love Kullu. Also, Kullu initially was to marry her sister Brinda (Pooja Gor) but then he decided to opt for Mukku instead. Mukku meanwhile bumps into Mansoor and love happens. Kullu anyways hates Mansoor due to his Muslim identity. When he finds out that both Mukku and Mansoor are having an affair, it leads to madness. What happens next forms the rest of the film.
Abhishek Kapoor and Kanika Dhillon's story is extremely weak. The Hindu-Muslim love story has been done to death and it seems forced here just for the heck of it. Kanika Dhillon's screenplay is inconsistent. A few scenes are decent but overall, it lacks any novelty and excitement. Kanika Dhillon's dialogues however are impactful.
Abhishek Kapoor's direction is poor and it seems he hasn't learnt his lessons after the big debacle of his previous film, FITOOR [2016]. For starters, he's confused as to whether the film is a love story or a social drama or does it belong to the disaster genre. The film keeps switching among these genres, thereby diluting the impact. Also he takes too long to arrive at the point. In this 120 minute long film, the intermission point arrives in just 50 minutes and that too at an unexciting point. It catches viewers unaware since hardly anything has happened plot wise in the film until then. Also, at a crucial point in the second half, he turns the film into an unintentional funny fare by adding a scene of a sadhu baba who refuses to leave during the floods and gets washed away.
KEDARNATH's first ten minutes are beautiful. The day to day life of the temple town and the services of the porters are well established. A few scenes of the romance between Mansoor and Mukku also has its moments, especially their sequence in the cave. However, the film drags a lot. You know their love story is going to cause a problem and you know that floods would rock the town. But both these developments happen too late in the day. There's no doubt that the flood sequences are attesting. But since the film fails on a script level, these sequences don't move the audiences. The climax also could have been heart wrenching but the desired impact is missing.
Sushant Singh Rajput is not in top form. There's no doubt that he has worked hard physically in playing the porter. But in terms of performance, there's a lot left to be desired. Shockingly, some of his dialogues are difficult to decipher in the first half an hour. Sara Ali Khan makes a very confident debut and is the only one to benefit from the film. Her performance is exemplary and she's sure to stay here and shine! Sadly her characterization is unconvincing. The way her character suddenly falls crazily for Mansoor is difficult to digest. Nitish Bharadwaj is decent and restrained. Nishant Dahiya plays the villainous part well. Again, his performance suffers a bit since the makers never cared to explain properly why his character was so revered by one and all. Pooja Gor leaves a mark. Sonali Sachdev (Lata; Mukku's mother) and Alka Amin (Mansoor's mother) are okay. Others are fine.
Amit Trivedi's music is soulful but not well utilised in the film. 'Namo Namo' is the only song that leaves a mark. 'Qaafirana' and 'Jaan Nisaar' are just okay while 'Sweetheart' is well choreographed. Hitesh Sonik's background score is nothing special. Allwin Rego and Sanjay Maurya's sound design however adds to the thrill quotient especially in the flood scenes.
Tushar Kanti Ray's cinematography is breath-taking. The locales of Kedarnath are never seen before on screen in any film and that adds to the charm. Dave Judge and Sunil Rodrigues's action is well done. Mayur Sharma's production design is authentic. After Studios's VFX is superior. Though one fails to understand why the visuals in the crucial flood scenes were kept so dark.
Shruti Kapoor and Abu Jani-Sandeep Khosla's costumes are straight out of life and ones worn by Sara are praiseworthy. Chandan Arora's editing could have been better.
On the whole, KEDARNATH is a poor fare owing to the unexciting and flawed writing and weak execution. What works well is Sara Ali Khan's stupendous performance and the flood sequences. At the box office, its fate will be an average one.
Click HERE to read more and view the original source of this article.


Loading ...