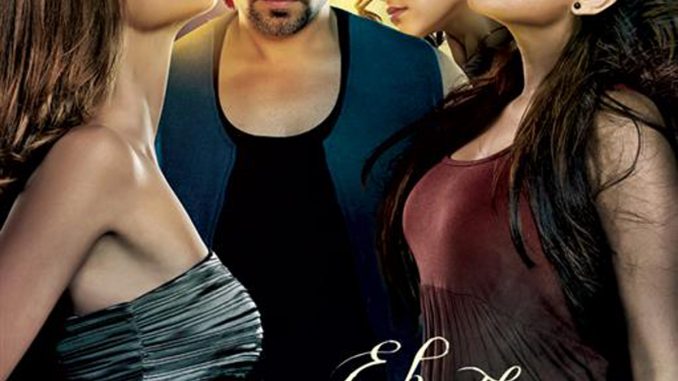 Movie Review:
Ek Thi Daayan
Cast: Emraan Hashmi, Huma Qureshi, Konkona Sen Sharma, Kalki Koechlin, Pawan Malhotra
Directed by: Kannan Iyer
Review by: Faisal Saif
Ratings: * * 1/2
Ek Thi Daayan makes us take a walk in the world of Black Magic, Myths, Witches and of course the stories which were told to us by our parents or grand parents during our childhood. They used to tell us these stories when we were very mischievous, out of control and refused to sleep during our bed-time. Do ghosts, spirits, witches exist? What is black magic? Some might believe it, Some may not.
The tells the story of Bobo (Emraan Hashmi) who is India's leading magician. But unknown to even his girlfriend Tamara (Huma Qureshi), Bobo's life is falling apart. His regular hallucinations leave him with no option but to seek psychiatric help. Bobo had a dark and spooky childhood past. A terrifying story about his childhood surfaces involving a powerful with called Daayan (Konkona Sen Sharma). She has not only destroyed his family, but also promised to return to haunt Bobo. They say her life lived in her long hair!
Bobo chooses to ignore it and move on with his life. Bobo is having a wonderful love-life and amazing career. Enters the gorgeous and breath-taking Lisa Dutt (Kalki Koechlin). Bobo is convinced that she is the same Daayan. And this time she is back to take everything what she left behind earlier.
Emraan Hashmi rocked as usual, Despite of the presence of three other female actresses. The actor only grows in every film with his wonderful performance. But the film totally belongs to both Daayan's. Konkona Sen Sharma is just amazing and superb. This is her first film in Horror genre, And she is terrific. Kalki Koechlin looked perfect in her character with the right kind of attitude. The only irritating actress in the movie was Huma Qureshi. Somehow, The actress looked very over-confident in her scenes. Pawan Malhotra, Rajatava Dutta (The one who played Emraan's doctor) were remarkable.
Director Kannan Iyer chose a wonderful script but somehow it did not looked convincing on the screen. There were lot of confusions with Kalki Koechlin's character towards the climax. The film is too long after the Interval point. A Film maker looses his battle when the viewers starts to feel when will this film gets over! This is what exactly happens when Ek Thi Daayan proceeds with it's second half. On the Musical side, The songs of the film are good. Especially, Yaaram, Kaali Kaali and Main Lautungi sound out of this world. Background score of the movie too deserves special mention. It helps the spooky atmosphere. The camera-work of the film is of first rate.
Ek Thi Daayan only and only works for the superb performances of Emraan Hashmi, Konkona Sen Sharma and Kalki Koechlin. I have my own doubts if the film will become a Cult or a Classic. The film may identify with viewers but the confuse second half will make the viewing uneasy.