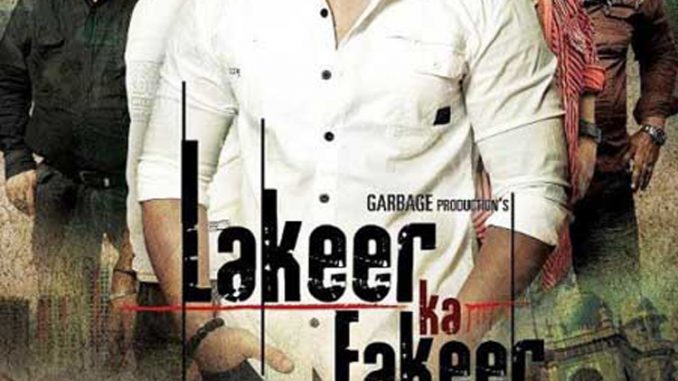 Movie Review
Lakeer Ka Fakeer
Cast: Ajaz Khan, Javed Hyder, Aksshey Varma, Maarisha
Directed by: Zubair Khan
Review by: Faisal Saif
Ratings: * * *
This is another film which is (Might be) made on a hand to mouth (Medium) budget with no star value at all, Still tries and get's successful in impressing you in every aspect. The film is said to be based on real life incidents. Fakeer's character is loosely based on Irfan Chindi, a resident of Nagpada, Mumbai (India), who reportedly became a police informer. He was stabbed to death on April 3rd 2009.
Fakeer (Ajaz Khan) dreams of becoming a taxi driver in Dubai. Chotu Mobile (Javed Hyder) wants to set up his own mobile shop and Sulaiman (Vicky Ahuja) aspires to become a politician. However, their destiny is determined by their controversial residential address instead of their desires. It is said that sometimes your 'Address' speaks louder than you.
Performance wise Ajaz Khan steals the show with his effective and powerful performance. Javed Hyder and Vicky Ahuja as friends are tremendous. Maarisha has very minimal scope in the film but she did really well. Aksshey Varma who played the Cop is again Mind Blowing in the film. The film might look half-baked in the beginning, But it grows gradually once things fall into place perfectly till the end.
Zubair Khan has written and directed the film. He chose a script (As a Debutant) which has been tried and tested several times by so many Film makers. What makes Lakeer Ka Fakeer different is the director's effort to tell a story in a perfect way with a limited budget in his hands. Here's where you 'Salute' the Director. The camera work is another plus point of the film. I cannot say on which format the film was shot, But it was shot with the blend of perfect ambiance. The production values are just okay and not up to the mark. The Editing is fast and crispy. Music does not have much of a scope here, But the background score is of first rate.
According to me, A strong word of mouth is required for such kind of Films. Such films also does not require a huge star cast, All these films need are performers. Lakeer Ka Fakeer is hard-hitting and an Honest film to look for.