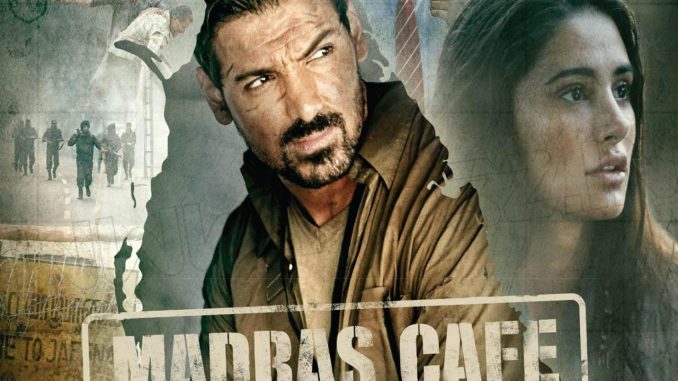 Movie Review
Madras Cafe
Cast: John Abraham, Nargis Fakhri, Ajay Rathnam
Directed by: Shoojit Sircar
Review by: Faisal Saif
Ratings: * * 1/2
Madras Cafe comes from the same team who gave us Vicky Donor last year. Vicky Donor was successful in setting new trend in Bollywood Cinema. The Trend? A film which was considered 'Out of the Box' yet commercial entertainer. Madras Cafe talks about Srilanka Terrorism. Yes, You guessed it right, LTTE. Shoojit Sircar has made one more film before Vicky Donor called "Yahaan' (2005) with Jimmy Sheirgill in the lead. Why i reminded you of the movie 'Yahaan'? I will explain it later in my coming lines.
Major Vikram Singh (John Abraham) lands in Sri Lanka heading RAW's covert operations. He must work with colleague Bala to get Anna Bhaskaran (Ajay Rathnam) who is the head of the rebel LTF group "Also known as Tigers" to accept a peaceful resolution. Vikram knows Anna will be a huge challenge. In this journey, Vikram is accompanied by his foreign journalist friend Jaya (Nargis Fakhri). What surprises him is how many others he must face.
Let me assure you that Madras Cafe is a subject which Bollywood has refused to touch earlier. Still, Our South-Indian (Once) maverick Film maker Mani Ratnam has exposed Srilankan Terrorism in one of his tamil film Kannathil Mutthamital. Madras Cafe is Harsh, Dark and Brutal at times. Madras Cafe of course has a no-nonsense screenplay. But the only question that raised many times in my brains, Will Madras Cafe be digested with Indian cine-goer who first looks out for 'Masala' in a Bollywood Film?
When we are talking about performances, John Abraham is simply superb and outstanding as brings Major Vikram alive on the screen. Nargis Fakhri as Jaya is good and convincing. Let me make a point clear, Nargis Fakhri's role is an inspiration from real-life journalist Anita Pratap who first interviewed LTTE chief Prabhakaran. Ajay Rathnam as the LTF Chief Bala is just amazing. This actor speaks from his eyes. Rest of the casting is good.
Shoojit Sircar has churned out a wonderful film but it looks he has a fetish for Terrorism stories. Many times, Madras Cafe reminded me of Yahaan (Which was a Love Story set in a Kashmiri Terrorism backdrop). Even the cinematography of Madras Cafe reminds you of Shoojit's earlier film Yahaan at many points. The film despite of a 2 Hour length drags at many point. The production value and background score is at first rate.
But as i have wrote many times in my earlier reviews, These ingredients do not save a film. A film is saved by a good story's backing. A good story is a story which everyone in the country wants to hear. A good story is not a story which is heard or seen by a certain sector of audiences. Vicky Donor was a good story.
I read somewhere a senior and respected Film Critic (Who loves to distribute "5 Stars" to any film like candys and Chocolates) wrote "Get off the train, baby. This is arguably the best political thriller that Bollywood has so far given us." By writing this line, I think he was (Indirectly) pointing at the "Super-Success" of Shah Rukh Khan's Chennai Express. But all i can say after watching Madras Cafe is "Keep boarding the Train which is full of Entertainment and gives a value to your hard earned money".
Madras Cafe is good, No doubts. But the film is just a one time watch!