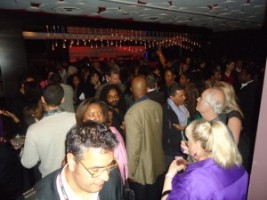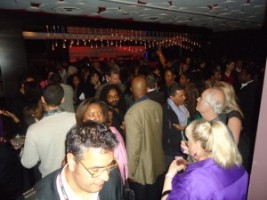 If the month of May brings flowers toTorontothe month of September surely brings films! One of the premier film festivals is the Reel World Indie Film Festival celebrating its 10th glorious and unstoppable annual event here in Toronto.
Last week saw it filled to capacity opening Gala at the chic Empire Lounge in the fashionable Yorkville district where the top 20 emerging artists in the film world were introduced.
Launched in September 2002, Indie Film Lounge was conceived as a forum to open doors for emerging diverse filmmakers and talent, while introducing them to established members of the Canadian and international film community.

Each year in August a select group of new film talent – the Emerging 20 (E20) – are chosen based on their projects, potential and previous experience within the film industry.
After the selection, the E20 participate in events hosted by ReelWorld such as ReelPrep, a networking reception, Face2Face sessions, Case Studies and industry panels. This unique film festival gives an opportunity to all industry professionals – from producers, directors, writers, actors, distributors, curators, investors, from Canada and international waters to meet and showcase their work.

The credit goes to its founder Tonya Lee Williams, who has established herself as an internationally recognized actress, producer, director, writer, and activist. Best known for her starring role as "Dr. Olivia Winters" on the popular daytime drama The Young and the Restless, Tonya has been honored with two daytime Emmy Award nominations; she is a two time recipient of the coveted NAACP Image Award for Outstanding Lead Actress in a Daytime Drama Series in both 2000 and 2002; Howard University's highest award, The Legacy of Leadership Award for her tireless work and success in the entertainment industry; a Positive Impact award presented to her in Toronto, for her years as a positive role model in the Canadian community. Tonya has worked relentlessly over the last decade to make the festival one of substantial significance with the help of other like-minded industry people like Shabana Azmi, Robert Townsend, Sandra Oh, Adam Beach, to name a few. It is through festivals like Reel World that awareness and support can open up more opportunities for diverse cultures, particularly from the Aboriginal, Asian, Black, Latino, Middle Eastern, South Asian and multi-racial communities. Tonya Lee has won several awards and recognitions for her contribution to this field.

Amongst the names in the 2011 Emerging 20 are Cyrus Sundar-Singh (Director/Producer), well-known for his work The Painted Nation, a documentary about billboard art in India and Monica Bassi (Writer/Actor) known for her recent work Fresh Arrangement, a short film based on the differences between a young Indian woman who is born and raised in America and a young man who has recently come to America from India which premiered at the India International Film Festival 2011.
Here's wishing the Indie Film Lounge a successful 2011 and many more years for local and international talent to partake and enjoy the fruits!
Article viewed on Oye! Times at www.oyetimes.com