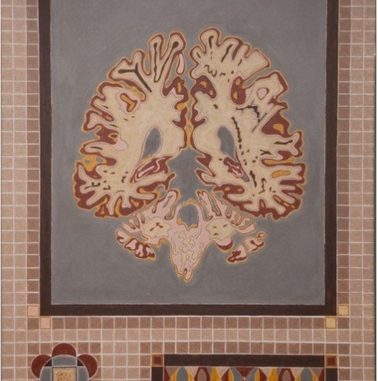 Toronto artist Sarah Teitel is showing a collection of new works at the Hangman Art Gallery. Press are invited to attend a media reception at the gallery (756 Queen Street East, Toronto) on Tuesday, June 26, 2012 from 7pm-9pm. The exhibit, "Brain Paintings," will run from June 26-July 15, and will feature 20 paintings and collages. It is Sarah's first solo show.
Sarah's work will also be featured in the 14th Annual Riverdale Art Walk from June 2 to June 3 from 11am – 6pm. This exhibit allows over 125 artists the opportunity to share their work with collectors and the general public.
Married to a neuropsychiatrist who works with MRI, Sarah Teitel has been inspired to create a series of pieces that incorporate brain images with architectural elements and cultural symbols. Some of the resulting works are soberly elegant, some playfully irreverent. All pieces in the show include at least one detailed, accurate depiction of a
human brain.
"From a strictly aesthetic perspective the brain is fascinating," says Sarah Teitel. "It can look like a flower, a landmass, a face. Its shape alone evokes so many symbols. I'm interested in exploring how colour and backdrop influence the viewer's perception of the perceptive organ."
Sarah creates in a variety of mediums. She sings, plays guitar and has released three albums of original songs. Her music has been played on the CBC, and on college radio stations throughout Canada and the U.S. As a performer, she has appeared at venues and festivals in Toronto, New York City and Austin, Texas.
As well, Sarah has created fashion. She handpaints vintage purses and cowboy boots that have sold from shops including 69 Vintage.
Sarah Teitel is also a published journalist and poet; she has written for The Globe and Mail, The Toronto Star, Saturday Night and Today's Parent. Briefly, she was a wine columnist for Argyle. Her first collection of poetry will be published by Signal Editions in 2013. Several pieces Sarah will be showing at Hangman include collaged-in fragments of her poetry.
With "Brain Paintings", Teitel hopes to stir curiosity up in viewers and communicate a sense of wonder.
For more information, please visit http://sarahteitel.ca