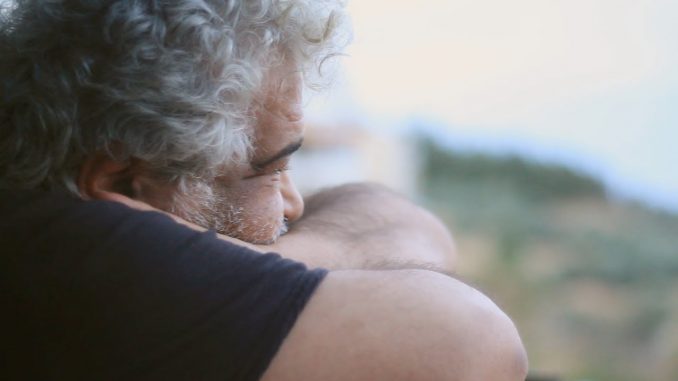 "Exiled at Home" is a short film by Lina Sinjab, centered around acclaimed Syrian novelist Khaled Khalifa, who recently announced that he will not be traveling to the US in November for the National Book Award ceremony, although Leri Price's translation of his Death is Hard Work is a finalist:

"Solitude becomes a part of your helplessness," Khalifa says in the film. "Every day, you have to find a solution for your solitude."
The short film, co-funded by the European Union and the German government, is one of a series of works foregrounding Syrian stories, and follows Khalifa through his daily life in the nearly empty city.
Sinjab is a Beirut-based Syrian filmmaker and journalist who previously directed "Suryyat" (2013), which was shortlisted for the One Media Award, and "Voices from Homs," which was never released, as Sinjab "had to drop all the material in the sewage system when she was arrested by security forces." She also directed and produced "Madness in Aleppo," which is currently in post-production.
In this short film, Sinjab sticks very close to Khalifa, who drives us around, sings for us, reads to us, washes dishes for us, shows us his mementos, and tells us about his life.
"But I still have hope," he says at one point. "I don't know where it comes from."
Watch the film:
More info and screening requests: https://eeas.europa.eu/they-are-syria.
Also:
Khaled Khalifa's 'Death is Hard Work' a National Book Award Finalist
New Books in 2019 from Douaihy, Khalifa, Khoury
Friday Finds: Khaled Khalifa's 'Living in a Void'
A True Loss in Translation: The Edited English Version of Khaled Khalifa's 'In Praise of Hatred'
Syrian Novelist Khaled Khalifa: 'I Have Always Wondered About the Ability of Some Writers To Remain Silent'
Click HERE to read more from this author.


Loading ...