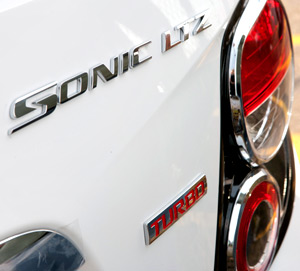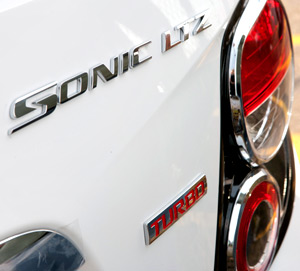 Scheduled to be built at the Orion Assembly Centre in Michigan in early Fall 2011, the all new 2012 Chevrolet Sonic will be hitting the Canadian market fairly soon. With prices starting at just $14, 495 for the base model, the Sonic breeds higher expectations of sub compact level vehicles with its long list of standard features and driving performance. The Sonic's undisputedly unique front fascia with a set of twin headlights on either side stands out prominently next to its Korean, Japanese and American competition. Offered in hatchback and sedan body styles, three trim levels, and a myriad of exciting colours, the 2012 Chevrolet Sonic is a safe and economical automobile that packs lots of features, cargo space and power for its size.
With a six speed transmission and a 1.4L turbocharged engine – offered on the $20, 495 sedan LTZ package – the 2012 Chevrolet Sonic achieves class-leading acceleration. "Sonic brings agility and a fun-to-drive feel that is rare in the small car segment, along with an unexpected level of standard equipment so that every customer will have the comforts and amenities they desire." said Kevin Williams, president and managing director of General Motors of Canada.
On the highway, you are expected to enjoy a 5.1L/100km fuel consumption rating along with perforated leather seating surfaces, power windows and cruise control. The LS and LT trim levels that sell for $3, 000 less than the LTZ both offer a 1.8L naturally aspirated, Ecotec engine along with a set of standard features like: Bluetooth, power door locks, remote key-less entry, and Hill Hold Assist. The latter feature will automatically engage the brakes for you preventing the car from rolling back when starting up a hill. You wouldn't want to meet the driver behind you by rolling back into her, now would you? Speaking of safety, six airbags are standard equipment on the base model Sonic with a whopping ten on the higher trim levels.
Chevrolet is indeed redefining what people can expect from their vehicles, both reliability and performance wise. Let's not forget to also give credit to the designers who spent countless hours at a studio to bring you an aesthetically pleasing vehicle that is as pleasurable to look at as it is to drive. Both body styles that the Sonic comes in – the hatchback and the sedan – offer the same attention to detail on the exterior and interior design even though the sedan sells for a thousand bucks less.
The undeniably provocative, flared-fenders give the vehicle a more aggressive stance, while the subdued, five spoke rims create an excellent balance with the large door panels. Bulging upwards, the hood creates an entirely different, muscular image that is not typical of a sub-compact car. An interesting feature of the hatchback is the vertically set rear door handles that give the vehicle a contemporary appearance. On the inside, the radical, turbine air vents immediately grab your attention. Complimented by a secondary panel colour tone, the cluster comes right out consisting of a relentlessly sporty tachometer and a multi-purpose, digital speedometer. Carrying out great design continuity in its new line-up of vehicles, Chevrolet does not disappoint with the look and layout of the main controls inside the Sonic.
The 2012 Chevrolet Sonic will be competing with the Hyundai Accent, Ford Fiesta and the Honda Fit. It is the only vehicle out of the sub-compact segment that will offer a turbocharged engine – driving enthusiasts start your engines. This means you can have fun and be safe while driving a car of this class, and better yet, do so in style and comfort.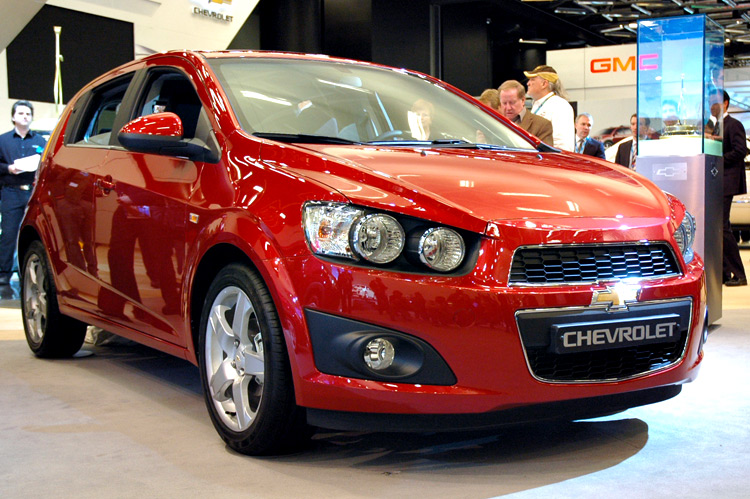 Photography credits: John F. Martin and Kanishka Sonnadara