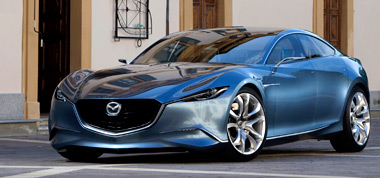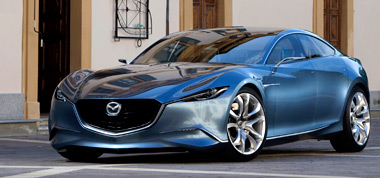 In September Mazda announced their newest design theme 'Kodo – Soul of Motion'.
The head of Mazda's Design Division, Ikuo Maeda, explains the new design theme in this way: "In our work to further evolve the expression of motion, Mazda Design has focused on the strength, beauty and tension found in the instantaneous movement seen in animals. This motion that is so full of vitality that it stirs the emotions of those who see it. We have named it 'Kodo – Soul of Motion', and our aim is to express movement with forceful vitality and speed as the design theme for Mazda's upcoming models."
He went on to say, "Mazda's four design studios located in Japan (Hiroshima and Yokohama), Europe (Frankfurt, Germany), and North America (Irvine, California) are currently combining to take up the challenge to achieve a breakthrough in the expression of motion in car design, and incorporate this expression into our future products."
The first iteration of this new design theme is the striking Shinari concept.

Shinari
The Shinari is a four door, four seater sedan that is more like a coupe, and less like a sedan. Look at the Shinari and you begin to understand the 'Soul of Motion' design theme. This concept car is also an evolution of recent and current Mazda design elements, including the visually arresting Mazda RX-8.
The Japanese word shinari describes the powerful yet supple appearance of great resilient force when objects of high tensile strength, such as steel or bamboo, are twisted or bent. It also refers to the appearance of a person or animal as it flexes its body in preparation for a fast movement, and it is these images that form the basis for the name of this concept car.
Shinari is just the first, but expect to see other concepts from Mazda embodying the 'Kodo – Soul of Motion' theme in the near future.

Contact Kanishka Sonnadara at kanishka@oyetimes.com