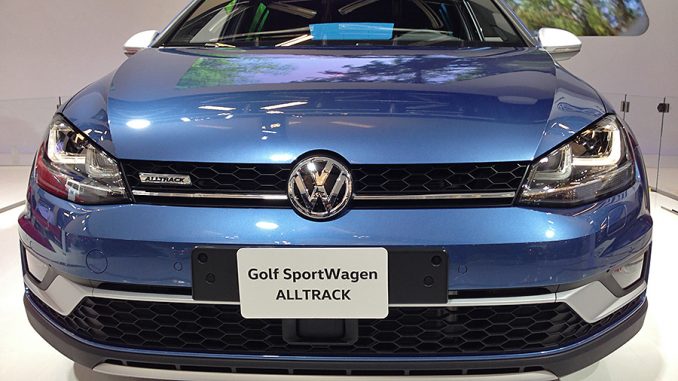 You can publish this article on your website as long as you provide a link back to this page.
This article was last updated on April 16, 2022
At the Montreal International Auto Show last week, Volkswagon showed us what the new all-wheel drive wagon from their stables would look like. Here's a quick look.

Station wagons have come a long way since the woodies of the '70s and Volkswagen has been at the forefront of this evolution. Last year the company launched the wagon version of its popular Golf hatchback in Canada with the Golf Sportwagon. This summer an all-wheel drive variant, the 2017 Golf Sportwagon Alltrack, will make its way to our shores.

Despite the milder than usual winter we're having this year, winter traction is an important consideration for many Canadian buyers. Volkswagen's 4MOTION all-wheel drive system is often regarded as one of the better iterations of AWD, and is available on the Golf wagon for the first time.
Whether you want to plow through snow banks or find off-track adventures, the 2017 Sportwagon Alltrack features a turbocharged four-cylinder engine capable of a heady 170 horsepower. Initially only available in automatic transmission, a six speed manual is promised before the start of next year.

The Alltrack model offers an array of enviable tech and design features that aim to please. For one, among many, Volkswagen offers smartphone integration via Android Auto and Apple CarPlay. The two systems are fast changing the way consumers regard in-car infotainment, and Volkswagen has been on top of ensuring their new vehicles are fully connected.
An available tech package will also offer adaptive cruise control, navigation, autonomous emergency braking, lane assist and park distance control. The 2017 Volkswagen Golf Sportwagon Alltrack promises to be a versatile town to trail kind of vehicle with style and sporty flair.

Canadian pricing is yet to be announced, but based on what's already on sale in Europe, we can expect the new Golf Sportwagon Alltrack to be in the $35,000 range.
Photographs by Kathryn Shubin.