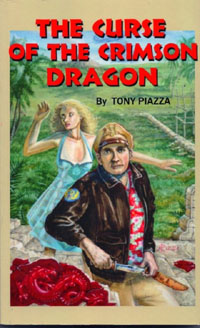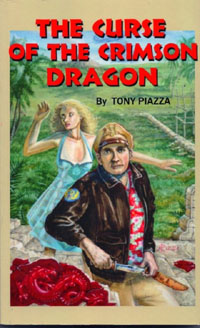 You've heard about "The greatest Generation" from TV and news casters, read about them, seen documentaries about them…well now's your chance to follow one in action.
After his honorable discharge from the Air Force, in 1944, "Rouge" Ryan starts life anew on the Island of Hawaii . With his wartime buddy and POW pal, Reggie Manning he sets up a Charter flight service leaving the perils of war far behind him, or so he thinks. Sure, Ryan and Manning have helped the local Honolulu police solve a case or two, but nothing like they were about to find themselves involved in when they are called on by Government agents to help them find a missing fission scientist who has disappeared while on the Island of Maui. In the course of searching they discover the scientist's daughter has been lured into a kidnapping and now they must find her as well. And for added excitement, our heroes, Ryan and Manning, must solve the mystery of the Crimson Dragon. But in doing so they must face ruthless adversaries, incredible dangers, and countless injuries, all while constantly outsmarting their enemies. The most important of all their goals is their solving the mystery of the Crimson Dragon. To do this, they must race the Third Reich to a terrifying discovery that could change the course of the war and freedom, as the world knows it. It's just what men like wartime Pilot "Rouge" Ryan and Reggie Manning are all about. After all, that's how "The Greatest Generation" won WWII. So it was only natural when the FBI shows up and asks Ryan and Manning for their help; it's just what men like wartime buddies Ryan and Manning are all about.
The Curse of the Crimson Dragon is a novel for all generations… for those who love adventure, intrigue and mystery and a touch of romance. It is also an especially great read for those of us who were born during WWII or shortly thereafter. The Baby Boomer generation, if you will. We recall how our lives were so affected by the post war years, the uniforms, the war surplus stores, the family photos, and the letters from overseas. It's stories like this one that help us to know those WWII heroes just a little better.
The author of this book is an established writer who creates characters that come to life as you read, the kind of characters that stay with you all day long until you pick that book up again and again until you see how it all turns out.
Piazza's first book "Anything short of Murder" was set in old classic Hollywood. The book was a best seller and a squeal is in progress.
He has had a long and varied career. He worked in the film industry for over 10 years during the 1970 as an actor, extra and stand-in. During those years, Tony worked with some of the greatest stars in film history: Paul Newman, Steve McQueen, Clint Eastwood, Michael Douglas and Karl Malden, to name but a few.
He earned a biology degree in 1980 and worked in scientific research at University of the Pacific and University of California San Francisco and for the Pathology department at San Francisco's Veterans administration hospital. As a biologist, Tony co- authored several research papers that were published in scientific journals.
With that formidable background I can see why this author has such a vast knowledge of scientific terms that he uses so well with sharp accuracy in his most recent and exciting new book. THE CURSE OF THE CRIMSON DRAGON.