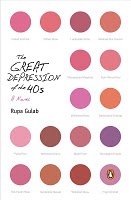 You can publish this article on your website as long as you provide a link back to this page.
This article was last updated on April 16, 2022

Rupa Gulab is one the earliest Indian Chick Lit authors. Her first book for me was "Girl Alone" which I had found to be pretty average. Then came "Chip of the Old Blockhead", I had loved that book & thus I grabbed this enthusiastically.
This book comes with a warning, "If you're over forty & reading this, your laugh lines will deepen. If you're under forty, your laugh lines may begin."
I couldn't agree more with the warning. The Great Depression of the 40s is the story of Mantra, at 43 she quits her job with a hope that she will make her life better. She has ambitious plans for herself, she plans to learn foreign languages, write a novel and enjoy life before she is dependant on a nursing attendant. But what waits for her is sour faced cook, a suddenly in shamble marriage, a husband who has suddenly turned into a stranger & a sister in-law who decides to revive her old affair.
The book is a fast paced read on mid-life crisis & thrives on the fact that nothing in life is guaranteed and even the best laid plans can not be trusted upon.
A contemporary take on the fast paced lives that we lead is how I will put this book in one line. One can very easily relate to what is happening with Mantra (and no vimmuuu it has nothing to do with age) because these days no one has time for anybody and we leave many emotions & words to assumption. It is only when we get a jolt in life that we start valuing things.
Worth a read & more.
3.5/ 5 from me.
Happy Reading 🙂
The Great Depression of the 40s
Author: Rupa Gulab
Publisher: Penguin India
Price: 250/- INR
Click HERE to read more book reviews.