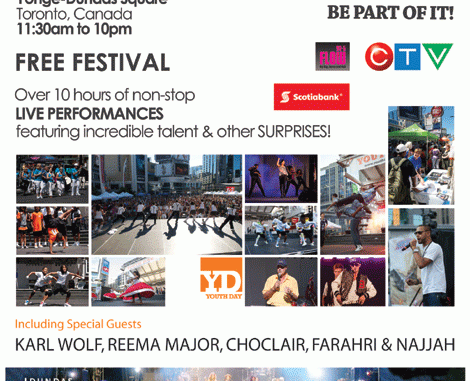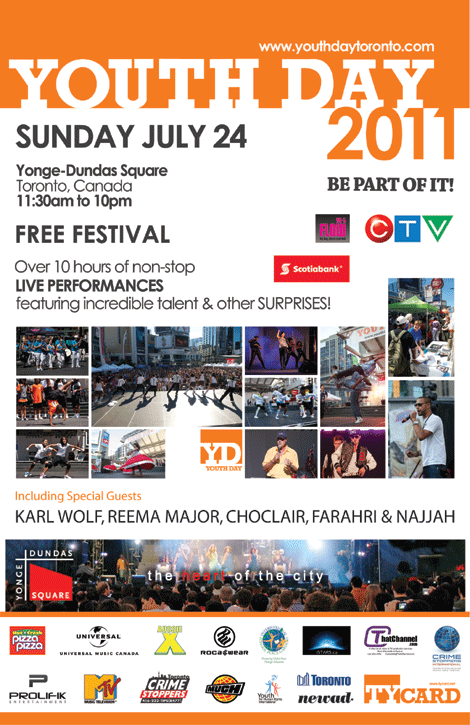 Award winning singer and founder of GPoP, FARAHRI has been chosen to headline this year's Toronto Youth Day. On Sunday July 24, 2011, the artist will take the stage at Toronto's Yonge-Dundas Square. Farahri was selected to perform as one of this year's headliners alongside Universal Canada's recording artist Karl Wolf and Reema Major, on the 5th Annual
Toronto Youth Day show.
During the recent Toronto Youth Day press conference, held on July 7th, 2011, Farahri was also named an official ambassador for the TYcard youth reward system and Toronto Youth Day. Other official ambassadors include President Bill Clinton, Director X and Choclair.
At the press conference, Farahri unleashed a remarkable performance in anticipation of Toronto Youth Day, honoring and celebrating the work of many youth that have given back to their communities.
With the feel good vibes fusing Indian, African, Latin and Caribbean flavours with mainstream Pop, Dance, Hip Hop, Dancehall and R&B, the Ottawa native brings a rare mix of fresh sounds and a multicultural embrace to the Canadian and international music scene.
Raised as an Indian-Canadian in an English and French-speaking home by African-born parents, Farahri wants her music to promote diversity and encourage people to truly embrace other cultures – not just tolerate them. Fluent in French, English and Kutchi, Farahri also sings in Swahili, Spanish, Hindi and Jamaican Patois.
"I want to create a platform where it's OK to mix cultural influences with accessible music genres, like pop," says Farahri. "I think the world is ready for this now."
Her diversity did not go unnoticed as she won the 2010 Most Promising Artist award at the ANOKHI 4th Annual Awards Gala, where she performed alongside Canadian Hip-Hop superstar Choclair.
Recently Farahri released her smashing hit single "Shake Your Body" another radio friendly/Club Dance track that everyone can groove to. Currently playing on the radio, "Shake Your Body" is also creating a lot of buzz in the Canadian and American club scene.
In addition to her music, Farahri is also heavily involved within her community. She has created a movement called GPoP – The Global Pursuit of Positivity, a platform for encouraging and promoting positivity geared towards the youth. She is also a donor and volunteer for the Aga Khan Development Network, an international NGO that conducts relief programs in
historic cities regardless of citizens' faith, origin or gender.
Farahri's music is available for free listening at
http://www.farahri.com/site/category/music/
For more information, please visit www.farahri.com