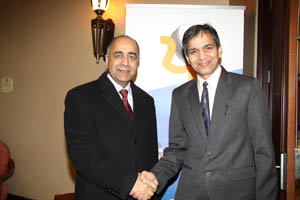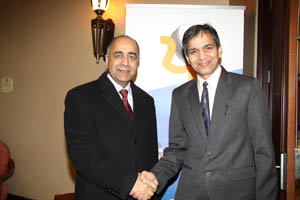 Formal announcement of the mega event made in Brampton
Toronto will host the first ever Punjabi International Film Academy Award (PIFAA) in August 2012, organized by leading South Asian media company, Parvasi Media Group. To formally launch a series of events that will culminate in the final event on August 4, 2012 in Air Canada Centre, Toronto, a press event was organized in Courtyard Marriott, Brampton, on February 3.
Rajinder Saini, President of Parvasi Media Group, announced on the occasion that the event will be a three-day mega show of entertainment, award ceremony and trade fair. The main awards event will be held in Air Canada Centre, Toronto, on August 4. The other major components include a world premiere of a Punjabi film on August 3 at SilverCity, Brampton; a mega concert of Punjabi music at Hershey Centre, Mississauga, on August 5; and a two-day trade fair on August 4 and 5 at the International Centre.
While speaking at the press meet, Mr Saini considered it a historic honour for the Canadian Punjabi community to host such an important event showcasing Punjabi films and music. He also announced that noted Bollywood personality Dharmendra will be the Brand Ambassador for PIFAA.
Mr Saini briefed the press about the formal PIFAA launch in India, held on December 29, 2011, in Chandigarh which was attended by leading personalities of Punjabi film and music industry – Om Puri, Manmohan Singh, Prem Chopra, Divya Dutta, Arya Babbar, Gurpreet Guggi, Preeti Sapru, Rama Vij, Satish Kaul, Jaspal Bhatti, Hans Raj Hans, Bhagwant Mann, Gippy Grewal, Master Saleem, and Satinder Sartaj.
An audio-visual presentation explaining the concept of PIFAA was also shown followed by a video report on the Chandigarh function.
Harinder Takhar, Minister of Government Services, Ontario while speaking on the occasion lauded the efforts of Parvasi Media Group to organize such a big event in GTA. He said that in the last few decades, Ontario has become one of the main centres of Punjabi community outside India and such events have a great economic and cultural significance for our province. He announced that he will try to provide all possible support for the success of this event.
Brampton Mayor, Susan Fennell, said that this would be an honour for our city and that we are going to witness a historic occasion. She announced that Brampton city council will give full support to this event. City councillor Vicky Dhillon committed to leave no stone unturned to make this a success.
Hotelier and leading Canadian businessman Steve Gupta also joined hands with the PIFAA and announced his support for the event. While addressing the gathering he said that holding an event of such magnitude requires lots of resources and organizational infrastructure. He felt that it should be done in a proper way and announced his full support to Parvasi Media group to make this a real success.
Satish Thakkar of Indo Canada Chambers of Commerce said that every big event starts with an idea. When somebody makes that idea his passion and his dream, support starts coming in from different quarters. Parvasi has started this initiative and help will come to make it a reality. He said, "We will do our part and all should do accordingly."
Well-known Punjabi businessman and owner of Eglinton Carpet, Mohinder Singh, also extended his support to make this venture a huge success.
Amar Singh Bhullar, editor of leading Punjabi newspaper, Hamdard, said that the Punjabi media, business community and Ontario government should join forces to make this event a success. He appealed to the government of Ontario to give financial support to this event as was given to IIFA.
Radio host and senior Punjabi media personality, Kuldeep Deepak, said that the concept of PIFAA signifies the growth and success of Punjabi community in Canada. He added that the Punjabi community in Toronto has come a long way in just a few decades and that such events are significant in the context of the global Punjabi community.
Prominent media and social personality, Dr Ranbir Sharda, described this event as a big challenge and as a landmark opportunity for the whole community. In an emotional appeal to the community, he asked everyone present to join hands and forget all business considerations and pool our resources for the success of this event.
Vijay Kumar, Operational Head of PIFAA, said that we are committed to maintain the professional quality of the entire event according to international standards of the industry. "We believe that it is not just the size but the quality of the event that will really serve its purpose," he said.
Article viewed on Oye! Times at www.oyetimes.com