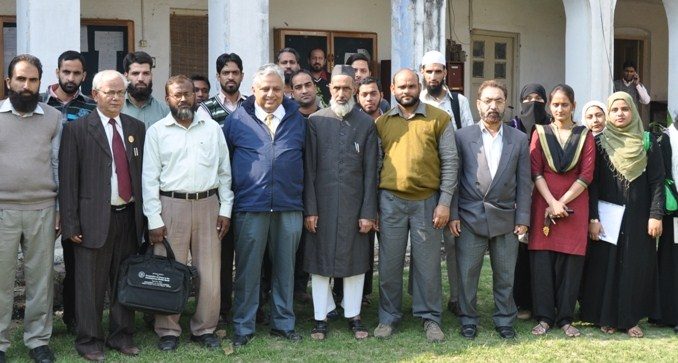 Distinguished Hindu statesman Rajan Zed received a hearty welcome in Phagwara, an industrial city in Punjab, during his recent visit to India.
Various area organizations joined together to organize a civic reception at Arya Model Senior Secondary School for Zed, who is President of Universal Society of Hinduism and is based in Nevada (USA).
Punjab Hindi Sahitya Akademi Evam Sahitya Sabha and Bharat Vikas Parishad presented him with plaques on the occasion. Dr. Kiran Walia, Principal of Kamla Nehru College for Women, presided over this "Naagrik Abhinandan" which was coordinated by prominent author Dr. Jawahar Dheer. Leaders of various area organizations garlanded Rajan Zed and presented him with shawl and other souvenirs.
Earlier, Zed participated in the prestigious "World Economic Forum" held at Gurgaon and organized by Geneva (Switzerland) based international organization, which brought together about 500 global and regional business leaders, heads of state and government and ministers, as well as leaders from media, academia and civil society. Under the theme "From Deliberation to Transformation", it addressed key issues and opportunities in the areas of developing human capital, redressing risk and fulfilling the future promise.
In a remarkable interfaith gesture, Rajan Zed was warmly welcomed at the premier Aligarh Muslim University, world renowned center of Islamic and Quranic studies, during this trip. He met with the Vice Chancellor Zameer Uddin Shah and addressed the faculty and research students of Department of Islamic Studies and answered their questions. He was welcomed in the Department by its Chairman Professor Zafarul Islam, an expert on Islamic jurisprudence, who introduced Zed. Kabir Ahmed Khan, Assistant Librarian, showed Zed the rare collection of Islamic books in its prestigious library.
Zed was well-received at Sant Nirankari Mission, a spiritual movement, headquarters in Delhi by Jai Ram Das Satyarthi, Sant Nirankari Mandal President, and Kirpa Sagar, its Executive Committee member, and was presented with some books. He visited Catholic Bishops' Conference of India in New Delhi, and was welcomed by Fr. Jose Vattakuzhy, Director of its Labour Commission, and both discussed various topics of common interest including economic and social development, freedom and human-rights, etc. Zed had dialogue with the students and teachers of Shri Sanatan Dharam Sanskrit College in Fazilka, lead by its Principal Pandit Ram Savrup Shastri. Zed addressed the students and teachers of Godwin Public School in Ghallu, where its Managing Director Jagjit Singh Brar listed Zed's various achievements.
Rajan Zed has taken up interfaith, religion, environment, Roma (Gypsies) and other causes all over the world. Read opening prayers in United States Senate, various state senates and houses of representatives, counties and city councils all over USA. Invited by President of European Parliament in Brussels (Belgium) for a meeting to promote interfaith dialogue. Many cities in USA have named October 25 as "Rajan Zed Day". Bestowed with "World Interfaith Leader Award" for "demonstrated extraordinary world leadership, courage and capacity for inspiring in others the urge of interfaith dialogue and cordial relations between faith communities"; Zed is President of Universal Society of Hinduism, Senior Fellow and Religious Advisor to New York headquartered Foundation for Religious Diplomacy, Director of Interfaith Relations of Nevada Clergy Association, Spiritual Advisor to National Association of Interchurch & Interfaith Families, etc. He prominently appeared in a recently released documentary on religion titled "Unresolvable?".