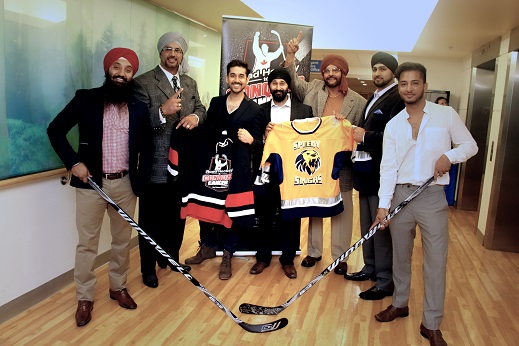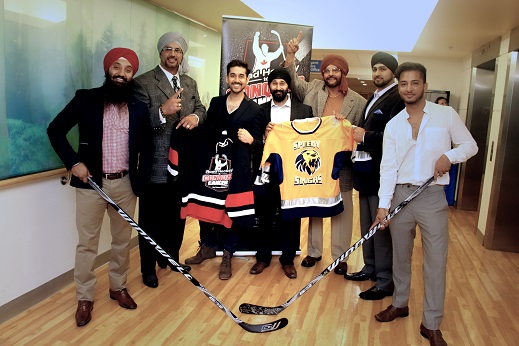 Over 100 teams and their supporters will gather at Ontario Place to take part in a dawn-to-dusk fundraising event, Road Hockey to Conquer Cancer (RHCC), in support of Princess Margaret Cancer Centre on September 27, 2014. One of these teams is 'The Speedy Singhs' inspired by the South Asian Canadian hockey-based movie 'Breakaway'.
The team not only consists of players and coaches, but also a host of Community Ambassadors that are on board to support the cause and help raise funds and awareness. They include Vinay Virmani, actor and the lead star of 'Breakaway' and the forthcoming 'Dr. Cabbie', Parminder Singh from Hockey Night in Canada Punjabi Edition, Rup Magon from the group JoSH, Manj former lead singer from RDB who recently launched his solo career under the name MANJ Musik, Dr. Onkar Singh a spiritual speaker in Punjabi and English, Dr. Ravinder Singh a practicing surgeon, Destiwear CEO Manny Brar, actor and YouTube sensation Rupan Bal, music group Dhol Circle among many others. Marketing and Advertising executive Bobby Sahni is the team captain while coaching and training for the big day will be provided by none other than wrestling superstars Tiger Jeet Singh and Tiger Jeet Singh Jr.
Bobby Sahni participated in last year's event and is now an Honorary Chair for 2014. "Our goal No. 1 is to spread awareness and raise funds for The Princess Margaret Cancer Foundation. Goal No. 2 is to raise awareness and the profile of our South Asian community as contributors to mainstream causes. I think it's no secret that ethnic communities are so giving by their very nature, but many times their generosity is felt only within the community. I think this is a great cause, and we can show our strength and solidarity, by giving to a cause that affects so many Canadians, not just South Asians… And our 3rd goal, we want to win the tournament and we want to raise more funds that anyone else!" Tournament ambassador Vinay Virmani added "I am honored that the Speedy Singhs team will be back in action and taking part in this great cause. The whole idea behind the team was that of unity. Cancer affects us all and as a team we hope to unify our efforts and encourage the South Asian community to generously support the fight in conquering cancer."
RHCC is in its 4th year and is the world's largest event of its kind. To date, it has raised a staggering $7 million for Personalized Cancer Medicine at Princess Margaret Cancer Centre. It is also one of the several mega-fundraising events to support The Princess Margaret Cancer Foundation which raises funds for breakthrough research, exemplary teaching, and compassionate care at The Princess Margaret. Through donations or participation on a team, supporters will help revolutionize personalized cancer medicine at The Princess Margaret, one of the top 5 cancer research centers in the world and accelerate its work to conquer cancer.
"We cannot do the amazing things we do at The Princess Margaret Cancer Centre without the leadership and support of people like Bobby and teams like the Speedy Singhs", says Shawn Burt, Chief Hockey Officer at The Princess Margaret Cancer Foundation. "Because Road Hockey to Conquer Cancer is for people of all skill levels, backgrounds and ethnicities, we are hoping others will follow their lead and join us in this uniquely Canadian event."
Bobby Sahni adds, "We have setup our page and we encourage the community to go to our donations page, in which they can make a pledge to our team. Every little bit counts, and we know there are a lot of generous people in our community. We hope they show their generosity by giving to team 'The Speedy Singhs', and we hope to win the tournament!" To support The Speedy Singhs or for more information about Road Hockey to Conquer Cancer, please visit teamuptoconquercancer.ca, click donate, and search for The Speedy Singhs.
Also, please see the following link for interviews from celebrities on the team https://www.youtube.com/watch?v=EaJKdRZkPy8