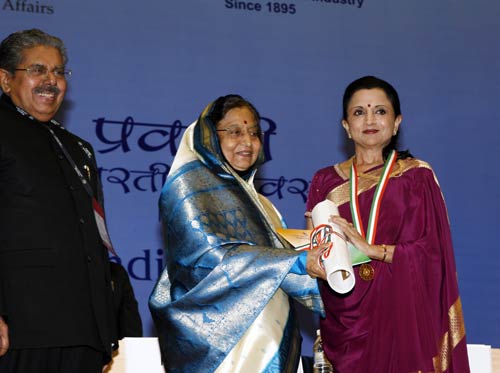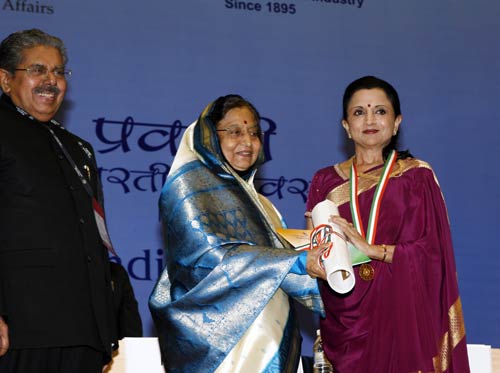 Lata Pada, Artistic Director of SAMPRADAYA Dance Creations is conferred with the Pravasi Bharatiya Samman Award by the President of India
The Board of Directors of SAMPRADAYA Dance Creations is pleased to announce that Lata Pada, C.M., Artistic Director of SAMPRADAYA Dance Creations has been awarded India's highest award for overseas Indians. The Pravasi Bharatiya Samman was conferred to Lata Pada by the President of India, Smt. Pratibha Devisingh Patil.
On January 9, 2011 in New Delhi, India, Lata was one of 15 individuals of Indian origin conferred this award to commemorate lifetime accomplishments in the global Indian Diaspora. The ceremony took place during the Pravasi Bharatiya Divas, an annual global meeting hosted by the Government of India's Ministry of Overseas Indian Affairs. Lata was recognized with this award for her outstanding contributions to the promotion of Indian dance in Canada as well her role in pressing for an Inquiry into the bombing of the Air India 182 Kanishka flight, and for her advocacy in anti-terrorism legislation in Canada.
"I am deeply moved to have been honoured with India's National Award from the President on India. My life's work has been committed to showcasing the richness, complexity and beauty of classical dance with the highest standard for all audiences. The loss of my family in the 1985 Air India terrorist bombing compelled me to advocate for anti-terrorism legislation and I will continue to do what I can to prevent such acts from happening again", says Lata Pada on the occasion of the awards ceremony in New Delhi.
"Lata is an extraordinary leader and dynamic individual", shares Ravi Kumar, Chair, SAMPRADAYA Dance Creations. "The Board is very proud of her accomplishments and we wish her many continued successes".
Dancer-Choreographer, Lata Pada is the Founder and Artistic Director of Canada's leading South Asian dance company, SAMPRADAYA Dance Creations. She is also the Founder-Director of SAMPRADAYA Dance Academy, a premiere professional dance training organization. Trained under distinguished gurus in India, Kalaimamani K. Kalyanasundaram and Padma Bhushan Kalanidhi Narayanan, Pada has had an extensive career as a bharatanatyam soloist with over 1,000 performances in prestigious dance festivals worldwide. Pada has made Canada her home since 1964; she holds a Masters in Arts from York University. In 2009, Lata was awarded the Order of Canada, by the Governor General of Canada; she holds the distinction of being the first South Asian artist to be awarded this prestigious national honour.
Following the terrorist bombing of Air India 182 in June 1985, in which Lata lost her husband and two daughters, she has been an active spokesperson for the families of the victims. She has been a strong advocate for an Inquiry into Canada's worst act of terrorism and has pushed for changes in legislation regarding aviation security, law enforcement and Canada's judicial system, which resulted in an official apology from the Prime Minister of Canada in June 2010.
Under Lata's visionary leadership, SAMPRADAYA Dance Creations has established itself as an internationally acclaimed dance company recognized for innovation and excellence in its repertoire. She brings a contemporary worldview to her award-winning inter-cultural and interdisciplinary creations, a large number of which have been created in collaboration with leading Canadian and international choreographers, composers, designers, playwrights and musicians.