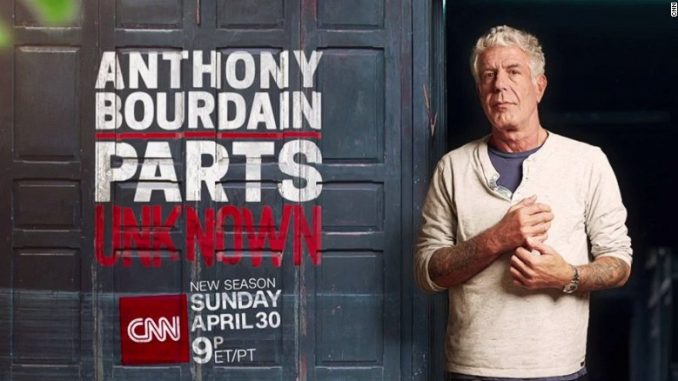 US celebrity chef and television personality Anthony Bourdain has been found dead in his hotel room, aged 61, of an apparent suicide.
The culinary bad boy was near Strasbourg, France, working on a shoot for his series, Parts Unknown, on CNN.
"It is with extraordinary sadness we can confirm the death of our friend and colleague, Anthony Bourdain," the cable network said in a statement on Friday.
Bourdain was a best-selling food, fiction and nonfiction author.
Eat out on Tuesdays and other Bourdain tips
Bourdain tributes celebrate his #MeToo support
CNN's statement continued: "His love of great adventure, new friends, fine food and drink and the remarkable stories of the world made him a unique storyteller.
Authorities in France's Alsace region confirmed his death at Le Chambard luxury hotel in Kaysersberg, AFP reported, adding that no foul play was suspected.
His death comes days after the suicide of another much-loved celebrity, 55-year-old fashion designer Kate Spade, in New York.
US government health officials on Thursday said the nation's suicides had risen by 30% since 1999, and that the crisis was a growing problem. Nearly 45,000 Americans took their own lives in 2016.
The globe-trotting foodie travelled more than 250 days of the year to film his show.
His work brought him to far-flung and often dangerous locations such as Libya, Lebanon, and Gaza.
His first TV show was A Cook's Tour on the Food Network in 2002. Three years later he joined the Travel Channel with Anthony Bourdain: No Reservations, picking up two Emmy Awards.
He moved to CNN in 2013 with a new travel and food show, Parts Unknown, which is in its 11th season.
His became so influential that even former President Obama sought his counsel as he prepared to leave the White House.
"If you have an important state function after you might not want to go too heavy on the garlic," Bourdain said as the two men grabbed a quick bite during a political summit in Vietnam.
When Bourdain and Obama shared a $6-meal
He began writing after a former university roommate offered him a free holiday to Cozumel, Mexico, if he promised he would write a book when he returned.
Less than six months after the 1993 trip, he penned his first work of fiction – a satirical crime novel, Bone in the Throat – while working as a chef at Sullivan's on New York City's Broadway Avenue.
Bourdain's wit and wisdom
"Travel changes you. As you move through this life and this world you change things slightly, you leave marks behind, however small. And in return, life – and travel – leaves marks on you. Most of the time, those marks – on your body or on your heart – are beautiful. Often, though, they hurt."
"Your body is not a temple, it's an amusement park. Enjoy the ride."
"Maybe that's enlightenment enough: to know that there is no final resting place of the mind; no moment of smug clarity. Perhaps wisdom is realising how small I am, and unwise, and how far I have yet to go."
"Skills can be taught. Character you either have or you don't have."
"Assume the worst. About everybody. But don't let this poisoned outlook affect your job performance. Let it all roll off your back. Ignore it."


Loading ...