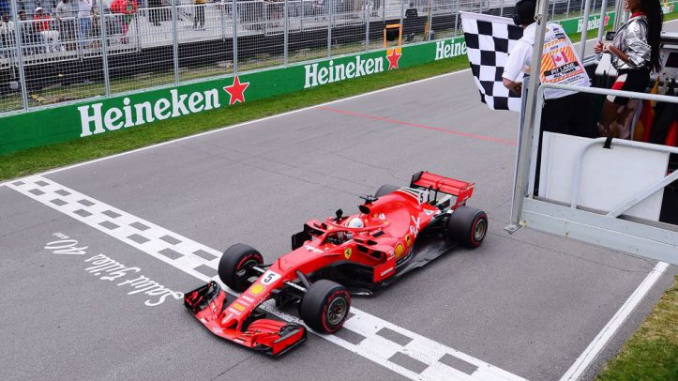 Vettel's win snapped Lewis Hamilton's string of three straight Canadian Grand Prix wins. Montreal's Lance Stroll crashed on the first lap.
Sebastian Vettel has given Ferrari its first victory in 14 years at the Canadian Grand Prix.
The German started from pole position and never trailed on Sunday as he posted his third win in seven Formula One races this year and the 50th of his career. It was his second Canadian GP win after 2013, when he drove for Red Bull Renault.
It was the first win by a Ferrari on Circuit Gilles Villeneuve since Michael Schumacher's triumph in 2004.
Vettel also took the lead in drivers standings by a single point over Mercedes ace Lewis Hamilton, who struggled early with engine overheating problems but rallied to finish fifth. Hamilton has won the Canadian race six times, including the previous three.
Valtteri Bottas of Mercedes was second followed by the Red Bulls' Max Verstappen and Daniel Riciardo, the winner two weeks ago in Monaco. Kimi Raikkonen, in the second Ferrari, was sixth.
Nico Hulkenberg and Carlos Sainz of Renault, Esteban Ocon of Force India and Charles Leclerc of Sauber also finished in the points.
The top three kept their positions from the start, with Vettel leading from pole position ahead of Bottas and Verstappen. Vettel's lone pit stop on the 38th of 70 laps saw him emerge with a six-second lead.
It was a short day for the lone Canadian on the track as Lance Stroll's Williams punctured a tire only a quarter of the way through the first lap into the race, causing the Montreal driver to slide across the crack and ram New Zealander Brendon Hartley of Toro Rosso into a wall. Both cars were badly damaged but the drivers escaped uninjured.
A steward's investigation found neither driver at fault
Stroll, 19, was in is second Canadian GP. He earned his first Formula One points with a ninth-place finish at Circuit Gilles Villeneuve last year.
There was a close call six laps in as Sainz and Sergio Perez nearly collided, with the Mexican spinning his Force India car off the track but he was able to rejoin the race.
It was the 300th F1 race for two-time champion Fernando Alonso of McLaren, good for fourth all-time. The Spaniard was forced out with engine trouble after 42 laps.Before the race, 1997 champion Jacques Villeneuve drove the No. 12 Ferrari his late father Gilles used to win the 1978 Canadian GP in the parade lap.


Loading ...