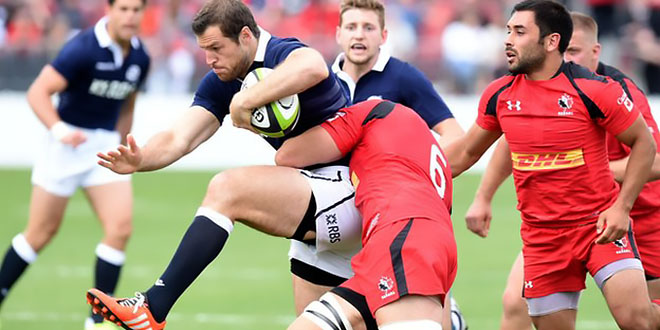 As much as the Canadian rugby team wanted to cash in on home field advantage Saturday, the visitors had other plans.
The Edmonton rugby community did what it could, showing up with 13,000 fans in a 2500.00 capacity stadium.to lend their support to a scrappy Canadian side, but they were no match for the heavily-favoured Scottish ranked 6th in the world, who posted a dominating 48-10 victory.
Simply put, the Canadians got a wee bit of Brave Heart Attack!
Having 13,000 in the Commonwealth Stadium is a challenge showcasing rugby on TV just doesn't look good at times. I'm worried about rugby in this country and especially if Canada men's team don't make it to the RWC in Japan?
So many sports to choose from in Canada and rugby may not get the coverage.
Garth Rees did a great job on TV, in fact enlightening on what the was wrong on the field.
Canadian coach "thought the physicality and intensity for Scotland was there from start to finish, they were technically good as well," said Canadian coach Kingsley Jones. "But the truth is we didn't help ourselves. We kicked away possession when we didn't really need to. We needed to make those guys tackle and we didn't do that often enough.
"Possession in the first half was 35 per cent for us, so we're expending a lot of energy tackling. And it was the times in the game (when lapses) hurt. Soft start to the game, soft start in the second half."
In the first game of a three-city tour (they play the Russians in Ottawa and the United States in Halifax) the 21st-ranked Canadians made Scotland work for everything it got, but the gap between a rugby powerhouse and rebuilding program in a non-traditional market was clearly evident.
"We've got a lot of work to do, but there's no better place to start than against a team of that caliber," said Jones. "That pack is the Edinburgh pack. I've coached against Edinburgh for a number of years and everything I expected from them came today."
The sixth-ranked team in the world scored on a penalty kick in the fourth minute, a try in the ninth minute and never looked back, pulling away for good late in the first half when a Ruaridh Jackson try made it 15-3.
"Both teams were physical and I thought Canada did a lot of good things," said Scottish coach Gregor Townsend. "They were dangerous when they got the ball. We had a period in that first half where we didn't execute as well as we have in training, but that's the difference when playing a game."
Any hope for a stunning international upset was dead and buried early in the second half when Scotland went up 22-3.
Canada cut it to 22-10 on a penalty try in the 48th minute, but all that seemed to do is light a fire under Scotland. They got that one back in the 57th minute, added another to make it 34-10 in the 68th minute and piled on to make it 41-10 in the 73rd and 48-10 in the 80th.
Both sides remember very well the controversial 19-17 Scottish victory when these two teams met in Toronto four years ago and while the Canadians were determined to prove it was no fluke, the Scots made it known from the outset that they have grown immensely since that day and would not be caught flat footed again.
If I'm totally honest, I thought the score might be about 28-20, and if we had a really good day we might have got a win," said Jones. "That's what I was thinking in my head. I was a little disappointed with some aspects. But they're a very good side and Scottish Rugby has done remarkably well in the last six years."
And the Canadians, meanwhile, are trying to regain the form that once made them one of the most tenacious opponents on the world stage.
But co-captain Phil Mack says he liked the way he and his teammates battled hard to the end, even if it was in a lopsided losing effort.
"Obviously very disappointed," he said. "You play the game to win. But I'm very proud. Our boys stood in front of them for 80 minutes. I thought we played some really good defence. It wasn't a lack of effort. We just opened the game with some pretty silly mistakes and allowing a team like that to come at us far too often.
"Can we get better? Hell yes we can. But I'm proud to say I was on this team. Team can judge themselves on their dedication on defence and I thought the boys were putting tackles in all day."


Loading ...