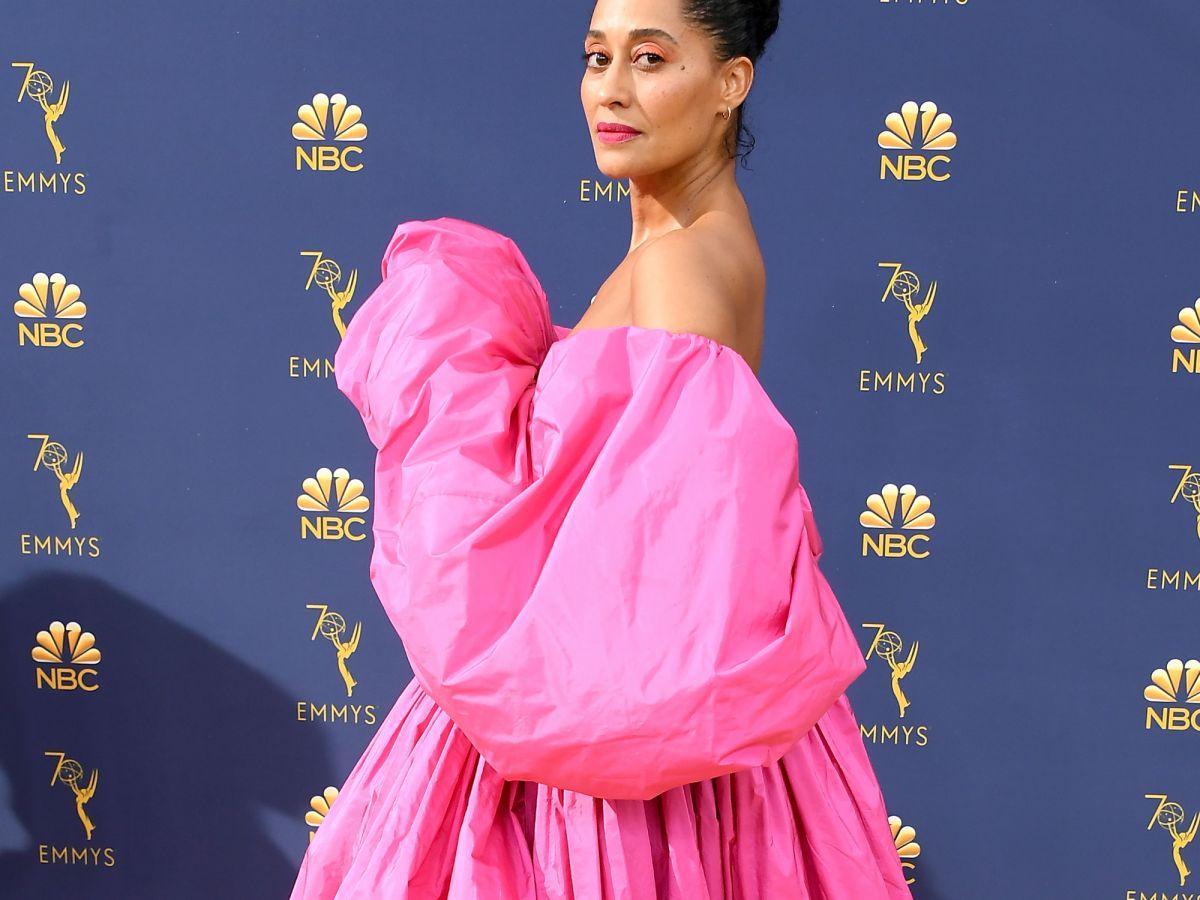 Tracee Ellis Ross is truly a delight. Not only is she funny and down-to-earth, but she often casually serves up looks both on and off the 'gram. We've come to expect Ross to bring it when she walks the red carpet, as the daughter of Diana Ross should, but Tracee is something special. She's an Ivy League graduate, a theater kid, a model, and a fashion editor. The latter is part of what makes her style so good. You just know that, deep in her heart, she's a Fashion Person™.
Earlier this summer, Ross attended Haute Couture Fashion Week in Paris. She sat from row at Chanel, Schiaparelli, and Valentino, where the black-ish actress even tried on one of its floral headpieces backstage. Ross is all of us whenever Kaia Gerber walks in a show (the 46-year old couldn't contain her excitement on her Instagram story). But it turns out, not only was she living her best life, she was picking out her Emmys gown.
On Monday, Ross attended the 70th annual Primetime Emmy Awards in a voluminous Valentino couture gown reminiscent of the pink Micheal Kors dress she wore to the Met Gala in May. But unlike that gown, there was no confusion about this look. Twitter agreed it was a hit. Reactions to her dress ranged from multiple heart-eye emojis, compliments to her stylist Karla Welch — "Get you a partner who understands you the way @ karla_welch understands @ TraceeEllisRoss. Most powerful celebrity/stylist alliance out there at the moment.," The New York Times' Matthew Schneier tweeted — and even imagining her mother's reaction to see her daughter slay the red carpet like she did.
Here are just some of our favorite reactions to Ross and that perfect Valentino dress.
My favorite part of this look is imagining Diana at home SCREAMING
— Matthew Schneier (@MatthewSchneier) September 17, 2018
Now that's a dress @karla_welch
— Lisa (@crazypantslover) September 18, 2018
HELLO, 911? I'D LIKE TO REPORT A SLAYING BY TRACEE ELLIS ROSS IN VALENTINO.
pic.twitter.com/43SPpznTs7
— Lauren Alexis Fisher (@LaurenAlexis) September 17, 2018
If you have a red carpet and @TraceeEllisRoss doesn't show up and absolutely slay, did you even have a red carpet? This @MaisonValentino is beyond. #Emmys pic.twitter.com/RCZ5J6Iilt
— Fashionista.com (@Fashionista_com) September 17, 2018
A billowy cloud of perfection! Tracee Ellis Ross can do no wrong idc idc idc. #Emmys pic.twitter.com/Hn8ESuncIQ
— Sylvia Obell (@SylviaObell) September 17, 2018
Click HERE to read more from Refinery29



Loading ...